A concerned owner, who feared that their two cats wouldn't get along, soon had their worries settled as the duo instantly bonded, and now they're inseparable.
The video was posted by TikTok user @leoandkyro and has been viewed over 4.6 million times. The poster explains that they were "worried that [the] cat might not like the kitten" at first. Leo can be seen watching young Kyro sleeping in his crate, and at first, Leo's expression could be mistaken for curiosity or dejection because of the new addition.
However, the initial reservations soon wore off, and Leo warmed to Kyro. The video skips to footage of the pair curling up together, with Leo even giving the kitten a thorough clean while they lay together.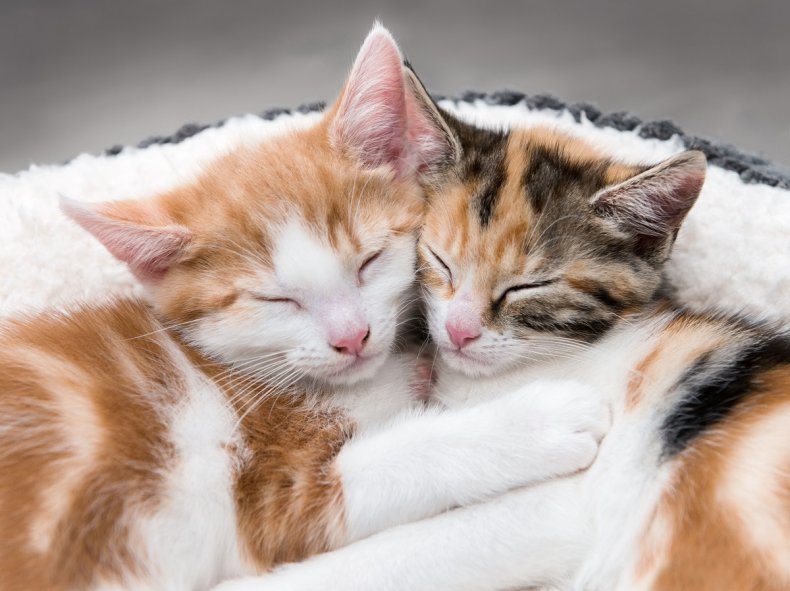 A study published in 2023 analyzed the inter-cat relationships across 6,500 households with more than one feline. The authors found that conflict between the cats was one of the most common issues reported by owners. When this wasn't resolved, it affected the welfare of both pets in the long-term. The prolonged stress of inter-cat conflict can lead to health and behavioral problems, which can in turn diminish the bond with their owner.
Factors that impacted how well the two cats bonded included sex, age, neuter status, relatedness and familiarity with one another. When discussing their cats' first encounter together, 26 percent of owners replied it was somewhat negative, and 24 percent said it was extremely positive.
Fortunately, 39 percent of owners replied their cats now have an extremely positive relationship overall, though 11 percent said that the relationship is still somewhat negative.
After their initial meeting, Leo and Kyro have become "the best brothers", and their owner has continued to post videos of the pair sharing an adorable bond.
The video of Kyro walking over to his big brother for some affection has received over 760,000 likes and more than 1,000 comments from TikTok users.
One person commented: "The way he went in with so much caution then just melted with reassurance." Another wrote: "Aww, they color coordinate."
Not all cat owners have been so fortunate, however, as one person commented: "Why all these TikTok cats end up loving each other, while mine end up zooming and dramatically fighting each other all night long."
Newsweek reached out to @leoandkyro via email for comment. We could not verify the details of the video.
Do you have funny and adorable videos or pictures of your pet you want to share? Send them to life@newsweek.com with some details about your best friend, and they could appear in our Pet of the Week lineup.