A perplexed Harrison Ford and Calista Flockhart were left with a seat dilemma at the 2023 Cannes Film Festival.
Footage is circulating on social media of the celebrity couple looking for their seats, all whilst receiving a standing ovation at the industry event.
Ford's new movie Indiana Jones and the Dial of Destiny was getting its world premiere screening at Cannes whilst the actor also received an honorary Palme d'Or award.
In a moment captured by New York Times journalist Kyle Buchanan, Ford and his wife of 10 years, Ally McBeal actress Flockhart, entered the room to a round of applause from the other guests.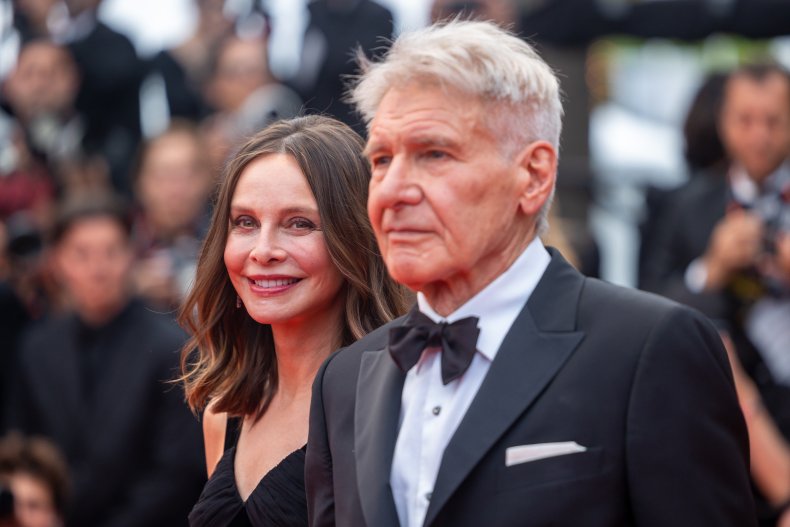 "Awkward moment at the Indiana Jones premiere when Harrison Ford and Calista Flockhart arrive at his seat and she realizes Cannes assigned her the row behind him," Buchanan wrote in a tweet, seen by hundreds of thousands of people.
His 35-second video shows Ford and Flockhart enter the room, seemingly looking for the seat with Flockhart's name on it. They eventually spot she's been placed directly behind Ford, and she proceeds to go around to take her seat.
Twitter user @lidia_rebel offered up a rational explanation to explain why the couple had been separated. "I don't want to be that person but this is standard procedure at movie premieres," she wrote. "The actor's partner seat is behind so all the ensemble can be in the same row in front."
It appears to be regulation at Cannes as the cast and creators behind a movie often receive a multiple-minute standing ovation at the end of the film, with cast members taking the adulation together. It has also led to the alleged "spitting" incident between Harry Styles and Chris Pine at the Don't Worry Darling premiere in 2022.
Others who were unaware of the tradition weighed in with their own thoughts of separating a person from their spouse at the event. "How horrible," one Twitter user wrote, while another suggested "they could've just swapped the seats."
A number of people suggested it was rude of the event organizers, while others agreed with the sentiment to have the cast sitting together at a premiere.
Flockhart wasn't left ignored behind Ford though, as another clip shared on Twitter by Deadline Hollywood showed the actress standing and receiving a round of applause during the event. Ford can be seen clapping his wife too, and she places a hand on him as she takes her seat again.
Indiana Jones and the Dial of Destiny is the fifth movie released in the franchise, the first since 2008's Kingdom of the Crystal Skull. It's due out in theaters on June 30, 2023.