Fox News host Greg Gutfeld launched a scathing attack on New York Governor Kathy Hochul over her response to the recent death of Jordan Neely on a Manhattan subway train.
During Friday's episode of The Five, Gutfeld said Hochul was a "moron" and suggested Neely's death was the "end of the story," adding that Democrats have failed to deal with crime and disorder in New York City while also calling for the defunding of police departments, which he says has resulted in bystanders taking action themselves.
Neely, 30, died after being placed in a chokehold by a man identified as former Marine Daniel Penny, 24, on Monday. Video of the fatal incident showed Neely appearing agitated and yelling, "I don't have food, I don't have a drink, I'm fed up," before being grabbed and held to the ground for several minutes by Penny. Neely was taken to Lenox Health hospital in Greenwich Village, where he was pronounced dead.
The incident has caused outrage, with many proclaiming the reaction from Penny was not justified seeing as Neely, while appearing to suffer from mental health issues, was not being violent towards others on the train and are calling for Penny's arrest.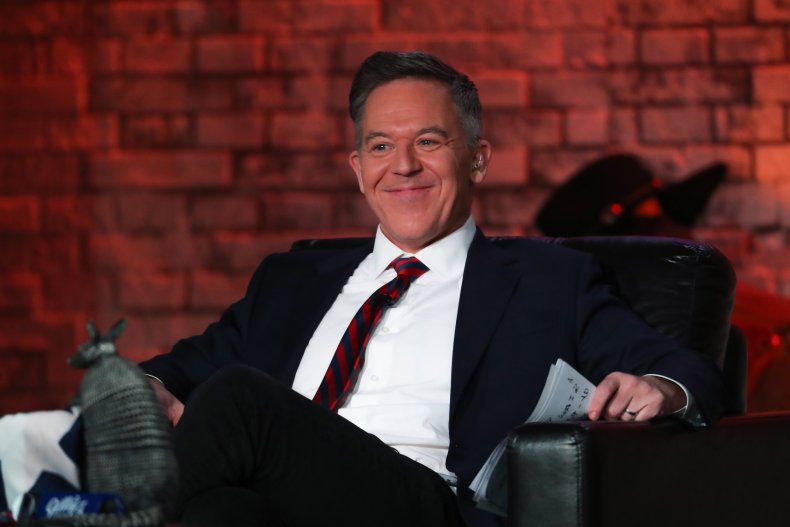 Others have praised the former Marine's actions, suggesting that Neely was a threat to the public because of his erratic behavior. It later emerged that Neely had more than 40 prior arrests and had a warrant issued against him at the time of his death over allegations he assaulted a 67-year-old woman in November 2021.
During the latest episode of The Five, a clip of Hochul describing Neely's death as "horrific" while suggesting there will be "consequences" for the incident was played.
In response, Gutfeld went on a tirade against the governor and questioned why people are defending an "unhinged violent felon" over Penny.
"When you say 'that could be you,' governor, you should be talking about the bystanders who are now the target of losers like you, Hochul," the Fox News host said. "You could be the bystander on the train who decided to share the risk and do something to save somebody else and you could be the target. That could be you. That's the story, you moron."
He continued: "This is how it works, the left hamstrings the police, and it creates a vacuum where security used to be and then when it gets really, really bad, the citizens step in and then they become the target. You saw that with [Kenosha shooter Kyle] Rittenhouse and you saw that with [armed St Louis couple] the McCloskeys."
Gutfeld added it was "strange" that the media went on to describe Neely as a "beloved street performer" and "beloved Michael Jackson performer" in the wake of his death rather than a "relentless menace."
"It was only going to happen this way. This was not the beginning of the story. This was the end of the story. The city had this problem for years," he said. "When we brought up the crime stuff during the election, Hochul said it was played up and now she's sitting there acting like she's compassionate, shut up. It's her incompetence, her inaction that created this moment in time where young men stepped up and did the job she was too cowardly to manage or do it."
Newsweek contacted Hochul's office for comment via email.
The New York Police Department (NYPD) said it responded to "multiple" 911 calls of an incident at the Broadway-Lafayette Street subway station on Monday. When officers arrived at the scene, they found Neely unconscious on the ground and a number of individuals standing nearby. Penny was taken into custody for questioning and was later released without charge.
NYPD Lieutenant Thomas Antonetti previously told Newsweek that the decision to release Penny without charge was made by the Manhattan district attorney's office, prior to the city's medical examiner ruling Neely's death a homicide. The medical examiner later ruled Neely died from compression of the neck.
"At the time when this had taken place on Monday, it's not yet deemed or ruled a homicide," Antonetti said. "The decision ultimately from the district attorney's office was that the individual would not be charged so that individual, that 24-year-old male, he was then subsequently released from custody."
The Manhattan district attorney's office said the investigation is ongoing.
"As part of our rigorous ongoing investigation, we will review the Medical Examiner's report, assess all available video and photo footage, identify and interview as many witnesses as possible, and obtain additional medical records," a spokesperson said in a statement.
Meanwhile, attorneys for Penny issued a statement on Friday evening, offering condolences to Neely's family and explaining their client's actions.
"Daniel never intended to harm Mr. Neely and could not have foreseen his untimely death," his attorneys wrote, according to The New York Times. "When Mr. Neely began aggressively threatening Daniel Penny and the other passengers, Daniel, with the help of others, acted to protect themselves, until help arrived."