Lake Mead's levels have risen as planned, after a large amount of water was released from the Glen Canyon Dam.
The Glen Canyon Dam forms Lake Powell, the huge Colorado River reservoir that lies between Arizona and Utah.
Following a few months of extremely wet weather seen across the southwestern U.S., the Bureau of Reclamation carried out a High Flow Experiment (HFE) between April 24 and 27, releasing up to 39,500 cubic feet per second of water from the Glen Canyon Dam.
That's a lot more water than usual, and the water volumes released from the dam ranged from 8,033 to 14,631 cubic feet per second. From the Glen Canyon Dam, the water flowed through the Grand Canyon, and down to Lake Mead, which lies between Nevada and Arizona. It also replenished sandbars and beaches as it went down.
The data is now showing a rise in Lake Mead's levels. As of May 15, Lake Mead's water levels stood at 1,051.67 feet, a steady increase since the High Flow Experiment was initiated.
As of April 26, before the water was released from Glen Canyon Dam, Lake Mead's water levels stood at 1,047.43 feet.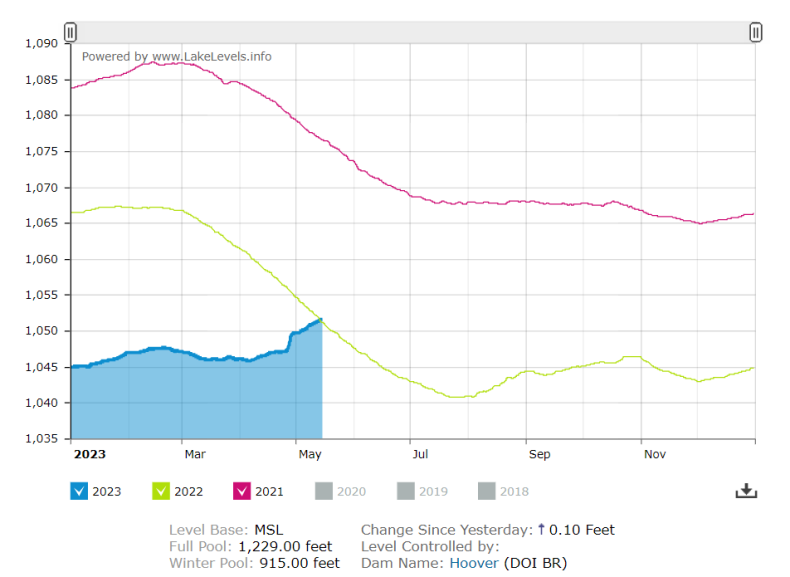 On graphs shared by the Lakes Online, a sharp rise in water levels can be seen from the beginning of May. This time last year the water levels were actually dramatically declining.
Lake Mead was at 1,051 feet this time last year, but instead of gradually rising, it then dipped to extremely low levels. The reservoir eventually reached a record low in July, at around 1,040 feet. That was the lowest the lake has been since it was first constructed in the 1930s.
Lake Mead has been hit by the megadrought gripping the southwestern U.S. The reservoir is formed by the Hoover Dam, which works to produce hydro power for the surrounding communities.
Lake Mead also provides water for around 25 million people living in the Colorado River basin states.
The fear among experts is that if the water level continues to decline, the reservoir could reach dead pool. This point would be when the water level reaches around 895 feet. At this level, the water would be too low to flow past the dam.
Although it is welcome to see Lake Mead's water levels rising due to the wet weather, the slight rise will only be a short-term solution. The southwest is facing a much larger water crisis due to the drought, paired with an overuse in water.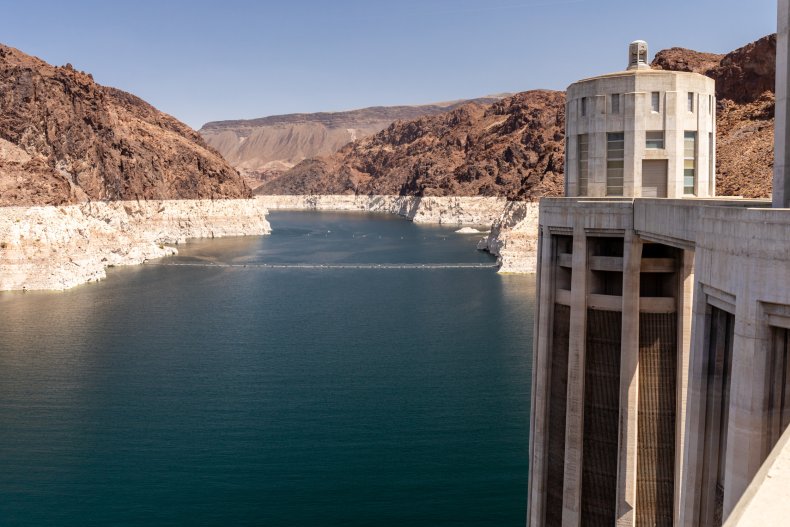 Do you have a tip on a science story that Newsweek should be covering? Do you have a question about Lake Mead? Let us know via science@newsweek.com.