Republicans have made investigating the origins of the coronavirus pandemic a top priority after garnering control of the House and making strides in the Senate, but a recent report from Kansas Sen. Roger Marshall has uncovered stunning developments in the search for answers.
After more than two years of research, Sen. Marshall revealed on "Mornings with Maria" Tuesday that a "preponderance of evidence" points to two lab leaks in China as the cause of the global pandemic.
"This is big. It is a bombshell that the preponderance of evidence shows that there were two lab leaks," Sen. Marshall said. "If we had a scale in front of us and we put all the evidence on one side that supports a natural spillover, the other for the lab origin of this, I think that 95% of that evidence is on the lab origin."
Sen. Marshall released his findings on Monday, detailing how the two separate, unintentional leaks spiraled into perhaps one of the most devastating events in recent history.
CHINA WARNS ELON MUSK AFTER COVID LAB LEAK COMMENTS
"The first one occurring probably somewhere around the September timeframe in a Wuhan laboratory, an unintentional lab leak sometime in September of 2019. The Chinese then begin vaccine research. And we think that is when this epidemic, which became a pandemic, actually exploded. Most likely they were developing this vaccine in a laboratory in the Wuhan University working on primates. We think that's when some type of an aerosol was accidentally released from that laboratory or a lab worker walked out of that with this very, very contagious virus."
Sen. Marshall has been active in demanding accountability for the pandemic, outlining his "path forward" back in 2021. The latest report has more than 1,500 citations to corroborate findings both about the legitimacy of the lab leak theory in addition to other findings.
One of the most alarming revelations was details about the virus itself which suggest a sophisticated development as with gain of function research, which involves extracting viruses from animals to artificially engineer in a laboratory to make them more transmissible and deadly to humans.
"This virus was just too perfect. When it came out of that laboratory, [it] was too perfect. It fit like a key into a lock into human lung cells."

– Sen. Roger Marshall
"The epidemiology of this virus, the phylogenetic processes as we go through it, point towards [a lab leak] as well," Sen. Marshall told host Maria Bartiromo. "This virus was just too perfect. When it came out of that laboratory, [it] was too perfect. It fit like a key into a lock into human lung cells. Additionally, you had a segment called a furin cleavage site that had another spot, it looks like they sliced it out of the HIV virus. They put that right next to the furin cleavage site. Look, this is just too perfect of a virus."
The National Institutes of Health (NIH) has admitted to funding gain-of-function research on bats infected with coronaviruses at a lab in Wuhan – despite repeated denials from Dr. Anthony Fauci that U.S. tax dollars were used.
WHITE HOUSE STILL BACKS GAIN-OF-FUNCTION RESEARCH TO PREVENT FUTURE PANDEMICS: KIRBY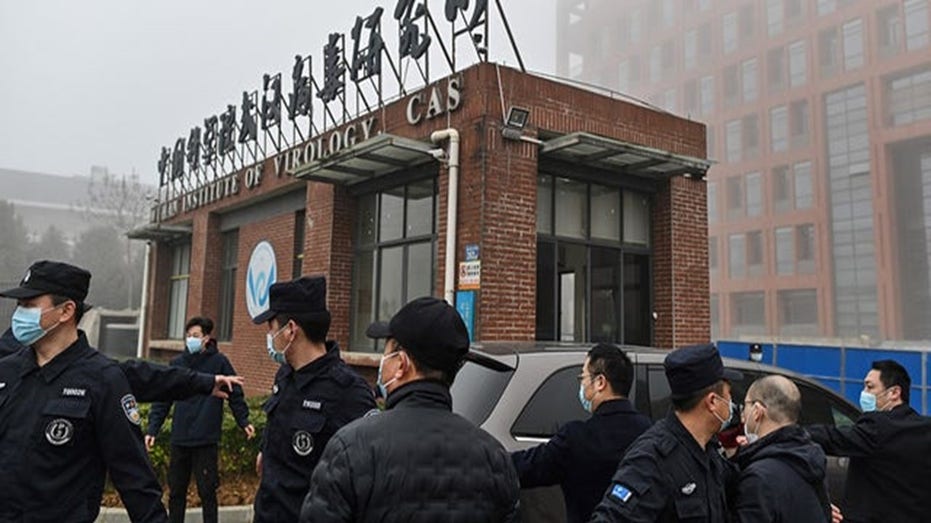 The report from Sen. Marshall also outlines the conditions of the Wuhan lab, which showed significant health and safety lacking and supports the notion that the lab is the most likely cause of the outbreak.
While the lab leak theory was initially discredited by the White House and top health officials, in recent months both the Department of Energy and FBI Director Christopher Wray have given new credence to the proposal.
China has vocally denounced the theory and made investigations into the lab difficult. Foreign Ministry spokeswoman Mao Ning responded specifically to Director Wray's comments earlier this year, accusing Wray and other U.S. officials of backing the lab leak theory of "political manipulation." She cited a "track record" of "making up stories," claiming they lack credibility.
"China strongly opposes political manipulation of the origins-tracing issue in any form. Putting the intelligence community in charge of a matter of science is a clear sign that the issue has been politicized," Mao told the press Wednesday.
She added, "Given the U.S. intelligence community's track record of making up stories, there is little, if any, credibility in their conclusions. The US will not succeed in discrediting China by rehashing the "lab leak" theory, but will only hurt the U.S.'s own reputation."
U.S. lawmakers including Sen. Marshall, however, have preserved despite backlash from the Chinese in the search for an explanation.
"The Chinese have had their chance. The CCP has had their chance to tell us, to show us. They still won't show us the DNA lab. The doctor Xi put down as well. They continue to be complicit in this," he said.
Sen. Marshall acknowledged that, while demanding accountability from China, U.S. leaders must also learn from mistakes made in the handling of both the lead-up and aftermath of the pandemic.
"We need to look at ourselves as well and think about all the mistakes that we've made," Sen. Marshall said. "Why did the NIH continue to hide information from us, as well as the other government agencies? USAID, the Department of Defense continue to hide information from Congress, doesn't let us see the truth as well."
"We need to learn from this mistake. We don't want this to ever happen again."
CLICK HERE TO READ MORE ON FOX BUSINESS
Fox News' Bradford Betz and Timothy H.J. Nerozzi contributed to this report.