This week's Pet of the Week award goes to a terrier mix with a hopping habit, and a pair of rescue cat siblings and two little dogs with big personalities are also being honored.
It's been another memorable week for pets on the internet, whether it's a cat and dog duo that grew up together or the canine that was rescued from a meat truck in China. A boxer and Boston terrier mix has also captured attention after a video showcasing his extreme reaction to rain went viral.
Newsweek has been enjoying some of the reader submissions for its weekly Pet of the Week awards. If you would like your pet to be among those considered, scroll to the bottom of this story to find out how to get involved.
The Winner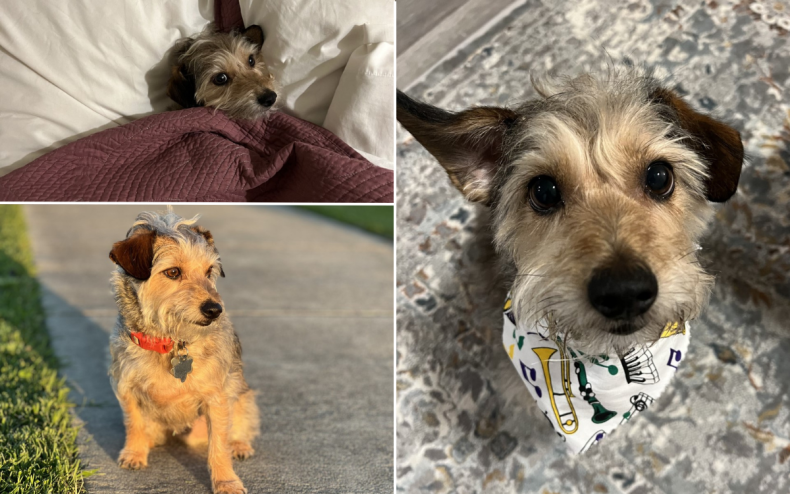 This week's winner is Georgie, a 5-year-old terrier mix who lives in Lake Charles, Louisiana, with owner Jeremy Babineaux.
"I got Georgie from someone who was surrendering him about four years ago," Babineaux told Newsweek. "Georgie is a lover of life. He loves going on walks and hikes. He loves all people and all animals, except for squirrels. He has some kind of vendetta against them."
When he's not playing tug-of-war with his toys or chewing on his favorite stuffed lamb chops, Georgie loves being right by Babineaux's side. "He wants to be anywhere I am, doing whatever I'm doing," his owner said. "I love his adventurous spirit and loving heart. One of his favorite things to do is accompany me at my job [homeless outreach], greeting all of our friends that come to see us."
This attention can get a little much when Babineaux tries to do work from home, but he wouldn't change Georgie for anything. "He has the biggest personality packed into a 14-pound body, and I couldn't imagine doing life, or homework, without him," he said.
Georgie's enthusiasm and energy are often apparent in his unique habit of excitedly hopping around.
The Finalists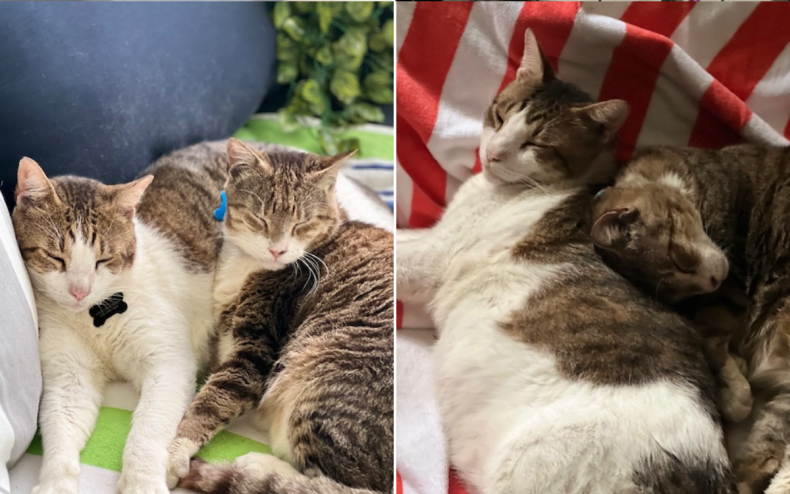 Next up there's the fluffy feline double act of Duke Ellington and Lord Byron from Miami Beach, Florida. These two rescue cats were brought together by fate and the kindness of their owners, Gina Louise and her partner, Robert.
Louise told Newsweek she first encountered Duke Ellington some seven years ago when he "randomly came up to our patio, made his way in and never left." A couple of years later, she found Lord Byron in an alley. Soon enough, he was making trips to the house, where he struck up a friendship with Duke Ellington.
Together, she said, they make for the "most loving fur babies ever" and have a very special affinity with one another. "Duke Ellington loves belly rubs, treats and massages, which he gets daily and so does Lord Byron," she said. "Lord Byron follows his brother everywhere. It is truly the sweetest thing."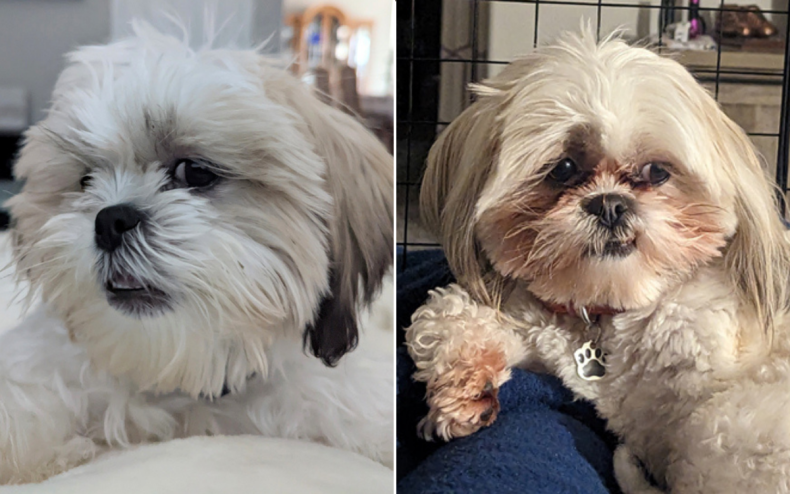 Our next runner-up is Miss Jazz, a shih tzu from Las Vegas who will turn 2 in July. Sandie Mainwal-Price told Newsweek she bought Jazz as a companion for her other dog, Tootsie, but she can "hold her own."
"She's a shih tzu with an attitude," Mainwal-Price said. "When I got her as a pup, I was told she is quite rowdy. Boy, was that an understatement. She is so cute, and that allows her to get away with just about anything."
When she's not chewing sticks, going for walks or watching her owner play tennis, Jazz likes nothing more than to turn her bed inside out and sleep on it upside down. Just make sure you don't wake her. "If you happen to disturb Jazz during one of her rare naps, beware of the stink-eye looks she will give you," Mainwal-Price said.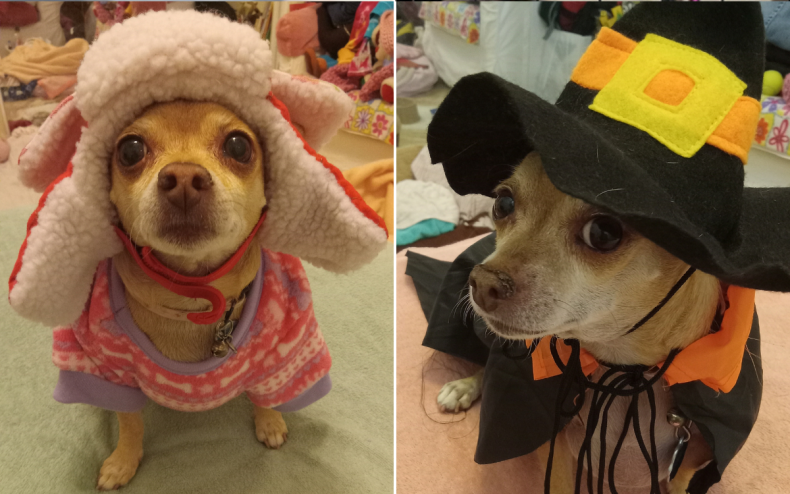 Finally, there's Pinky the Chihuahua. "I got her when she was 3 months old and barely weighed a pound," owner Teresa Young told Newsweek. "I've had her for almost 11 years. She's been there for me at some very difficult times."
Young said Pinky has been a rock while she has gone through post-traumatic stress disorder triggered by long-term abuse and bullying. "When I got her, it was like she knew her mama had issues," Young said. "She's so loyal, loving and sweet. I owe her everything. Been in some crazy dark times, and she saved me."
Do you have funny and adorable videos or pictures of your pet you want to share? Send them to life@newsweek.com with some details about your best friend and they could appear in our Pet of the Week lineup.