Representative George Santos (R-NY) launched a personal attack on a possible Democrat rival amid rumors he will announce his intention to run again in 2024.
In a heated Twitter exchange, the embattled Santos mocked the appearance of his potential rival Josh Lafazan, a member of the Nassau County (New York) Legislature from the 18th district.
Lafazan hit out at Santos in a Saturday, April 15, tweet that referred to the multiple scandals swirling around his potential rival and alleged lies that he has told, including that he had Jewish ancestry.
The Democrat, who is Jewish, also added the jibe that his diploma from Harvard University "is real." Santos has admitted to fabricating parts of his resume and biography, including his work history, education and financial status.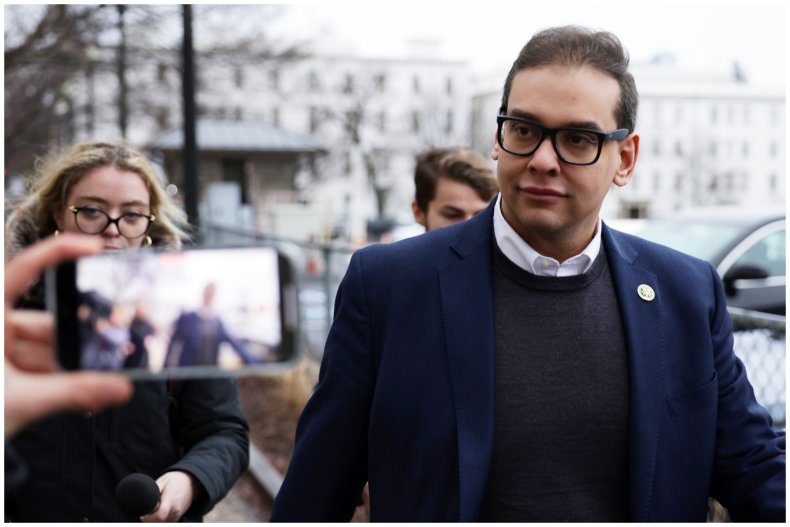 Santos subsequently went on the attack and shared a photo of Lafazan with the caption: "Real like your chin?"
Lafazan fired back with a quote tweet that read: "Corrective jaw surgery helped me breathe normally and saved my life.
"My insurance covered it and it's why I'm fighting so hard for universal health care. You are beneath the office you hold and I can't wait to replace you in Congress, in 2024 or sooner. Send postcards from jail."
Since Lafazan shared his tweet on April 15, it has been viewed more than 3.4 million times and liked on 34,700 occasions.
Multiple news outlets have reported that Santos intends to announce his reelection campaign in Washington D.C. on Monday.
Should Santos ultimately decide to seek another term, he will do so with his reputation in tatters following the multiple allegations that he misled the public and members of Congress about his personal and professional background by either fabricating or lying about his background.
The GOP representative is subject to an investigation by the House Ethics Committee over the allegations.
He also faces allegations of potentially submitting false or fabricated campaign finance statements to the Federal Elections Commission.
House investigators will also look into allegations that Santos groped a former aide who sought full-time employment in his office. Santos has dismissed the claim as "comical."
Santos previously directed Newsweek to a statement he made on Twitter that said the congressman is "fully cooperating" with the committee's investigation.
Leaders of the Nassau County Republican Party have called on Santos to step down.
Earlier in 2023 Joseph Cairo, the chairman of the Nassau County GOP, said: "He's disgraced the House of Representatives, and we do not consider him one of our congresspeople."
Newsweek has contacted Santos and Lafazan for comment via email.