George Santos has broken with Republican colleagues over Taiwan, claiming the "industrial war complex is salivating" at the prospect of war between the United States and China over the island, and vowing to vote "hard NO!" to any war measures in the House of Representatives.
Beijing regards Taiwan as a renegade province, with President Xi Jinping vowing to achieve the island's "reunification" with the Chinese mainland. China conducted major military drills around Taiwan on Saturday and Sunday, which the Taiwanese military said involved 70 aircraft and 11 vessels, with combat jets entering Taiwan's southwestern air defense identification zone.
Santos's comments appear to put him at odds with leading Republicans, including Speaker Kevin McCarthy and Senate Minority Leader Mitch McConnell, who have been highly supportive of Taiwan. Former president Donald Trump has also been extremely critical of Beijing, accusing China of trying to "displace the U.S. Dollar as the NUMBER ONE CURRENCY throughout the world," on his Truth Social website.
On Saturday Santos tweeted: "The industrial war complex is salivating at the thought of the US entering a conflict with China over Taiwan. If this comes to the floor for a vote, I'm a hard NO!
"I will remain anti intervention and anti war and I urge more of my colleagues do the same."
The New York Republican's comments came after Beijing reacted with fury when Taiwanese President Tsai Ing-wen met Speaker McCarthy, and other members of Congress, on Wednesday at the Ronald Reagan Presidential Library in California.
McCarthy commented: "The members here today make clear: We take our support for the people of Taiwan seriously and are determined to speak with one voice."
He later added: "I am the Speaker of the House. There is no place that China's going to tell me where to go and who I can speak to."
In August, Minority Leader McConnell was one of 26 Senate Republicans who signed a statement, backing then-Speaker Nancy Pelosi's visit to Taiwan.
They added: "We are also committed now, more than ever, to all elements of the Taiwan Relations Act."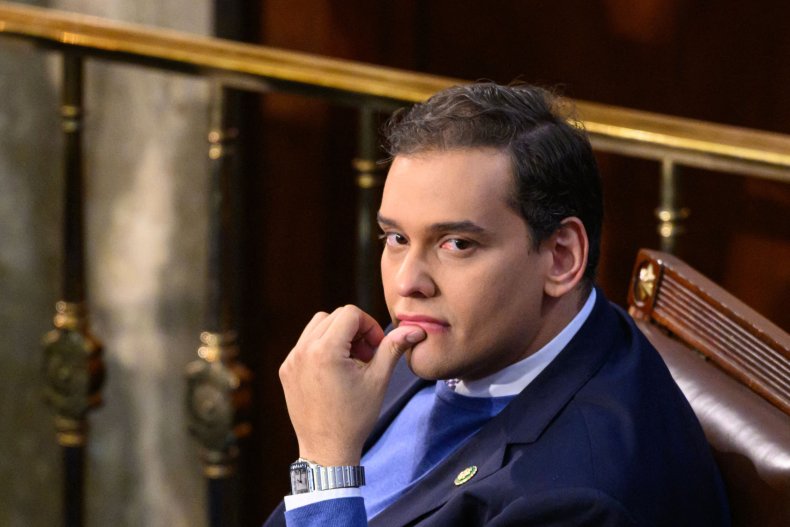 Under the 1979 Taiwan Relations Act the United States is committed to helping to maintain Taiwan's military capabilities, though it doesn't compel Washington to intervene militarily if China does invade.
President Trump infuriated Beijing following his election in 2016 when he spoke to Taiwanese President Tsai Ing-wen over the telephone. In March 2022, Trump suggested Taiwan would be "next" following the Russian invasion of Ukraine, and said President Xi had a "high intelligence level."
Explaining why he thought China would invade Taiwan, during a Fox Business appearance, he added: "They're seeing that our leaders are incompetent. And of course, they're going to do it. This is their time."
Santos was elected to the House in November when he flipped New York's third congressional district. However, he has faced calls to resign after it emerged he'd fabricated large chunks of his backstory, including his education and employment history, and claimed to have lost employees in the 2016 Pulse nightclub massacre.
On Wednesday, Santos was mocked by two performers at an All Elite Wrestling event that took place just outside his district, on Long Island.
Newsweek has contacted George Santos for comment by email.