California Governor Gavin Newsom weighed in on what would happen if Florida Governor Ron DeSantis challenged Donald Trump for the 2024 Republican presidential nomination.
Trump, who served as president from 2017 to 2021, announced his 2024 presidential campaign last November and remains the favorite to snag the GOP nomination, according to polls, However, DeSantis, whose embrace of right-wing cultural issues propelled him to the national spotlight, is viewed as his top Republican opponent should he opt to challenge the former president.
Political experts have speculated that DeSantis could launch a presidential campaign in the coming months, joining a handful of other high-profile Republicans who have announced they are also running for president.
Newsom, a Democrat, predicted what would happen if the Florida governor jumps into the GOP primary during an appearance on MSNBC's Inside with Jen Psaki on Sunday.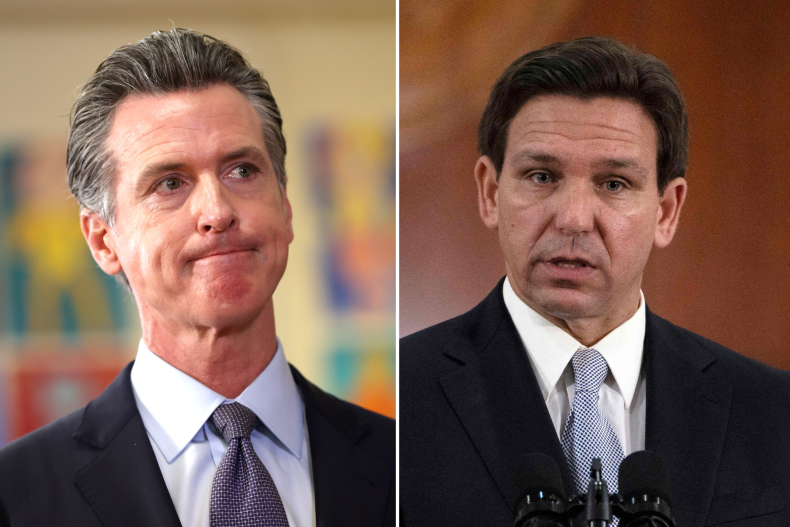 "He's going to get rolled by Trump. Trump's just going to roll him," Newsom said. "Thumped."
The California governor said his Florida counterpart looks "weak" for attacking Manhattan District Attorney Alvin Bragg, whose office charged Trump with 34 counts of falsifying business documents in relation to an alleged hush money payment he made ahead of the 2016 presidential election to adult film star Stormy Daniels. Daniels alleged that she had an affair with the former president in 2006. Trump has pleaded not guilty in the case and has denied ever having an affair.
Newsom offered his political advice to DeSantis, advising him against challenging Trump for the GOP nomination and come back in a few years as a more "seasoned and capable leader."
"Honestly, if I were offering him political advice, I'd tell him to pack up and wait a few years, and actually do some of the hard work, which actually includes governing. Not just identity and culture war," he said.
Newsom, DeSantis Emerge as Political Foes
Like DeSantis, Newsom has been named as a potential future presidential candidate, as he has become a high-profile figure in the Democratic Party. However, he has signaled he will not challenge incumbent President Joe Biden for the Democratic nomination.
Newsom has been sharply critical of DeSantis, who has frequently been subject to Democratic critiques. Newsom pledged $100,000 to help Democrats unseat DeSantis during the 2022 midterm elections, though the incumbent governor beat his opponent Charlie Crist by more than 19 percentage points.
Last week, Newsom met with New College of Florida students and faculty to show solidarity as DeSantis aims to battle what he describes as "woke" policies in higher education. In January, DeSantis appointed seven new conservative members to the school's board of trustees to make changes at the school.
What Polls Say About DeSantis' Chances of Beating Trump
Although DeSantis poses as Trump's greatest challenge to winning the GOP presidential primary, the former president still leads most polls. Although DeSantis has not yet announced a run, two high-profile Republicans—former South Carolina Governor Nikki Haley and former Arkansas Governor Asa Hutchinson—have announced campaigns.
A YouGov poll conducted among 1,000 adults from April 4 to 6 found that 29 percent of Republican primary voters would back Trump in 2024, while 21 percent said they would vote for DeSantis. Eighteen percent said they preferred someone else, while 32 percent said they were not sure who they would support. The poll had a margin of error of 3.3 percentage points.
An Ipsos poll conducted from April 5 to 6 among 368 Republican primary voters found that 58 percent of voters would support Trump, while 21 percent said they would back DeSantis. The poll had a margin of error of plus or minus 6.3 percentage points.
Newsweek reached out to DeSantis' office for comment via email.