France and Germany, which are among dozens of nations reported to host a network of alleged overseas stations used by Chinese security forces to monitor and harass dissidents, are probing potential operations on their own soil in connection with the issue.
Such sites, as Newsweek reported in December, appear to exist on both U.S. territory and in more than 50 countries around the world. They've drawn increased attention since the FBI's arrest of two Chinese nationals accused of operating an "illegal overseas police station" on behalf of the Chinese Ministry of Public Security in Manhattan on Monday.
When it comes to his own country, French Interior Minister Gérald Darmanin said in comments shared with Newsweek, "under no circumstances will France tolerate attacks on its sovereignty."
"It intends to vigorously combat foreign influences on its soil and will not allow international rules providing for the admission of these citizens to undermine our good relations with certain nations," he added, "whether that be China or any other country."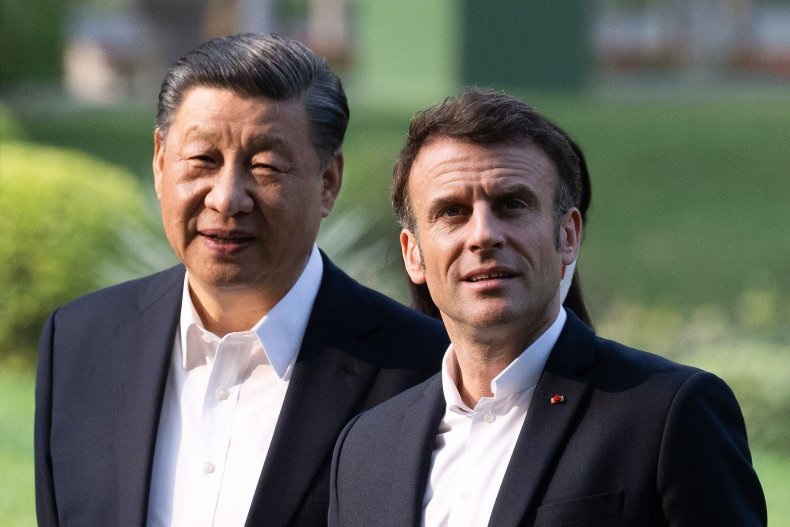 Darmanin also asserted that France's General Directorate of Internal Security Forces (DGSI) "is paying close attention to the revelations" made by the Spain-based NGO Safeguard Defenders, which has reported on two service centers operated by China's Wenzhou and Qingtian Public Security Bureaus and two contact points run by the Fuzhou Public Security Bureau in Paris.
He said the DGSI was actually "working on this issue prior to the release of these revelations," and that he "requested that the DGSI step up its intelligence investigation."
"Over four years ago, faced with all of the countries that have extremely aggressive counter-influence operations in France, President [Emmanuel] Macron requested that the DGSI receive additional support," Darmanin said.
"Let me reassure you—France will never tolerate this kind of behavior," he added. "As for the four police stations in France mentioned by the NGO, they have yet to be confirmed."
Germany has also been investigating potential sites linked to Chinese overseas surveillance and policing since at least October of last year. Reporting by Safeguard Defenders and Newsweek identified one potential service center operated by the Qingtian Public Security Bureau in Frankfurt.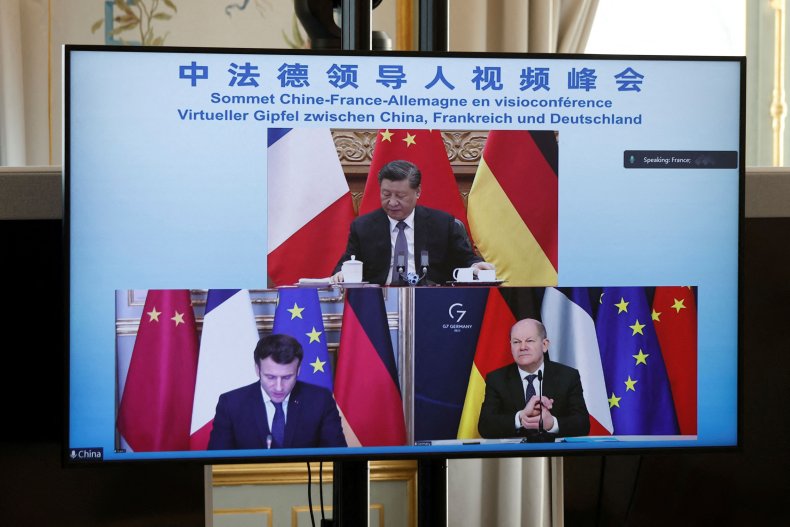 A spokesperson for the German Federal Ministry of the Interior and Community (BMI) told Newsweek that the agency "assumes on the basis of previous findings that so-called 'Chinese overseas police stations' in Germany tend to be organized on a personal and mobile basis and that no permanent offices have been established.
"The Chinese Embassy was requested to immediately terminate activities outside the Vienna Conventions on Diplomatic and Consular Relations and to close down existing 'Chinese overseas police stations' in Germany," the spokesperson said. "There is an exchange with the Chinese Embassy on this matter.
"The federal security authorities continue to follow up on the issue and thus on any indication of these so-called "Chinese overseas police stations," the spokesperson added. "To this end, there is a continuing close exchange of information with the relevant state authorities."
In response to Newsweek questions on Tuesday, Chinese Embassy to the United States spokesperson Liu Pengyu denied the existence of any government-led operation to pursue dissidents on foreign territory. "The relevant sites are formed by overseas Chinese, drawing upon the resources of local communities and providing a place for overseas Chinese in need to access consultation and assistance," he said. "The service personnel are warm-hearted local people serving as volunteers."
"There is no employment or affiliation with any Chinese government agency (including sub-national governments and public security agencies)," Liu said, "nor are these sites authorized or delegated to provide the service."
Such service, he said, "is a common practice recognized and adopted by countries worldwide."
"During the COVID pandemic, overseas Chinese submitted online applications for purposes such as driver's license renewal to relevant public security agencies in China," Liu added. "These are essentially acts of online self-service. There is no breaching of laws or regulations, and no infringement of the judicial sovereignty of the host country."
France and Germany have maintained complex ties with China as relations between Beijing and Washington deteriorated sharply in recent years. The two European nations have expressed wariness of Beijing's rise, as well as its human rights record. At the same time, they have emphasized the importance of maintaining robust trade ties with the world's second-largest economy.
Joined by a European Union delegation led by European Commission President Ursula von der Leyen, Macron visited China earlier this month to meet with his Chinese counterpart Xi Jinping. After the trip, the French president urged Europe to pursue a policy of "strategic autonomy" not beholden to either Beijing or Washington, a call that European Council President Charles Michel later said was being echoed within the continent.
German Chancellor Olaf Scholz also met with Xi during a visit to Beijing in November, marking the first travel by a Group of Seven (G7) nation leader to the country in three years. The trip was followed up last week by German Foreign Minister Annalena Baerbock's meetings with her Chinese counterparts Foreign Minister Qin Gang and Communist Party Central Foreign Affairs Commission Director Wang Yi in Beijing.
In addition to France and Germany, other countries pursuing investigation into the presence of potential illicit Chinese police activity at home include Canada, Ireland, Japan, the Netherlands and South Korea.
Speaking to Newsweek a day after the arrests were made in New York City, a senior official of U.S. President Joe Biden's administration said that "the U.S. Government has been clear that we will use all available tools to protect American citizens and other U.S. persons from transnational repression and other forms of foreign malign influence."
"We will not tolerate the PRC Government—or any foreign government—harassing or threatening U.S. persons," the official said.