Fox News host Shannon Bream pressed Representative Nancy Mace, a South Carolina Republican, about the GOP's stance on gun laws following the latest round of mass shootings to rattle the United States.
Republicans are facing new scrutiny over guns following recent mass shootings in Nashville, Tennessee, Louisville, Kentucky, and Dadeville, Alabama, in the past few weeks. These shootings prompted new calls for gun control measures, which advocates say would lower the number of mass shootings. Republicans, however, have resisted these calls, saying doing so would violate the Second Amendment, which guarantees "the right of the people to keep and bear Arms."
For decades, Democrats and Republicans have debated about whether to strengthen the country's gun laws, but the increasing number of shootings per year in the U.S. has added pressure to Republicans, who last year saw an underwhelming midterm election result.
Mace, who represents a competitive congressional district that includes the suburbs of Charleston, South Carolina, addressed this matter on Fox News Sunday when Bream asked the congresswoman about her party's stance on firearm policy.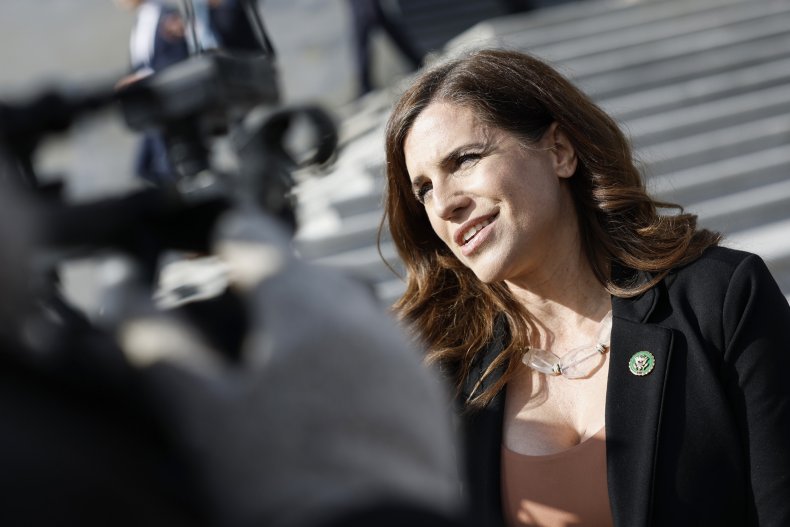 "The Hill says this: 'It puts Republicans in a tricky position as they juggle aligning themselves with key issues that do well among their base, while risking alienating another bloc of voters that have proven they can make or break critical elections,'" Bream said. "Where does this conversation about guns go?"
Mace acknowledged that gun safety has become a difficult topic for the GOP, criticizing her party for their "silence" on the issue. While she noted she remains a "constitutional conservative," she called on her party to enact "common sense" policies to lessen gun violence, including an Amber Alert-style notification of mass shootings, stronger background checks for those who want to purchase guns, and "hardening" public spaces.
"We want to bury our hands in the sand, but guess what—it's not going away," the GOP lawmaker added. "And I see it. I'm in a very purple district, even though I'm in South Carolina. It is an issue that continues to be a problem for Republicans, and we've not learned anything from the midterm elections if we're going to sit here on our hands silently not offering any type of solution to reduce gun violence in our country, and it's not about gun control."
Bream noted that Democrats have voiced opposition to "hardening" public spaces, a policy embraced by Republicans following a mass shooting at Robb Elementary School in Uvalde, Texas, last year that would make it more difficult to attack a school by installing new security measures. Democrats have said these efforts have not stopped shooters in the past and do not adequately address the country's mass shooting problem.
"Is there any common ground for this on Capitol Hill right now?" Bream asked.
Mace highlighted bipartisan support for policies strengthening background checks and streamlining federal databases to help determine whether somebody should be legally allowed to purchase a firearm.
"It doesn't have to be complicated, but we need to show leadership on sensitive issues because these are issues that motivate our constituencies, and voters—especially independent voters," Mace said. "Quite frankly, Republicans haven't won the majority, the popular vote, in years, when it comes to the presidency. That's something we need to work on and do better. This is an issue we can win on."
Congress last June passed a bipartisan gun safety bill that raised the minimum age that a person can purchase a semi-automatic weapon, prohibited civilians from using magazines with more than 15 rounds and created new federal offenses for gun trafficking. Only five House Republicans, not including Mace, voted in support of the bill.
When reached by Newsweek, a Mace spokesperson declined to add further comment on Sunday.
Meanwhile, according to the Gun Violence Archive, an organization that tracks shootings across the country, there have been at least 163 mass shootings in the U.S. so far in 2023. That number was 646 in 2022 and 690 in 2021. In 2014, the earliest year the organization began monitoring this data, there were 272 mass shootings.