Dominion Voting Systems is suing Fox News for $1.6 billion in a defamation case over the network's claims about the company's role in the 2020 election.
The judge in the case has already agreed that the claims made by Fox News were false, but Dominion will need to convince the jury of "actual malice"—a more difficult standard to prove—to win the case.
The First Amendment limits the ability of public figures to sue for defamation by requiring a higher standard of proof, actual malice, which is more difficult to prove than simple negligence.
Update 04/18/23 4:20 p.m. ET: Shortly after 4 p.m., lawyers for Dominion and Fox News reached a settlement agreement hours before the trial was set to begin.
The $1.6 billion defamation case against Fox News will come down to two words: "actual malice."
In order for Dominion Voting Systems, the privately-owned voting equipment company challenging a number of claims made about Dominion by hosts and guests of Fox News, to win its history-making lawsuit, jurors must be convinced that the network acted with "actual malice" when airing lies about the 2020 election.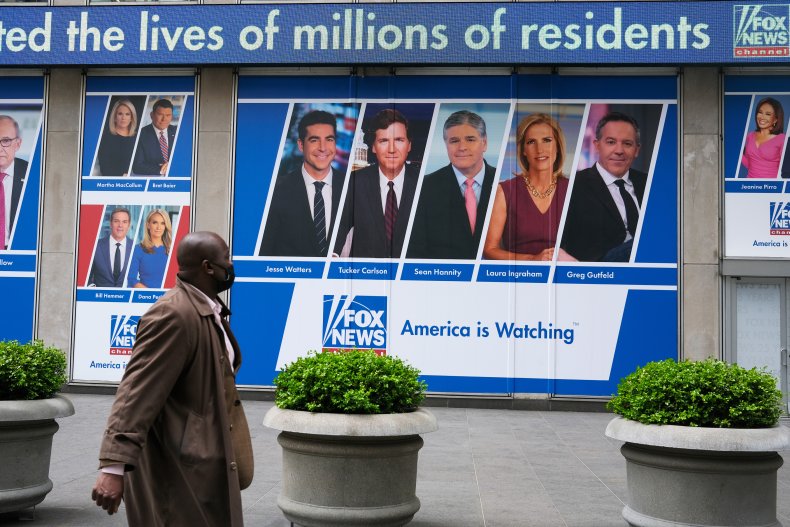 Delaware Superior Court Judge Eric Davis had already agreed with Dominion that the claims are false, but on Tuesday, laid out that what the jury needed to be convinced of was "actual malice."
"This is a higher standard than what is necessary to prove simple negligence," former federal prosecutor and president of West Coast Trial Lawyers Neama Rahmani told Newsweek.
How Do You Prove 'Actual Malice'?
Despite its name, "actual malice" does not require or even refer to "animosity or an emotional state of mind," former federal prosecutor and elected state attorney Michael McAuliffe told Newsweek.
To prove "actual malice," Dominion will need to convince the jury that Fox News had "knowledge" that the statements they were making on-air were false or that the network showed "reckless disregard for the truth." Comparably, to prove negligence, a plaintiff would only have to show that a defendant acted unreasonably under the circumstances.
With the jury officially selected, the billion-dollar trial is set to begin as early as Tuesday afternoon.
The "actual malice" standard, used in certain defamation cases involving public figures or officials, makes it more difficult for these individuals to win libel cases because the First Amendment limits their ability to sue for defamation.
As adopted by the Supreme Court in the landmark case of The New York Times v. Sullivan, "actual malice" requires defendants to have known their claims were false or to have recklessly disregarded whether the claims were false because public figures are entitled to fewer protections as part of the constitutional right to freedom of speech.
Fox News has defended its actions, arguing that the lawsuit is "a political crusade" and that "the real cost would be cherished First Amendment rights."
But Davis disagreed in a ruling last month, writing that, "The evidence developed in this civil proceeding demonstrates that is CRYSTAL clear that none of the Statements relating to Dominion about the 2020 election are true."
Although the judge has agreed that Fox News' claims are false, the standard being applied will make the case more difficult for Dominion's legal team to prove to the jury.
"Actual malice is a difficult, exacting standard to satisfy, in large part, because the American tradition and law have favored open discourse, even for the most difficult topics," McAuliffe said.
"The case is a generational legal dispute about the intersection of law, politics and business of media," he added. "The jury verdict will help define for a generation what's the limit to the profit motivation of news media when it comes to putting objectively false assertions, facts, and accusations into the public forum."