In the wake of Fox News' $787.5 million settlement in the defamation lawsuit filed by Dominion Voting Systems, Fox Corporation and Rupert Murdoch are not out of the proverbial woods yet, legal experts tell Newsweek.
The settlement was made before the case could go to trial and include Fox Corporation Chairman Murdoch's testimony to discuss false claims made by the network's anchors and guests about Dominion and its role in alleged election fraud pertaining to the 2020 presidential election. Dominion originally filed for $1.6 billion.
"Fox has admitted to telling lies about Dominion that caused enormous damage to my company, our employees and our customers. Nothing can ever make up for that," Dominion CEO John Poulos told Newsweek in a statement following Tuesday's settlement.
Fox Corporation's legal battles may just be beginning, however, due to various lawsuits—including a new complaint filed Thursday in Delaware's Chancery Court, according to Bloomberg Law.
That class-action suit, which was filed under seal, reportedly targets Murdoch's eldest son, Lachlan, and former U.S. House Speaker Paul Ryan and current Fox board member among other company brass for leading the company into legal peril.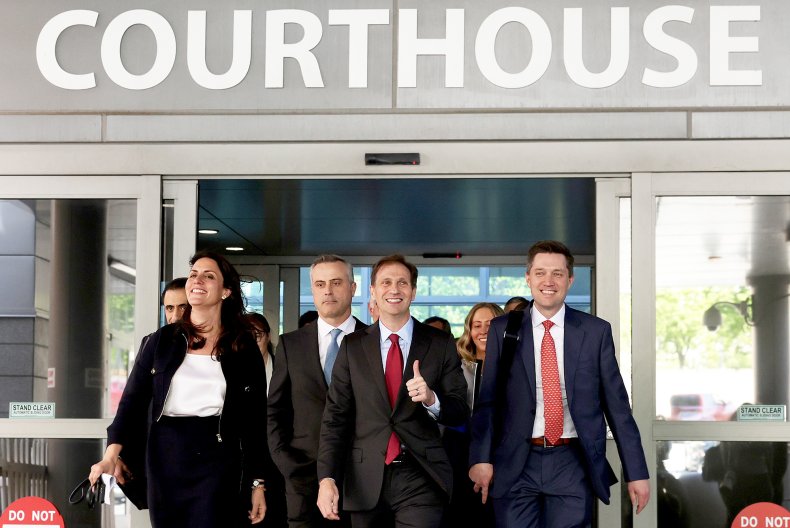 The shareholders leading the proposed class action, Julie Greenberg and Carylin Riak, are represented by Prickett, Jones & Elliott PA. Newsweek reached out to Greenberg via email for comment.
That suit is compared to a shareholder derivative suit filed April 11 in the same court by James Schwarz, who "claims for breaches of fiduciary duty" against certain members of the company's board of directors and senior officers.
Schwarz, represented by Heyman Enerio Gattuso & Hirzel LLP and Gardy & Notis LLP in Wilmington, Delaware, alleges that the "24-hour news channel knowingly allowed the news channel to broadcast, promote, and perpetuate a false election fraud story in connection with the 2020 U.S. Presidential election in order to maintain the network's ratings and viewers, who were known to be supporters of Donald Trump."
"Even at the cost of misleading viewers, FOX executives and the Board knew Fox News anchors made false statements to the public," the lawsuit claims. "FOX knew that its viewers expected FOX to show support for President Trump, so to satisfy its viewers, certain Fox News anchors blamed Dominion and Smartmatic for President Trump's loss by claiming that the election was rigged."
Attorney Kurt Heyman, who is among those representing Schwarz, told Newsweek via email that the firm had no comment at this time.
Smartmatic, an election technology company rivaling Dominion, sued Fox News in February 2021 for defamation. It is seeking $2.7 billion in damages from the corporation, including some anchors, in a lawsuit asking for over $1 billion more in damages compared to the case settled earlier this week.
"Dominion's litigation exposed some of the misconduct and damage caused by Fox's disinformation campaign. Smartmatic will expose the rest," Connolly said in a statement that was tweeted by Semafor editor-in-chief Ben Smith on Tuesday afternoon. "Smartmatic remains committed to clearing its name, recouping the significant damage done to the company, and holding Fox accountable for undermining democracy."
Newsweek reached out to Smartmatic via email for comment.
"We will be ready to defend this case surrounding extremely newsworthy events when it goes to trial, likely in 2025," Fox Corporation spokesperson Brian Nick told Newsweek via email on Friday. "As a report prepared by our financial expert shows, Smartmatic's damages claims are implausible, disconnected from reality, and on its face intended to chill First Amendment freedoms."
'Smell blood in the water'
Neama Rahmani, former federal prosecutor and president of West Coast Trial Lawyers, told Newsweek via phone that the shareholder derivative suits are being filed because Fox Corporation lost value and the directors are liable to those shareholders for such losses.
"In a suit like that, they're going to be able to conduct discovery…and they're going to be able to see what Murdoch knew, what the hosts knew," Rahmani said. "All that evidence will come to light."
He was reminded of the $90 million settlement reached in 2017 by Twenty-First Century Fox Inc. following claims of sexual harassment at Fox News against former big-time host Bill O'Reilly.
"[Smartmatic has] has to smell blood in the water," he added. "They're already asking for more money. Fox has a history of settling these types of cases before. The executives have to testify in a very sort of public way, an embarrassing way.
"Now [Smartmatic has] to think that the company's on their heels, and they're gonna get paid. I wouldn't be surprised if they break the billion-dollar mark. They must be feeling fantastic right now."
New York-based attorney Andrew Lieb told Newsweek via email that "Dominion has really paved the way" for these derivate-based lawsuits.
"Clearly, this isn't Murdoch's week," Lieb said. "More so, we can only hope that this lawsuit can go to trial so that Fox's stars will have to testify where their audience can hear from them that they knowingly lied in order to inflame hatred and increase viewership. The country deserves this much."