Jenna Ellis, an attorney who previously represented Donald Trump, raised concerns about being harassed online for not supporting the former president "100%" as he again seeks the presidency.
Ellis, who worked as an attorney on Trump's 2020 presidential campaign, has recently faced backlash from some Trump supporters for making positive comments about Florida Governor Ron DeSantis, who is seen as Trump's top opponent in the 2024 GOP primary should he choose to challenge Trump—though Ellis has not made an endorsement in the race.
Ellis recently voiced concerns on Twitter over alleged harassment targeting her and other women from some Trump supporters. In a series of tweets throughout the past week, she has criticized some conservatives for making offensive posts about her, also warning that the right-wing's embrace of this sort of tactic will be damaging to Trump's election campaign.
"Trump 2024's message to women like me and Erin Perrine," she wrote on Friday, referring to a Trump 2020 communications official who now supports DeSantis. "You're either 100% in all the time or you deserve to be harassed."
In a statement to Newsweek on Saturday afternoon, Ellis wrote: "Sexual harassment, threats of violence, and comparisons to sex workers are never okay legally or ethically. This isn't about being offended by a meme, it's about not violating the law and basic standards of decency while engaging in political discourse."
She added that the memes are not only being shared by troll accounts, some of which have been suspended, but by prominent conservative influencers including Alex Bruesewitz and Caitlyn Jenner.
"My question is whether the Trump family wants these vile people associated with them or condones sexual harassment? Women who previously represented Trump and are now pro-DeSantis, like Erin Perrine, should be able to do their jobs and have their political opinions without malicious threats of violence online," Ellis wrote.
She pointed to one specific instance of what she views as harassment involving Bruesewitz, a Republican strategist who has been affiliated with Trump's Save America PAC. Ellis has said that Bruesewitz and his allies had shared a meme comparing her to adult film actor Stormy Daniels, who has alleged to have had an affair with Trump, though he has denied these claims, which she viewed as harassment.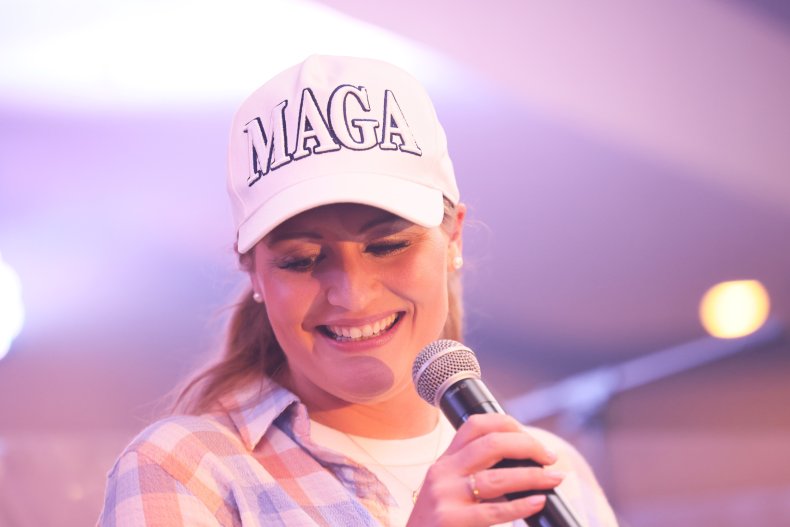 Bruesewitz responded to Ellis' allegations in a statement to Newsweek on Saturday, saying he does not believe his posts constitute as harassment.
"Memeing is not harassing. Jenna Ellis attacks people on Twitter all the time, she should get thicker skin if she wants to stand in the arena," he wrote. "And to be clear, I didn't make any of the memes. She sent me a cease and desist letter for sharing a meme that was posted by numerous accounts already. What a joke."
The cease and desist letter was sent to Bruesewitz by Ellis' employer, the American Family Association.
Ellis has also tweeted about other instances of harassment, accusing some conservative meme-makers of posting photos depicting a "cartoon version" of her in a sexual position or comparing her to Assistant Secretary for Health Rachel Levine, who has been subject to conservative attacks for being transgender.
"Yet apparently I'm worthy of being compared to a porn star and sexually harassed just because I also like what DeSantis is doing in Florida. This is what they mean by 'loyalty,'" she also tweeted on Friday. "I have no regrets for my service. But I don't work for him now and definitely don't support this."
On Monday, Ellis accused Trump-aligned conservatives of engaging in "blatant sexism & vulgarity," sharing a number of comments she has received attacking her over positive remarks made about DeSantis.
"I was called a lot of things and had a lot of leftist hit pieces trying to destroy my credibility while I represented Trump," she tweeted. "But I never saw a media outlet or journo use the blatant sexism & vulgarity that 'MAGA influencers' do now. And I don't even work for DeSantis. Telling."
Trump and DeSantis supporters have long engaged in online debates about which Republican should be the GOP's presidential nominee, with personal attacks at times being made. Although DeSantis has not yet formally announced a presidential campaign, Trump remains favored to snag the GOP nomination, according to recent polling.
The infighting has drawn condemnation from Representative Marjorie Taylor Greene, a Georgia Republican and Trump ally, who tweeted on Friday, "The online personal fights between Trump and DeSantis influencers needs to stop. It makes everyone look bad and helps no one."