A Florida seafood restaurant chain said it is removing Bud and Bud Light from its shelves over the controversy the beer brand stirred when it showcased transgender advocate Dylan Mulvaney in an ad campaign earlier this month.
"I am disgusted by what you have done and what you are doing," Grills Seafood Deck and Tiki Bar owner Joe Penovich wrote in an open letter to the Anheuser-Busch Corporation posted to Facebook. "You are the one causing this division and anger in our society. You are responsible for making some of the gay community think Grills does not welcome them. And you knew EXACTLY what you were doing when you launched this campaign. How could you not? 'Good ole boy beer…meets Dylan Mulvaney? Hmm. Let's see what that does to the country.' NOBODY is that stupid. This goes way beyond transgenderism."
Penovich went on to say they plan to eliminate Bud and Bud Light beer from their restaurants along with any promotional items like coasters or umbrellas with its name on it.
"We are going to pray deeply about whether we should vaporize all your brands and corporate corruption from all our restaurants and shift to all locally brewed beer. Decision pending," the letter added.
BUDWEISER RELEASED NEW PRO-AMERICA AD WITH ICONIC MASCOT IN WAKE OF ANHEUSER-BUSCH MULVANEY CONTROVERSY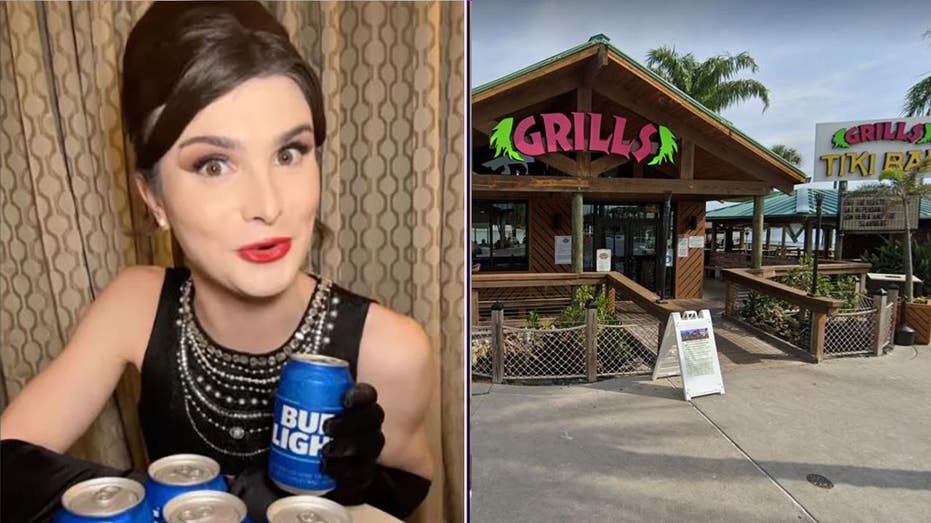 Penovich added, however, that the company "love[s]" the gay and transgender community. "There is no judgment in my heart towards you," he wrote, explaining that he "cannot believe surgically altering a human body is the best form of suicide prevention we have available. Is this really the best option the AMA (American Medical Association) has for a child or young adults? If it is, then it's time to look somewhere else."
BUD LIGHT SUFFERS BLOODBATH AS LONGTIME AND LOYAL CONSUMERS REVOLT AGAINST TRANSGENDER CAMPAIGN
He added that his "Biblical faith tells me there is something much deeper and darker than bad medical and psychiatric care."
Penovich wrote that Dylan Muvaney isn't the "enemy."
"As Christians we need to pray in fear and trembling instead of screaming in rage and anger or we gravely miss the mark of love we were called to exhibit," he said.
APP USERS CLICK HERE TO VIEW POST
The post was met with mixed support with some saying they'll be customers "forever" over the chain's stance and others writing they couldn't wait to see a "business closed" sign at the restaurant soon.
In a post from earlier in the week, Penovich responded to an anti-gay accusation on social media by clarifying, the chain "made the decision to remove Bud Light because of their support of something that is in direct opposition to our Biblical faith. There is no judgement in our heart concerning those who believe in these rapidly changing social values. But there is a lie being levied that we and other Christians hate Dylan Mulvaney and the gay community. Nothing could be further from the truth in our hearts and minds."
He added that they believe "transgenderism is a social experiment causing irreversible damage to a growing population of younger and younger children. We will not align with it in any way."
Fox Business has reached out to Grills and Anheuser-Busch for comment.
The Mulvaney controversy began earlier this month when she announced her partnership with the beer company as they celebrated her one-year anniversary of being an open transgender woman.
CLICK HERE TO GET THE FOX NEWS APP
A boycott of the brand was swiftly started, led by famous conservatives like Kid Rock and Ben Shapiro.
Anheiser-Busch CEO Brendan Whitworth responded to the backlash last week by saying, "We never intended to be part of a discussion that divides people. We are in the business of bringing people together over a beer."
He added, "My time serving this country taught me the importance of accountability and the values upon which America was founded: freedom, hard work and respect for one another. As CEO of Anheuser-Busch, I am focused on building and protecting our remarkable history and heritage."