First Republic Bank stock nosedived on Monday morning even after U.S. regulators took extraordinary steps to shore up wavering confidence in the financial system and contain fallout from the collapse of Silicon Valley Bank.
The San Francisco-based First Republic saw its shares plummet about 75%, leading losses among regional banks. There were other notable declines among financial institutions – both big and small – on Monday morning. Customers Bancorp dropped 55%, PacWest Bancorp tumbled 41%, Zions Bancorporation slid 39%, Charles Schwab fell 17% and Bank of America shed 4%.
First Republic announced Sunday that it received additional liquidity from the Federal Reserve and JPMorgan Chase. The bank – which boasts $213 billion in assets – now has $70 billion in unused liquidity.
SIGNATURE BANK SHUT DOWN IN CONNECTION WITH SILICON VALLEY BANK COLLAPSE
Ticker
Security
Last
Change
Change %
FRC
FIRST REPUBLIC BANK (SAN FRANCISCO CALIFORNIA)
27.96
-53.80
-65.80%
PACW
PACWEST BANCORP
8.74
-3.61
-29.23%
CUBI
CUSTOMERS BANCORP INC.
14.46
-8.40
-36.74%
ZION
ZIONS BANCORPORATION NA
29.31
-11.04
-27.36%
SCHW
THE CHARLES SCHWAB CORP.
51.79
-6.93
-11.80%
BAC
BANK OF AMERICA CORP.
29.20
-1.10
-3.63%
"First Republic's capital and liquidity positions are very strong, and its capital remains well above the regulatory threshold for well-capitalized banks," said founder Jim Herbert and CEO Mike Roffler in a statement.
The bank, which has more than 80 branches across the U.S., contacted customers over the weekend in an attempt to reassure them about its health.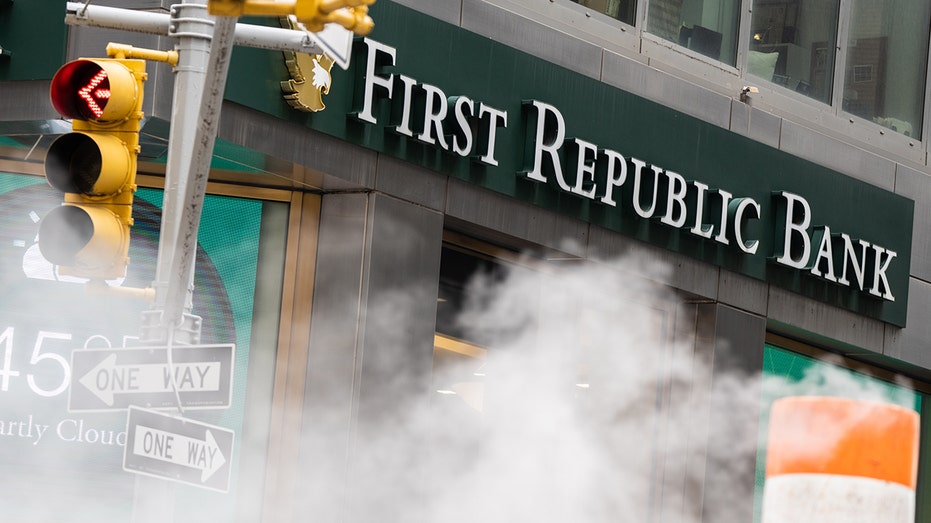 "In light of recent industry events, the last few days have caused uncertainty in the financial markets," Roffler and Herbet said in an email to clients obtained by FOX Business. "We want to take a moment to reinforce the safety and stability of First Republic, reflected in the continued strength of our capital, liquidity and operations."
SILICON VALLEY BANK COLLAPSE HITS COMPANIES SUCH AS CAMP, COMPASS COFFEE
The trouble at regional banks began after the historic failure of Silicon Valley Bank – the 16th largest in the country – on Friday afternoon following a liquidity crunch. It marked the largest U.S. bank failure since the global financial crisis in 2008.
SVB – which largely catered to tech companies, venture capital firms and high-net-worth individuals – saw a huge boom in deposits during the pandemic. The bank responded by investing a large chunk of that cash into long-term U.S. Treasury bonds and other mortgage-backed securities. However, that strategy backfired when the Federal Reserve embarked on the most aggressive interest-rate hike campaign since the 1980s and the value of those securities tumbled.
That coincided with a decline in available funding for startups, which started drawing down more of their money to cover their expenses, forcing the lender to sell part of its bond holds at a steep $1.8 billion loss. When depositors realized that SVB was in a precarious financial situation, a bank run ensued.
There are other mid-sized banks that could be at risk.
CLICK HERE TO GET THE FOX BUSINESS APP
"While SVB's duration mismatch and its concentration of undiversified depositors may seem unique, numerous U.S. banks have increased their investments in held-to-maturity securities since the onset of the pandemic and many regional banks have similarly undiversified portfolios – representing a notable risk of deposit outflows without a proactive and targeted policy response," said Gregory Daco, chief economist at EY.