The first 2024 Chevrolet Corvette E-Ray hybrid sports car has sold for a hefty sum. Corvette's VIN 001 E-Ray went for $1.1 million at the Barrett-Jackson Palm Beach Auction on April 15. It was purchased by Rick Hendrick, chairman and CEO of Hendrick Automotive Group and owner NASCAR Cup Series team Hendrick Motorsports.
The Corvette E-Ray joins Hendrick's other "firsts" collection including the first 2023 Chevrolet Corvette Z06, Ford's first GT Heritage Edition, GMC Hummer EV and a Ford Bronco. Proceeds for all of these auctions went to charity.
That price is more than the first GMC Hummer EV SUV ($500,000) sold at auction in January 2023 but far less than the first Corvette Stingray in 2020 ($3 million).
The base price of a new 2024 Corvette E-Ray, on sale in coupe and convertible form later this year, is $104,295.
Corvette E-Ray is the first hybrid Corvette and uses the Stingray's V8 engine behind the driver to make 495 horsepower (hp). An electric motor adds another 160 hp along with 125 pound-feet (lb-ft) of torque for a total of 655 hp.
Chevrolet says that power makes this the quickest Corvette ever to 60 miles per hour (mph) with a sprint time of just 2.5 seconds.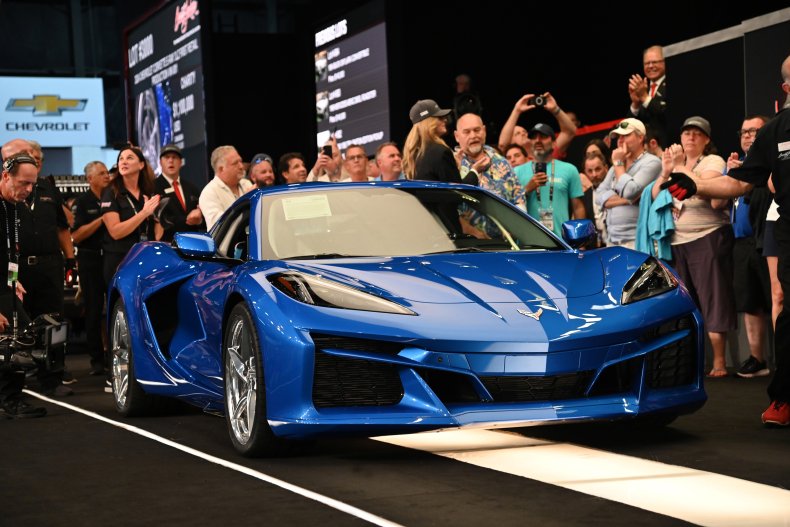 It's 3.6-inches wider than the Corvette Stingray and comes standard with staggered 20- and 21-inch wheels with Michelin tires. Both an adaptive suspension and carbon ceramic brakes are standard.
Similar to the Acura NSX hybrid, the Corvette E-Ray uses its rear-mounted gasoline engine to power the rear wheels and a front electric motor for the front wheels.
In addition to normal drive modes like Tour, Sport, Track, Weather, the E-Ray has modes for the operation of the hybrid system. Stealth Mode, selected at startup, uses only the battery for speeds up to 45 miles per hour (mph). The engine comes on if the driver exceeds that speed.
The Charge+ feature keeps the battery charged until it's needed, either at the racetrack or in the neighborhood. The Corvette E-Ray also has customized Performance Traction Management (PTM) modes (its version of traction control) for use with the electric all-wheel drive system.
All of the profit from the Corvette E-Ray hammer price goes to DonorsChoose, a non-profit combating racial and socioeconomic inequity in school funding. It was founded in 2000 and helps teachers with resources by connecting them with willing donors. Since its inception it has fulfilled more than two and a half million classroom projects.
"General Motors and Chevrolet are proud to join DonorsChoose on its mission of combatting inequality in school funding by providing underserved communities with the resources needed for a quality education," said Steve Majoros, chief marketing officer, Chevrolet in a press release. "The Corvette E-Ray is a special product for Chevrolet, and we are honored that the proceeds from the sale of VIN 001 will aid this organization in supporting students and teachers around the nation."