Donald Trump's arrest in New York this week attracted commentary from across the world of entertainment, with many reacting to the 34 felony charges the former president now faces.
Samuel L. Jackson, Yvette Nicole Brown, George Takei, and Jimmy Kimmel were some of the celebrities who mocked Trump's arraignment.
According to social media, one major Hollywood star allegedly went further, suggesting that Donald Trump's supporters should be brought down a peg as well.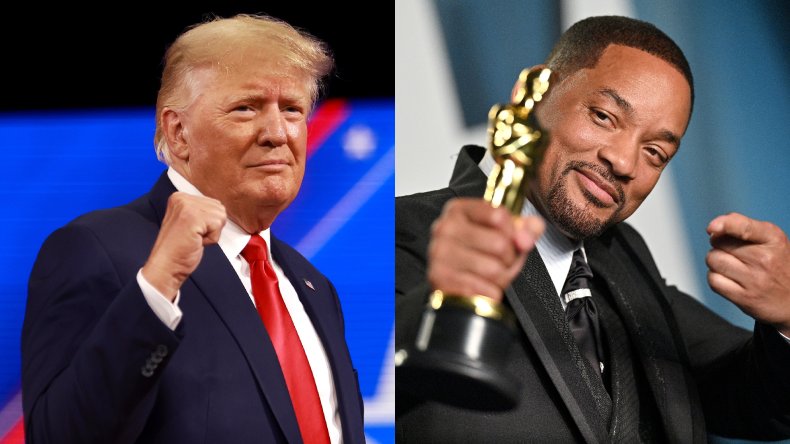 The Claim
A tweet by user @ThePatriotOasis, posted on April 5, 2023, claimed that "Will Smith wants to 'Cleanse' America of Trump supporters."
The tweet included a clip of Will Smith, in which the actor is heard saying: "And as painful as it is to hear Donald Trump talk and as embarrassing as it is as an American to hear him talk, I think it's good. We get to hear it, we get to know who people are and now we get to cleanse it out of our country."
The Facts
Trump has enjoyed support from his loyalists following his arrest on Monday, with some polls showing he still retains a lead over potential presidential candidate Ron DeSantis, ahead of the GOP primaries.
While Trump retains a devoted base, it's fair to say his continued presence in politics has not been welcomed by many, as the clip shared on social media appeared to suggest.
However, the tweet that accompanied the clip did not include the context necessary to understand Will Smith's comments in full.
It's important to note the extremely sensitive connotations that the word "cleanse" has in political conversation, evoking notions of genocide. This, thankfully, is not what Smith advocated.
First, Smith did not say he wanted to "'Cleanse' America of Trump supporters." The clip in circulation is from a longer 2016 press conference in Dubai, U.A.E, for the film Suicide Squad. While the tweet did not explicitly state otherwise, the lack of information may give rise to the thought that Smith's comments were made recently, following Trump's arrest.
Second, while Will Smith did talk about "cleansing" during a discussion mentioning Donald Trump, the meaning of the word was not about removing or silencing Trump supporters in society.
As the full video—posted on YouTube—reveals, Smith said while he didn't like Trump's commentary and rhetoric, he believed listening was useful to help clear the air or "cleanse" wider political and public conversation.
The actor compared hearing the former president's rhetoric similar to listening to uncomfortable confessions during therapy.
"I feel very very confident that what we're seeing happening in America right now is a cleansing," Smith said.
"The things are coming to the surface—I think of things in terms of marriage counseling. I've done a lot of marriage counseling, right?
"So, what happens in a marriage, once you do counseling, and the truth comes out.
"And you sit across from your wife, and you've said all of your truth, and she's said all of her truth, and you look at each other, and you can't imagine you could possibly ever love each other again now that your truth is out. And it creates a dark moment.
"It creates a dark moment but, for me, it's the dark before the dawn. When the truth comes out and people have to stand up and say who they are and what they think and you get to know who they are.
"I think that's the cleansing before we get to the other side—that is understanding, that is moving forward in our relationship, and as painful as it is to hear Donald Trump talk, and as embarrassing as it is as an American to hear him talk, I think it's good we get to hear it.
"We get to know who people are and now we get to cleanse it out of our country."
So, rather than be about "cleansing" Trump supporters, as the tweet suggested, Smith's argument was that what Trump had been saying in 2016 was helpful in encouraging more honesty and understanding.
The "cleansing" in this context appears to refer to a new shared dialogue after the "dark moment."
For those reasons, it appears the clip has been used misleadingly to suggest Smith wants to get rid of Trump supporters.
Despite Smith's historical indifference to the former president's politics, the two were compared by talk show host Howard Stern after the actor slapped comedian Chris Rock at the 2022 Academy Awards.
"Not one person came out, because he's Will Smith, this is how Trump gets away with s***. Will Smith and Trump are the same guy," Stern said during a March 2022 taping of his SiriusXM show.
"He decided he's going to take matters into his own hands. At a time when the world is at war. Bad timing, man. Calm your fucking a** down."
The Ruling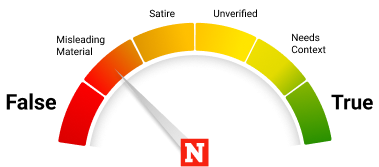 Misleading Material.
The clip shared on Twitter misses vital context. The video it came from, filmed in 2016, shows Smith showing sympathy toward the idea of listening to and understanding each others' politics and views so a "cleansing" consensus could be reached.
While it is arguably not the most appropriate vocabulary to have used in a conversation about politics, Smith did not suggest silencing Trump supporters in the manner the Twitter clips suggest.
FACT CHECK BY Newsweek's Fact Check team