The Dylan Mulvaney Bud Light furor has shown little sign of stopping, with the White House this week intervening to condemn bomb threats made against the beer's parent company Anheuser-Busch.
While the company has seen its stock rise again after speculation that a Bud Light boycott had damaged it, the fallout among conservative commentators has continued for weeks since the ad went online.
Among the more unusual stories surrounding this controversy was that one man, recorded on video, went to a Walmart to destroy its stock of Bud Light in protest but picked the wrong beer instead.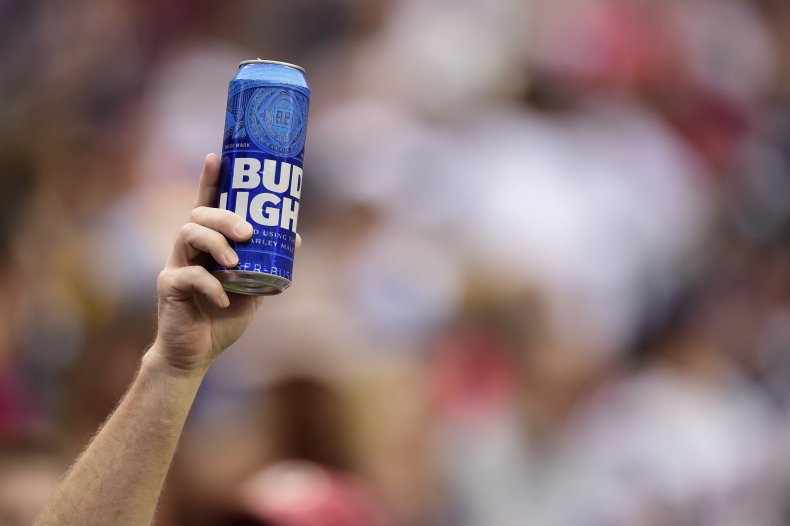 The Claim
A Reddit post, published on April 18, 2023, upvoted 21,000 times, with the title "Angry at bud light, but destroying the wrong products", included a video showing a man destroying beer in a supermarket aisle before being led away by police.
The man can be seen throwing boxes of Busch Light beer. A person behind the camera can be heard saying: "Why's he destroying the Busch Light, dude?"
The Facts
Nearly three weeks since the Dylan Mulvaney ad went online, the surrounding commentary continues to attract attention.
This week alone, Bud Light was reportedly taken off the menu of a chain of restaurants in Florida while a photo went viral after cases of the beer were adorned with lewd stickers, seemingly in protest of the Mulvaney story.
The attention and popularity of the story have also attracted misinformation, such as that a steamroller was used to destroy thousands of cans in protest or that sales had dropped 30 percent.
Based on available evidence, however, it appears the claim about the man in the video is also not to be trusted.
As reported by Forbes, the incident took place on April 17, 2023, at Walmart in 1501 SW Wanamaker Road, Topeka, Kansas, according to a police statement.
"Officers learned that an adult male, identified as J Dustin D. Cain, 44, of Topeka, was in the store throwing things at people," Topeka Police said in a statement.
Forbes reported that Cain was charged with "criminal damage to property; felony battery; physical contact in rude, insulting, angry manner and assault" and "Lewd and lascivious; Exposing sex organs to another =>16."
Motive as to why Cain destroyed the beer has not been disclosed. Newsweek has asked Topeka Police Department via email whether the incident was in a protest against BudLight/Anheuser-Busch and for other details about the arrest.
Although it's not clear all of the stock that was destroyed in the video, Busch Light (which can be seen being thrown in the video) is also owned by Anheuser-Busch.
While the backlash caused by the ad has led to death threats against transgender TikTok star Dylan Mulvaney, the 26-year-old has received a boost to her social media profile as a result.
Mulvaney is said to have gained 87,000 new followers on Instagram this month, after being sent a personalized beer with her face on it to commemorate one year since she started her gender transition.
The Ruling
Unverified.
The motive behind this video not yet been established. The man in the video was arrested on a number of charges, some of which were unrelated to the video shared on social media.
Although some speculated that he had picked the wrong beer to destroy (if it was a protest against the Mulvaney ad), cases of Busch (which is owned by Bud Light parent company Anheuser-Busch) can be seen being thrown to the floor.
FACT CHECK BY Newsweek's Fact Check team