A popular gay TikTok couple arrested in Russia for allegedly violating the "gay propaganda law" have told Newsweek their situation is a "living hell."
Russian Gela Gogishvili, 23, and Chinese national Haoyang Xu, 21, who met on a dating app and moved in together two years ago, share their daily lives as a couple in Kazan in the country's southwest. They have around 370,000 followers on TikTok and 64,900 subscribers on TikTok.
But they had their seemingly peaceful Wednesday upended at about 1 p.m. local time, when police stopped them and they were escorted to the local police station to be charged under a law that prevents the positive representation of "non-traditional sexual relationships."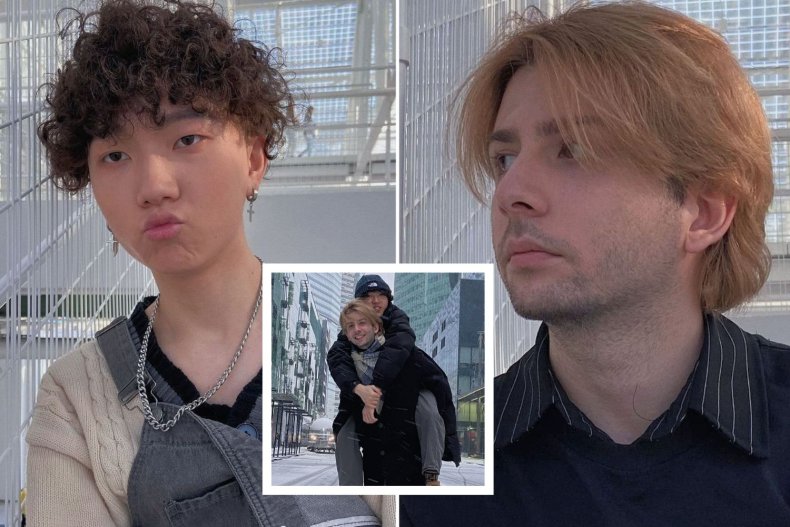 The "gay propaganda law" was introduced by Russian President Vladimir Putin in 2013 and outlawed "the promoting of non-traditional sexual relationships among minors." The law directed at the LGBTQ+ community banned the positive representation of gay and transgender issues in mass media and even outlawed the rainbow Pride flag.
Putin further ratified a law in December 2022 to ban "gay propaganda" to all people and the discussion of transgender topics to minors.
"We were very scared … it became a living hell because the impossible happened," Gogishvili told Newsweek ofhis arrest.
A Moscow-based LGBTQ group, DELO LGBT+, has been supporting the men and slammed the police decision to charge them. Vladimir Komov, senior partner of the organization, said a local citizen tipped off police to Gogishvili and Xu's social media content.
"The 'gay propaganda' law falls under the Administrative Code, but the Kazan police's criminal investigation department has been looking for these guys … and they are treated like they are dangerous criminal offenders," Komov said.
Police stopped the couple in the street after they had attended a museum with friends and demanded Xu present his papers, such as passport and student visa, but he couldn't because he did not carry them on him. The officers then escorted them to get his documentation and took them in a police car to the Yapeyeva police station.
But once they got there, police informed the men they were being charged under Article 6.21 of Russia's Administrative Offenses Code, otherwise known as the "gay propaganda" law.
"The policeman told us that it's not that Haoyang didn't have his papers on him but we will be prosecuted for 'gay propaganda' and … Haoyang could be deported," Gogishvili said.
Police prevented the couple from speaking to lawyers and "pressured" them into signing a range of documents. They refused to and got into an argument with police, but because the men still had their phones they were able to rally their thousands of supporters to call the station and convince officers to let them speak to a lawyer.
Newsweek contacted the police station by telephone for comment.
Representatives from the Chinese Embassy also attended the station and left after speaking to officers. Gogishvili was released from jail after a few hours but Xu is still in custody and will stay overnight.
"Police were not polite to us, but there was no serious abuse and I hope it stays that way," Gogishvili said, adding that he was taking food and medication to Xu, in the hope police would give it to him.
"I'm holding in tears because I don't have time to cry right now," he said, saying police have now confiscated Xu's phone and he has no idea how his boyfriend is holding up.
The pair will face court on Thursday and if found guilty could receive a fine, but in Xu's case this would likely mean he would extradited to China in a matter of days.
Komov also explained how police started searching for the men in March and went around to pharmacies in the city trying to find where Gogishvili worked.
"Police said to them they would only get a fine and nothing serious would happen, but of course it was a lie," he said.
Komov could not understand why they had been arrested because they were "quite popular" and their content was "not erotic."
"They do TikToks about their everyday life as a gay couple, how they do chores, how they wash the dishes, how they communicate and only share a few romantic moments such as kissing … and some cuddling," Komov said.
"How did the police informer and the Kazan police deem there was LGBT+ 'propaganda' on their social media? These guys just posted videos in which they kiss, hug and show their favorite sleeping poses.
"All this was considered an inappropriate demonstration of 'homosexual intimacy'."