New York City Mayor Eric Adams once again called out the Biden administration over to the large influx of migrants who have entered the city within the past year, labeling it "one of the largest humanitarian crises this city has ever experienced."
The first-term mayor previously addressed immigration head-on in response to states with Republican governors, notably Florida and Texas, repeatedly bussing migrants to locations including New York City, Chicago and Martha's Vineyard.
In October, Adams called it a "crisis situation" magnified by some 61,000 individuals—including both asylum seekers and those experiencing homelessness—in shelters. He repeated today what he said in December, that the number of asylum seekers entering New York City will have negative impacts on education, money available "to clean our streets," and public safety.
The city currently has about 34,000 asylum seekers in its care, according to the mayor's office.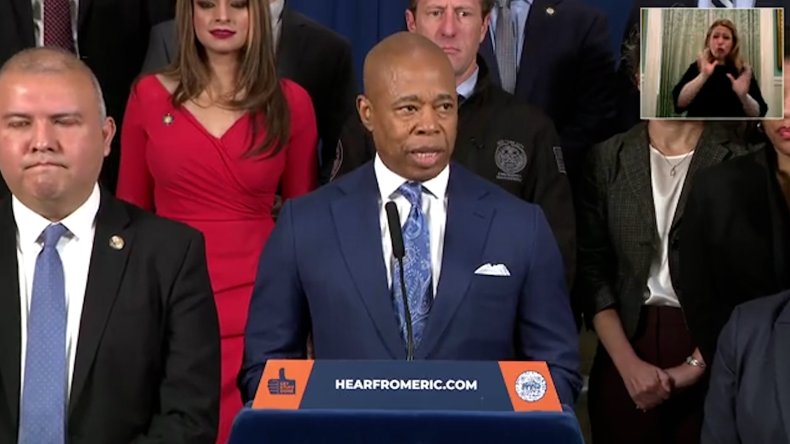 "I don't think it has really resonated with all of us in this city," Adams said during a press conference Wednesday morning at City Hall while accompanied by other city officials. "This is one of the largest humanitarian crises this city has ever experienced. It will impact every service in this city. Why isn't every elected official in Washington, D.C. asking the national government, 'Why are you doing this to New York?' The national government has turned its back on New York City."
The mayor specifically mentioned President Joe Biden, Vice President Kamala Harris and the Department of Homeland Security (DHS) in his critiques.
"We're here today telling the White House we have been extremely patient; we've allowed the coordination of all of our agencies to come together to deal with this response…This is in the lap of the president of the United States," Adams said. "The president of the United States can give us the ability to allow people to work. This is in the lap of the executive branch, and that's what we're calling for."
Adams also expressed trepidation regarding the potential lifting of Title 42, a Trump-era policy implemented during the COVID-19 pandemic that allowed for the quick expulsion of asylum seekers at the United States-Mexico border without formal hearings.
If the policy, which Biden has admitted to not being in favor of, is lifted Adams warns that New York City's situation could become direr as "52,000 [asylum seekers] could jump to 100,000 if we don't get this under control."
The mayor also criticized a lack of legislation put forward by congressional Republicans.
"We have been asked to do this by ourselves," said Deputy Mayor for Health and Human Services Anne Williams-Isom. "That is unacceptable."
Newsweek reached out to Adams' office and DHS via email for further comment.
A White House official told Newsweek via email that the Biden administration is "proud" of its partnership with Adams' office in varying capacities, including additional FEMA assistance to support migrants.
"Individuals who are arriving in the United States under our expanded parole programs are eligible for work authorization," the official said. "Our administration has also used existing tools, like Temporary Protected Status, for certain populations.
"But none of these administrative tools are a substitute for Congressional action. We need Congress to act. Only they can reform and modernize our decades-old immigration laws."
'Stuck' in a political stalemate
David Abraham, an immigration and citizenship professor at the University of Miami, told Newsweek in a phone conversation that "there's no question" of the impact realized due to Florida Governor Ron DeSantis and Texas Governor Greg Abbott transporting migrants to places where both the political alignment and the economic labor market "are more receptive to having them."
"It's also the case that information spreads quickly these days," Abraham said. "Any sign of a kind of humanitarian opening is understood in Guatemala, El Salvador and elsewhere, as a kind of draw—a kind of magnet—and in between lie the cities and city governments and city facilities. So, Mayor Adams is correct that much of the short-term price of these migrant flows is borne by cities that are not in any position to absorb the costs."
The Adams administration has proposed a trio of solutions that include:
Re-designating Temporary Protected Status (TPS) to a more recent date and extending the eligibility period.
Providing access to humanitarian parole for asylum seekers in the U.S. and those crossing the southern border, including further expediating work authorization.
Increasing the number of U.S. Citizenship and Immigration Services (USCIS) officers to process applications sooner while reducing wait times—notably for those with pending paperwork.
"It's difficult for a Democratic administration to demonstrate the kind of overt cruelty that the Trump administration attempted to use as a way to deter migrants. Everyone agrees that the immigration system is broken. They just can't agree on how to fix it," Abraham said.
"We have this odd situation where there's both powerful magnet-attracting migrants—the labor market—and a political regime, a political system that doesn't want to organize or regularize these migrant flows. So, we have a strong draw and a strong negative legal response—and the cities are caught in the middle."
Leonardo Freitas, the chairman and managing director of Washington, D.C.-based immigration law firm Hayman-Woodward, told Newsweek via email that a collaborative approach is necessary to deal with this ongoing crisis.
"With New York City Mayor Eric Adams calling on President Biden for support, it highlights the urgency for federal and local governments to work hand in hand," Freitas said. "Together, they must establish comprehensive strategies that address the root causes of migration and provide essential resources for asylum seekers.
"Only through a united effort can we effectively navigate the challenges posed by the ongoing humanitarian crisis, while upholding America's long-standing tradition of being a beacon of hope for the world's most vulnerable populations."
A new swing-state poll conducted by Global Strategy Group and originally published by Politico shows that 52 percent of those surveyed believe Biden is ignoring problems at the border, and 50 percent said he is ignoring the situation around undocumented immigrants.
While both parties received low grades in their handling of the immigration situation, Republicans were found in the poll to both discuss the issue more and are more trusted to find a solution.
Abraham said the GOP has gone "so far right" and most legislators will not "adopt a position that does not demonize migrants."
"We have Republicans strongly supporting border enforcement while opposing expanding avenues for legal migration," he said. "And we have Democrats who are unable to support stronger border enforcement without first getting more legal migration. So, we're stuck. Picture a border that has two signs attached to it: one says 'help wanted, inquire within' and the other says 'no trespassing.'"