A dog owner has shared hilarious proof that his pet has only "one speed," in a series of video clips of 14-year-old crossbreed, Chelsea.
Eric Howe lives in Connecticut and has already delighted social-media users with footage of the moment he surprised his pup on a lunch break. He has posted clips of Chelsea as she moseys along on daily walks.
"Chelsea typically does everything in slow motion," Howe told Newsweek. "She wants to stop and sniff or inspect everything, so I let her take things at her own pace."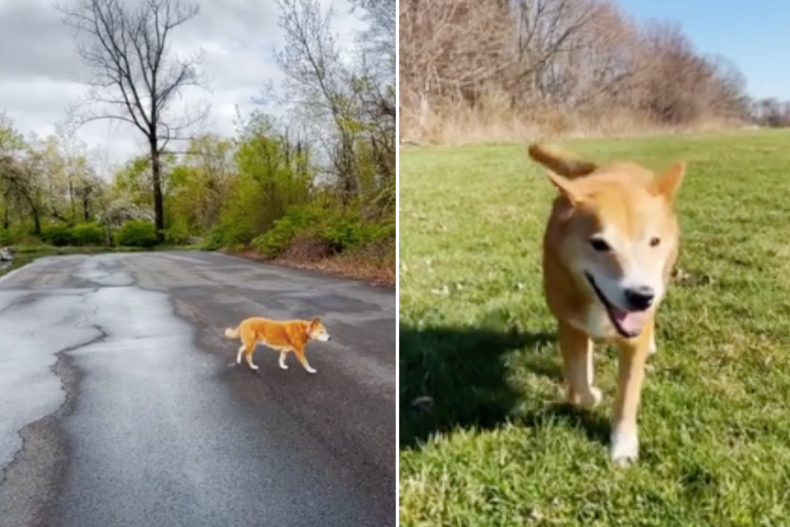 Uncertain of Chelsea's exact age after she was adopted as an adult dog, Howe is pretty sure she is almost 15 years old—making her slow pace of life all the more understandable.
But the owner doesn't think this is the only reason either. "She genuinely has an extremely laidback personality compared to other dogs," said Howe. "I've never met another dog like Chelsea, and I've been working in animal hospitals for most of my life. She really is one of a kind."
Howe shared the footage of his ambling pup on Reddit's r/aww subreddit where it received over 45,000 upvotes and hundreds of comments before deletion.
"I clock this dog at 100 chill per hour," posted one commenter, while another wrote: "Obviously built for comfort not speed."
Another dog owner explained that they recognized Chelsea's slow and steady approach: "I have one of those. I have to give her a 5 minute motivational speech at the top of my voice register to get her to move off of the couch and go outside."
Another senior dog's method of keeping up on a walk in the U.K. melted hearts online in April. His owner shared how he puts the King Charles spaniel in his jacket for adventures.
"My favorite thing about Chelsea is how affectionate she is," said Howe. "Any time I sit down near her, she wants to jump up and give me a hug. If I'm distracted by something and don't pay enough attention to her, she will literally climb into my lap."
Howe often shares pictures and videos of Chelsea across Reddit and his Instagram account @chelseathedog_ig.
"I enjoy sharing videos of Chelsea for a number of reasons. First and foremost is the positive feedback that I get. I can't tell you how many people have commented something along the lines of 'I was having a terrible day, but watching this video has made it better,'" said Howe. "I also enjoy filming and video editing as a hobby, so it's really a win-win."
Do you have funny and adorable videos or pictures of your pet you want to share? Send them to life@newsweek.com with some details about your best friend, and they could appear in our Pet of the Week lineup.