Former President Donald Trump took to Truth Social on Sunday to share an Easter message to his critics.
Trump posted the politically-charged, all-caps message, attacking those individuals he believes "dream endlessly of destroying our country," including "weak & pathetic RINOS" and "radical left Democrats, socialists Marxists, & communists."
"HAPPY EASTER TO ALL, INCLUDING THOSE THAT DREAM ENDLESSLY OF DESTROYING OUR COUNTRY BECAUSE THEY ARE INCAPABLE OF DREAMING ABOUT ANYTHING ELSE, THOSE THAT ARE SO INCOMPETENT THEY DON'T REALIZE THAT HAVING A BORDER AND POWERFUL WALL IS A GOOD THING, & HAVING VOTER I.D., ALL PAPER BALLOTS, & SAME DAY VOTING WILL QUICKLY END MASSIVE VOTER FRAUD, & TO ALL OF THOSE WEAK & PATHETIC RINOS, RADICAL LEFT DEMOCRATS, SOCIALISTS MARXISTS, & COMMUNISTS WHO ARE KILLING OUR NATION, REMEMBER, WE WILL BE BACK!" the former president wrote.
Trump's Easter message comes after a difficult week, which saw him become the first former president in American history to be charged in a criminal investigation.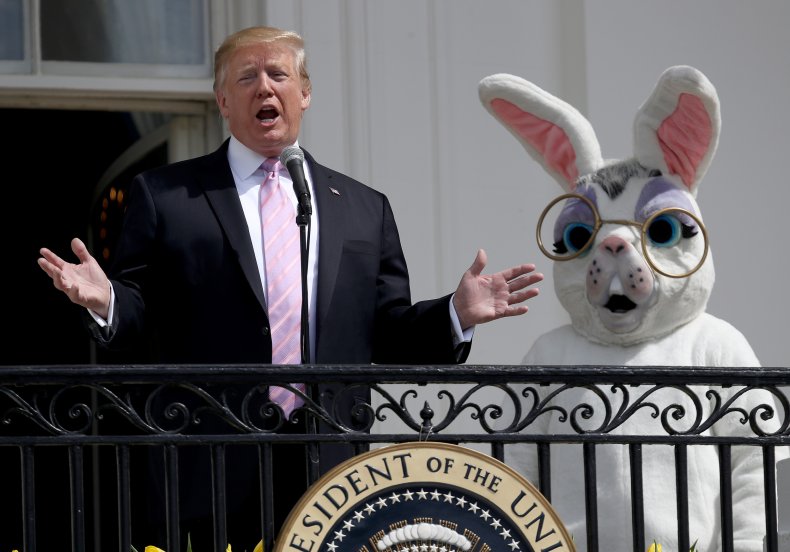 He surrendered himself to New York authorities on Tuesday, pleading not guilty to 34 counts of falsifying business records. The charges stem from Manhattan District Attorney Alvin Bragg's investigation into an alleged $130,000 hush money payment made to adult film star Stormy Daniels ahead of the 2016 presidential election, who says she had an affair with the former president in 2006. Trump has denied the affair and maintains his innocence in the case.
Meanwhile, Trump's critics ridiculed the former president over his post on Twitter.
"Trump with a devout, uplifting and inspiring Easter message for the faithful," tweeted Ron Filipkowski, an attorney who frequently voices criticisms against the former president.
Christopher Hale, a former Democratic congressional candidate, compared Trump's post to President Joe Biden's official statement, in which he described the holiday as "a day of hope and joy, renewal and rebirth."
"Today, we hold close the Easter message that nothing—not even death—can match the power of faith, hope, and love," Biden's statement reads. "And we remember Jesus' sacrifice and recommit ourselves to love God with all our hearts and to love our neighbors as ourselves, embracing His call to treat one another with compassion."
His supporters, however, backed the post.
"President Trump takes no days off from fighting for the American people. Happy Easter!" tweeted conservative influencer Brigitte Gabriel.
Later on Sunday, Trump made a shorter post on Truth Social, simply writing, "WORLD WAR III." It was unclear exactly what he was referring to.
"You don't find this to be a perfectly normal Easter Sunday greeting?" tweeted George Conway, an attorney who has emerged as a leading conservative Trump critic.
Last year, Trump issued a similar statement for Easter attacking his political enemies, specifically targeting New York Attorney General Letitia James, who has investigated his financial dealings in New York.
"Happy Easter to failed gubernatorial candidate and racist Attorney General Letitia James. May she remain healthy despite the fact that she will continue to drive business out of New York while at the same time keeping crime, death, and destruction in New York," he wrote.
Newsweek reached out to Trump's campaign for comment via email.
Update 4/9/2023, 3:52 p.m. ET: This story was updated with additional information.