Former President Donald Trump has mocked Ron DeSantis' feud with Disney and criticized his response to flooding in Florida as he took another swipe at his expected Republican rival for the 2024 election.
Trump referenced DeSantis' dispute with the company over control of Walt Disney World's oversight district board. In short, Disney World, located near Orlando, has long benefitted from a special tax district designation that has essentially allowed Disney to self-govern the resort. In February, DeSantis and the Florida legislature moved to restrict Disney's autonomy by taking control of the district oversight board. This came nearly 11 months after the company spoke out publicly against what the critics have dubbed the "Don't Say Gay" law, which bans teachers from educating children about sexual orientation and gender identity through to the third grade.
But the apparent win for DeSantis seemed to unravel when, according to the New York Times, the governor along with the new appointees realized that the Disney-controlled board, in one of its last actions, had basically divested itself of most of its power. Disney CEO Bob Iger has called on DeSantis to discuss the disagreement.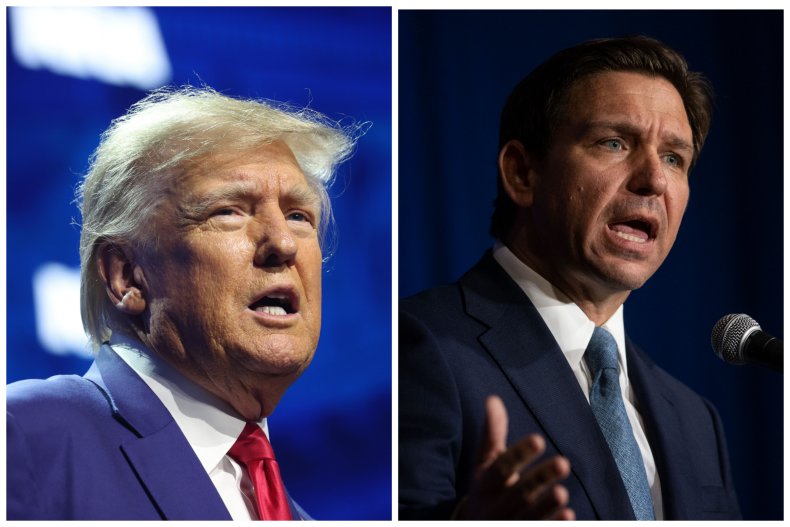 "First Ron DeSanctimonious got outplayed, outsmarted, and embarrassed by Mickey Mouse and Disney," wrote Trump on his Truth Social account.
"Now, while Fort Lauderdale is facing the worst flooding in 100 years, DeSanctus is on tour with his 'shadow' campaign for president, instead of taking care of the people of Florida," he added.
Fort Lauderdale's mayor said on Thursday that DeSantis had not called him to check in on the city after it was severely flooded this week following heavy rains that closed major roads and turned the airport into a lake. DeSantis did acknowledge the floods by declaring a state of emergency for Broward County on his Twitter page.
NBC News reported that DeSantis was in Ohio for a GOP event on Thursday as part of his national tour for his book The Courage to Be Free: Florida's Blueprint for America's Revival. Although he has not officially declared a 2024 bid, the book tour is considered to be a precursor to his presidential run.
With Trump and DeSantis the frontrunners in the polls for the GOP race, the former president has stepped up his attacks on the Florida governor.
Underneath Trump's latest swipe at DeSantis on Truth Social was the former president's statement in March, in which he called him "an average governor" and criticized his measures during the COVID-19 pandemic and past votes on Social Security and Medicare.
As Trump continues to lead in the polls for the GOP presidential nomination, NBC News reported that DeSantis is calling some members of the state's congressional delegation to persuade them to stop endorsing Trump who already has the backing of four Republican Florida Congress members. Newsweek has emailed DeSantis' office for comment.