Former President Donald Trump's call for protests ahead of a potential indictment stems from his desire to create "chaos and turmoil," said former New Jersey Governor Chris Christie.
Trump on Saturday wrote in a Truth Social post that he expects to be arrested on Tuesday following an investigation by Manhattan District Attorney Alvin Bragg into an alleged payment made to adult film star Stormy Daniels. The hush payment was allegedly made during his 2016 presidential campaign over an alleged affair between the two, which he has denied.
Trump has maintained his innocence in the case, and he and his allies have accused Bragg of launching a politically-motivated investigation. Others, however, say the alleged campaign finance violation should have been properly investigated years prior.
Christie, who helped on Trump's 2020 reelection campaign, but has since turned on the ex-president, weighed in on Trump's social media post during an appearance on ABC News' This Week on Sunday. He described Trump's post as part of a political "circus" and explained the reasoning why the former president would call for protests.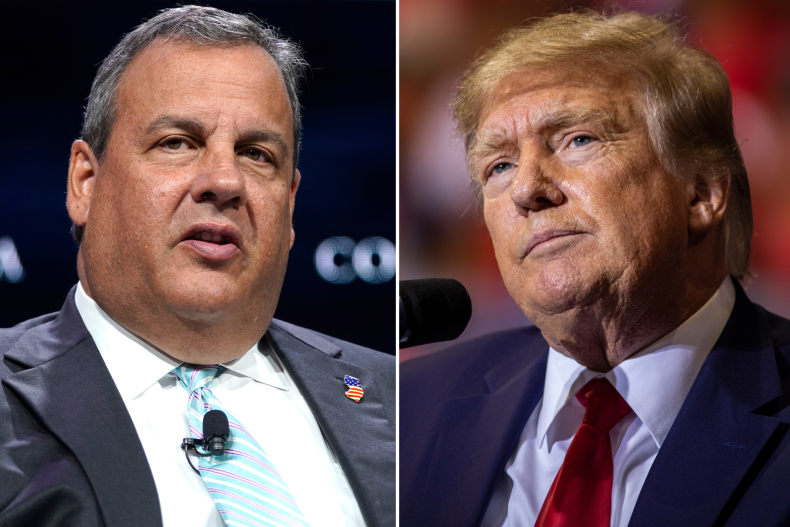 "The circus continues," Christie said. "Look, he only profits and does well in chaos and turmoil. So he wants to create the chaos and turmoil on his terms."
Christie continued to say why an indictment will only hurt Trump as he runs in the 2024 Republican presidential primary, explaining that an indictment "never helps anybody" running for political office.
He said he believes many Americans may take this investigation less seriously than other Trump investigations—including probes into his conduct surrounding the 2020 presidential election and classified documents allegedly found at his Mar-a-Lago residence in Florida—but that his image could take a hit from the optics of an indictment.
"I don't think that the American people probably see this as a huge crime," Christie said. "But the vision of a former president of the United States being processed, fingerprinted, mugshotted. What else do you expect Trump to say…than to say it helps his campaign? But being indicted, I don't think, ever helps anybody."
Some Republicans have suggested that an indictment would only help Trump's 2024 bid. South Carolina Senator Lindsey Graham on Saturday said Bragg has "done more to help Donald Trump get elected president than any single person in America."
Former U.S. Attorney Gene Rossi told Newsweek on Sunday that he believes Trump's campaign could receive a boost in the next few weeks, but an indictment will be a net negative, as Republican voters will realize they shouldn't nominate a candidate who has been indicted.
Rossi said Trump's latest remarks are likely intended to drum up support from his base, but will likely not benefit him legally.
"If I were his defense attorney, I would cringe at the thought of my client posting such a [Truth Social post] that implies violence, given what happened on January 6," he added. "More important, if this is going to trial, and there is a court proceeding, his post may be used as evidence to bolster the government's case."
Newsweek reached out to Trump's campaign press office by email for comment.