Donald Trump Jr. has come under fire from MAGA supporters after he stood up for Bud Light's parent company amid calls for a boycott of the product.
Trump Jr. defended Anheuser-Busch after the firm faced intense criticism from conservatives following its recent support for transgender TikTok personality and actress Dylan Mulvaney.
On his podcast Triggered earlier this week, Trump Jr. questioned whether the decision to show support for Mulvaney was "a one-off colossal screw-up."
He then claimed Anheuser-Busch supported Republicans and that in the last cycle, its employees and its Political Action Committee gave "about 60 percent to Republicans," referring to political donations and lobbying.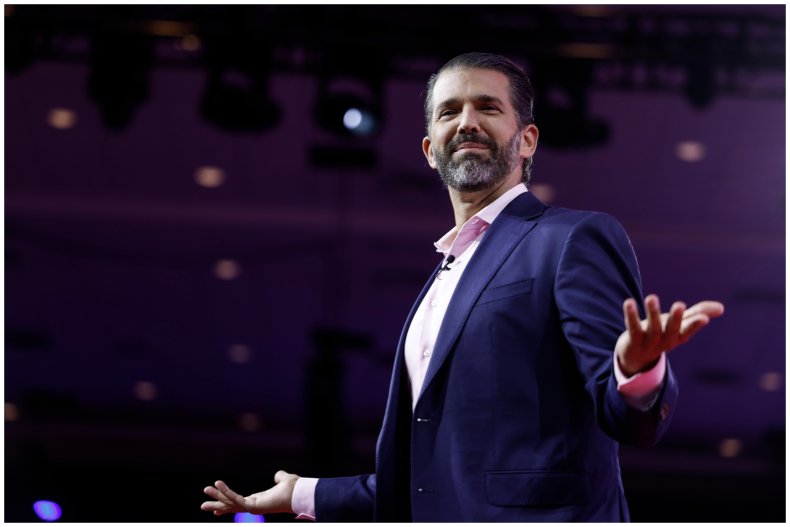 According to data from Open Secrets, which tracks money spent in politics, Anheuser-Bushch and people affiliated with the company donated $514,375 to the National Republican Senatorial Committee and $464,505 to the National Republican Congressional Committee in the 2022 cycle.
Anheuser-Bushch also donated hundreds of thousands of dollars to conservative causes and tens of thousands to Democrat-affiliated groups.
Despite this, Trump Jr.'s defense of the company appeared to anger many MAGA supporters.
Conservatives and Republicans have repeatedly hit out at the transgender community and have worked to pass legislation to limit the medical treatment that transgender children are allowed to receive as part of any physical transition.
Former federal prosecutor Ron Filipkowski noted Trump Jr. had been subject to a backlash from MAGA supporters over his stance.
In a Twitter post on Saturday, Filipkowski said: "I have to type this through tears after laughing so hard reading MAGA posts attacking [Trump] junior for calling off the Bud Light boycott."
One of the posts he included from Twitter user @McKaylaRoseRed, whose comment received 120,000 views read: "Donald Trump Jr. telling us to stop boycotting Bud Light is the most Rino (Republican in name only) *** **** I've ever heard.
"This is exactly why we got stomped on all over from the left. Weakness. No, we will not stop teaching Bud Light a lesson and no mocking women and men will not be tolerated anymore."
Pedro L. Gonzalez, associate editor at Chronicles: A Magazine of American Culture, said in an April 14 tweet: "Donald Trump Jr. is urging conservatives to stop boycotting Bud Light over the company pushing transgenderism through Dylan Mulvaney.
"Like I've been saying, the Trumps are the most subversive force on the right. The left could never undermine us so much."
But MAGA influencer Alex Bruesewitz came to Trump Jr.'s support and tweeted on April 15: "Few people have done more to help conservatives and the Republican Party over the past 7 years than Donald J Trump Jr. The people attacking him look like complete fools."
In an April 14 statement, Anheuser-Busch CEO Brendan Whitworth responded to the backlash against the company.
He said: "We never intended to be part of a discussion that divides people. We are in the business of bringing people together over a beer.
"My time serving this country taught me the importance of accountability and the values upon which America was founded: freedom, hard work, and respect for one another. As CEO of Anheuser-Busch, I am focused on building and protecting our remarkable history and heritage.
"I care deeply about this country, this company, our brands, and our partners. I spend much of my time traveling across America, listening to and learning from our customers, distributors, and others.
"Moving forward, I will continue to work tirelessly to bring great beers to consumers across our nation."
Newsweek has contacted The Trump Organization for comment via email.