Donald Trump is still getting strong support from female voters in the GOP presidential primary, despite being found liable for sexually abusing E. Jean Carroll.
An Emerson College poll of 500 likely GOP voters conducted in Kentucky between May 10 and 12 found that Trump is the overwhelming favorite in the Bluegrass State to clinch the 2024 Republican nomination. The former president beat his potentially biggest rival, Florida Governor Ron DeSantis, by 56 points (70 percent to 14 percent).
A Trump spokesperson told Newsweek: "President Trump continues to dominate in poll after poll—both nationally and statewide. There is no substitute for victory and President Trump will take back the White House in 2024."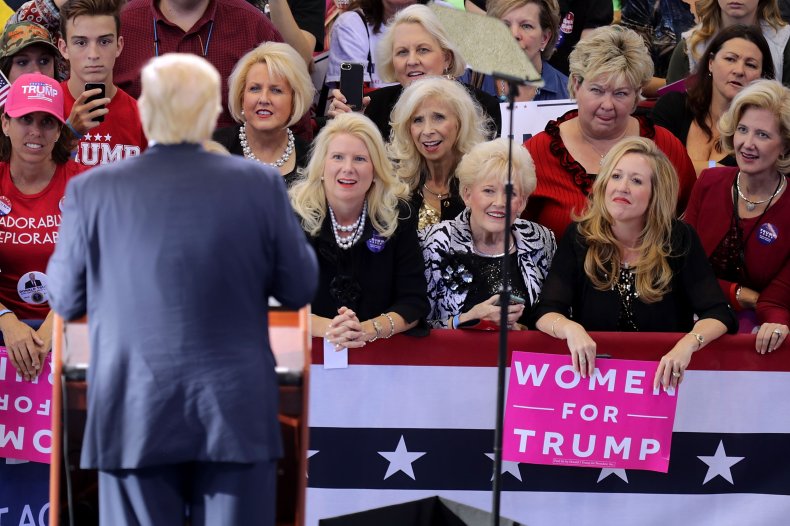 The survey was conducted after a jury in New York found Trump liable for sexually abusing Carroll, a former Elle columnist, at a Bergdorf Goodman department store in the 1990s. The Republican then defamed her while denying the accusations.
Despite this, there was a higher percentage of female voters (52.3 percent) who said they would support Trump in the next GOP primary in Kentucky than male voters (47.2), with the rest identifying as non-binary.
In comparison, of the 14 percent who said they would back DeSantis, who has not yet confirmed he is running in 2024 but is expected to do so soon, more than half (51.5 percent) were males. The Florida Governor received the backing of 47.1 percent of women and 1.5 percent non-binary.
Trump has been accused of sexual assault by more than a dozen women, which he denies. He once boasted of grabbing women "by the p***y" as heard in the infamous Access Hollywood tape. However, the former president has still been able to rely on female voters in elections.
Trump's vote-share among women in the 2020 election improved from 2016, rising from 39 percent to 44 percent. This was according to analysis from the Pew Research Center.
The Emerson College Poll is the latest in a trend that has seen Trump's polling numbers from both male and female voters improve over DeSantis. This comes despite Trump being the first former U.S. president in history to be charged with a crime on April 4. He was then found liable for sexual abuse just over a month later.
A Morning Consult poll of 3,574 potential Republican primary voters conducted between May 12 and 14 showed Trump leading DeSantis in a hypothetical GOP primary race by 60 to 19 percent. This was the former president's largest lead since Morning Consult began tracking the GOP primary race in December 2022.
However, it should also be noted that unwavering support from Trump in Kentucky may not be a surprise. The MAGA Republican won the state in both the 2016 and 2020 Elections with 62 percent of the vote. Trump won the GOP primary in 2016 with 36 percent of the vote in a crowded field.