A hilarious video of a pointer dog ruining a couple's DIY project has gone viral on TikTok with over 1.6 million views.
In the footage, shared by @tivothepointer, Tivo and his owners can be seen in the garden, shortly after laying down some concrete to dry. The dog's owners explain that they "thought we'd be cute" to press Tivo's paw into the setting concrete to make a print.
Shortly afterwards, Tivo's owners add that, after being left alone for a short while, the pointer then walked all over the concrete, leaving many more prints. In the video, his owners can be heard laughing as they unsuccessfully try to brush over the prints.
"He left his mark," wrote one TikTok user, while another posted, "honestly it looks way better now."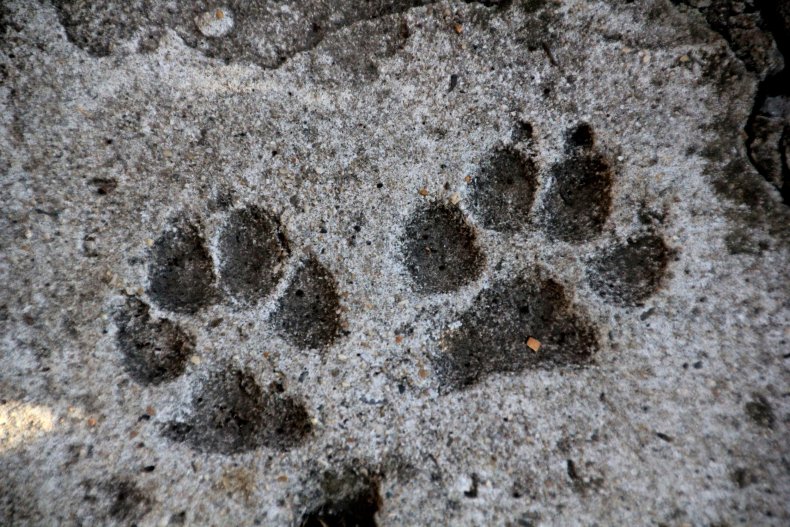 If you're struggling to keep your dog entertained, there are many 'do it yourself' ways to keep your dog busy while home alone, or simply when you want a break. The American Pet Products Association reported that, in 2021, U.S. dog owners spent $123.6 billion dollars on their pets.
Per the American Society for the Prevention of Cruelty to Animals, the key to a happy and healthy dog is "regular enrichment and allowing them to engage in their innate behaviors, such as playing, chasing, smelling, chewing and scavenging." The ASPCA suggests various DIY toys and activities that you can make at home, and they won't cost a fortune.
One such hack is a "muffin tin puzzle." Simply fill each compartment of a muffin with various treats or tennis balls, making your dog work a bit harder for those rewards.
Similarly, the ASPCA suggests getting a toilet-roll tube, popping a few treats inside, and making a hold in the side. Then you can fold the ends over so you have a homemade treat trap.
The ASPCA also suggests adding another level of stimulation to your daily walks. "Say 'find it' and toss a treat close to your dog," its experts say. "When your dog gets the treat, praise your dog. After your dog starts to get the game, slowly start making it hard. Once dogs learn the game, you can begin hiding treats for your do to find."
Newsweek has reached out to @tivothepointer via TikTok.
Do you have funny and adorable videos or pictures of your pet you want to share? Send them to life@newsweek.com with some details about your best friend, and they could appear in our Pet of the Week lineup.