Donald Trump was not alone when his jet took off for New York City earlier this week to be arraigned on charges of falsifying business records in connection with a hush money payment to a former adult film star.
Nor was he alone later that night in Palm Beach, Florida, where he addressed hundreds of his closest supporters at his Mar-a-Lago home, delivering a 25-minute diatribe against a justice system he believes is out to get him at any cost and saying how he would beat the charges against him.
What was difficult to ignore, however, was who wasn't there: former first lady Melania Trump.
During his historic arraignment Tuesday in a Manhattan court, Melania—often at his side during high-profile public events—was not even in the same area code, presumably staying home more than 1,200 miles south in Palm Beach. Nor was she in attendance at Trump's speech before the defiant Mar-a-Lago crowd.
And when the time came during his speech for Trump to thank the family members who stood by him, Melania's name was conspicuously absent from his acknowledgments.
All this has drawn questions from the media and the public about the state of her relationship with the former president. "Melania Trump Apparently RSVP'd 'F–k Off' to Her Husband's Post-Arraignment Speech," a Vanity Fair headline read.
Another story—this one from the New York Post—cited Melania's former adviser in spelling out the reason for the first lady's absences: her continuing anger over an affair that the adult film star, Stormy Daniels, claims she had with Trump, which led to the alleged hush money payment and Manhattan District Attorney Alvin Bragg's criminal investigation.
Trump has denied having an affair with Daniels, as well as one with another woman named in Bragg's case, former Playboy model Karen McDougal. He has also denied any of the wrongdoing detailed in the grand jury indictment.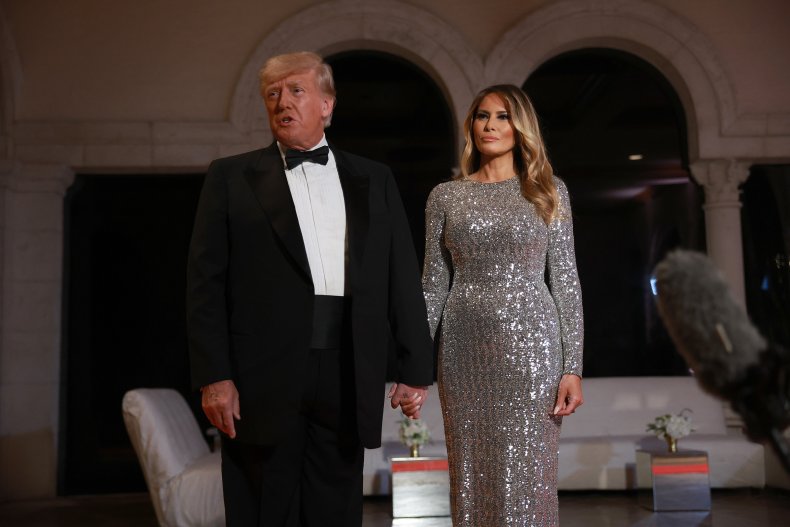 "I never expected to see her there," the aide, Stephanie Winston Wolkoff, told the Post, referring to Melania's absence during Trump's post-arraignment speech at Mar-a-Lago. "Her silence is deliberate. It is her weapon of choice and her protective armor."
The pro-Trump press ran its own stories offering a counternarrative challenging doubts about the couple's marriage. An anonymous source speaking to People magazine said Melania would "support him" in his legal battles, a claim that was quickly circulated on pro-Trump content mills like Conservative Brief.
The explanations for the public's fixation on Melania and her relationship with her husband are simple enough to explain, given the sordid nature of Trump's alleged crimes.
The hush money payment to Daniels, as detailed in Bragg's case, reveals a cover-up of Trump's alleged infidelity. And court documents allege that Trump's delay in making the payment was not to save Melania from public embarrassment—as his former biographer says was the purpose in making the payment in the first place—but an effort to avoid paying at all.
But Melania's recent absences—as Wolkoff explained—have significance for a different reason: This simply hasn't been seen before.
First Ladies in Crisis
Throughout history, the expectations for a first lady have become well established, their existence predicated on the wife's enduring presence beside what has historically been a man during times of crisis.
Hillary Clinton—then an established woman in her own right—set a new playbook for first ladies in crisis after her publicly televised appearance with her husband, then-candidate Bill Clinton, after his alleged 12-year affair with lounge singer Gennifer Flowers. She famously told 60 Minutes she had no intention of simply standing by her man like "some Tammy Wynette."
"I'm sitting here because I love him, and I respect him, and I honor what he's been through and what we've been through together," Hillary said at the time. "And you know, if that's not enough for people, then heck, don't vote for him."
That appearance, some say, saved Clinton's campaign and allowed the Democrats to retake control of the White House for the first time in more than a decade. Years later, Hillary would defend her husband again when former White House intern Monica Lewinsky—with whom the president had an affair in the White House—charged their relationship was an abuse of power. Hillary pointed out that Lewinsky, then 22, was "an adult" at the time.
Melania's absence, analyzed through the scope of that history, speaks volumes.
"At least since Watergate and Nixon's resignation, we've been used to seeing political wives literally standing by their men in times of scandal, usually with pained expressions on their faces or—in the case of Pat Nixon—tears in their eyes," Ohio University professor Katherine Jellison—an expert on first ladies through history and gender in politics—told Newsweek.
"Even when it has been a sex scandal, the wives have shown up side by side with their husbands—Hillary Clinton, Slida Spitzer, Human Abedin, etcetera. So I can see why the public and the press are asking, 'Where's Melania?' She is certainly not following the tried and true pattern with her absence," Jellison said.
An Impossible Position
That tried and true pattern, however, is a strange one to begin with, Boston University professor Tammy Vigil told Newsweek. The first lady's role in their relationship often lags behind the public understanding of contemporary American womanhood "by decades," she said.
By maintaining her own career, Jill Biden was considered revolutionary in 2020, Vigil said, whereas most women had been developing careers long before then. Hillary fought against the "anti-homemaker" image in 1992 because she hadn't, during Clinton's presidential campaign, confirmed that she would stop her own work to support her husband.
"We want first ladies to be supportive spouses, but we also want them to be feminist role models, and we want them to have the right answers to life's tough answers just because their husband won a national election," said Vigil, who wrote a book examining Melania's role and that of other first ladies. "It is a strange position we put these women in."
In Melania's case, it is also an impossible position.
She was once mocked for doing too little as first lady. Her major initiative, an anti-bullying campaign, was regularly overshadowed by her husband's behavior. Hillary was attacked for doing too much, while Michelle Obama was a common target for the political right because of her school lunch initiatives. Often, Obama faced attacks simply for the crime of existing.
"It is important to remember that the first ladyship is not actually a mandated position with any real authority or clearly delineated responsibilities, yet we judge the women who have filled the role quite harshly and on perpetually shifting standards," Vigil said.
Pitfalls for Silence
Whatever the reasons for her absence, Vigil said Melania's silence comes with a peril that goes beyond making herself a continual target for the American press.
If she "stood by her man," Vigil said, it would add fuel to the claims that Bragg's case against her husband is a "witch hunt," lending credence to the argument that if Melania is able to forgive him, nobody else should care.
If she remains silent, however, she leaves an avenue open for others to tell her story for her—in this case, former friends or "sources close to the family," Vigil said.
Ultimately, whatever decision she makes—Vigil added—is not for herself. It's for the man she's standing by.
"Other than being annoyed by the coverage, there is no motive for her to make a public statement," she said. "Remember, even when the story about Daniels broke, the only comment Melania's representatives made was asking for privacy and respect for [her son] Barron.
"I don't think she particularly cares to manage this story or to entwine herself in the scandal. In all honesty, there is no upside for her if she puts herself in the conversation. It's just unfortunate that others keep forcing her into it," Vigil said.