Bud Light and its parent company, Anheuser-Busch have faced a wave of backlash following the company's decision to partner with transgender activist and influencer Dylan Mulvaney—and new data reportedly shows how this criticism has affected the company.
On Thursday, conservative commentator Benny Johnson posted a YouTube video with a title claiming that Bud Light sales had dropped by 50 percent. However, context notes on Twitter stated that "the '50%' figure in the title is misleading because it appears to be made up."
Since the start of April, Bud Light and Anheuser-Busch have faced criticism and calls to boycott the beer company after Mulvaney posted a video on Instagram showcasing the partnership, which included a customized Bud Light can with her face on it.
Across the United States, the controversy comes amid a wider debate in relation to transgender rights, such as trans people partnering with big brands and the inclusion of transgender women in female spaces, like sports.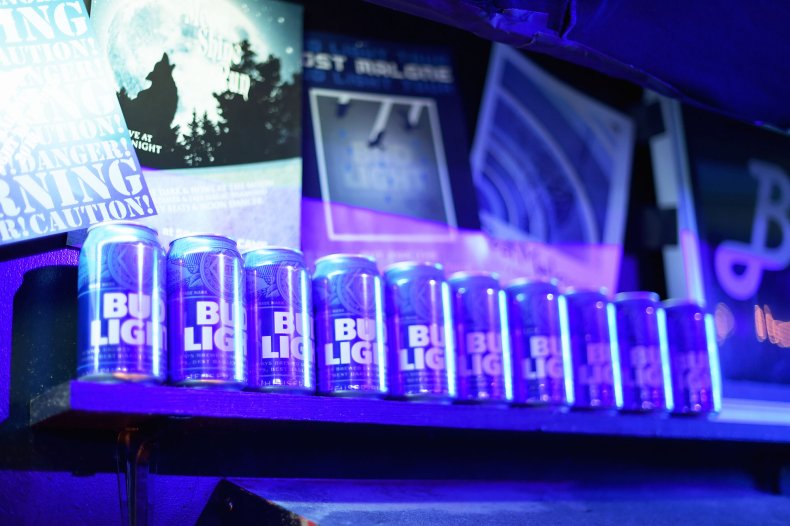 In Johnson's video, he discusses a report from Brewbound, a news site focused on the beer industry, which details new data on recent Bud Light sales from NIQ (formerly NielsenIQ) provided by Dave Williams of Bump Williams Consulting.
For the week ending on April 8, off-premise dollar sales for Bud Light declined by 7 percent, while dollar share and volume declined by 3.7 percent and 10.7 percent, respectively, according to Brewbound. For the week prior, dollar sales of Bud Light declined by 1.6 percent, the site reported, citing the data from Williams.
Newsweek reached out to Anheuser-Busch via email for comment.
"That being said, while the increased declines for Bud Light were apparent, they were also not completely earth-shattering in terms of magnitude…Now, this will be interesting to monitor over upcoming weeks to see if this slide continues, but for now, it looks to be rough, but not catastrophic," Williams wrote, according to Brewbound.
Williams told Newsweek that while he was not surprised by the data showing a decline in dollar sales, he noted that "What will be most interesting to follow is whether or not these deviations continue long-term, and if so, to what degree (accelerating vs. decelerating)."
"As far as my expectations for the following weeks, I am keeping them in check until I can compile at least a few weeks' worth of data to assess whether or not this could be a short-term aberration or a longer-term shift when it comes to performance. Still too early to say one way or the other," Williams said.
It is unclear exactly where Williams obtained the data for the Bud Light sales and Nielsen told Newsweek that they can not discuss brand data.
Williams told Newsweek that while there are "some interesting trends" in the one week of Bud Light sales data, he said that more data points will need to be collected and reviewed to determine if the decline will become a "new norm."