U.S. intelligence obtained by Newsweek has warned that domestic violent extremists pose a potentially growing threat to law enforcement, journalists and sites linked to the nation's critical infrastructure.
The document, titled "Terrorist Media Trends: March 2023" and attributed to the Department of Homeland Security's (DHS) Office of Intelligence and Analysis, warned that "online media produced by terrorist organizations and domestic violent extremists (DVEs) in March 2023 aimed to provide guidance for attacks against law enforcement, journalists, and soft targets using simple tactics."
While the document warned of an uptick in calls for attacks by supporters of Al-Qaeda and the Islamic State militant group (ISIS) coinciding with the end of the holy month of Ramadan, it also emphasized how "a variety of DVEs provided instructions for attacking law enforcement and critical infrastructure with Molotov cocktails."
"DVE calls for attacks against construction firms, construction equipment, financial institutions, and infrastructure continue to expand across the United States," the document said, "as DVEs identify new targets associated with projects perceived as harmful to the environment or in opposition to their ideology."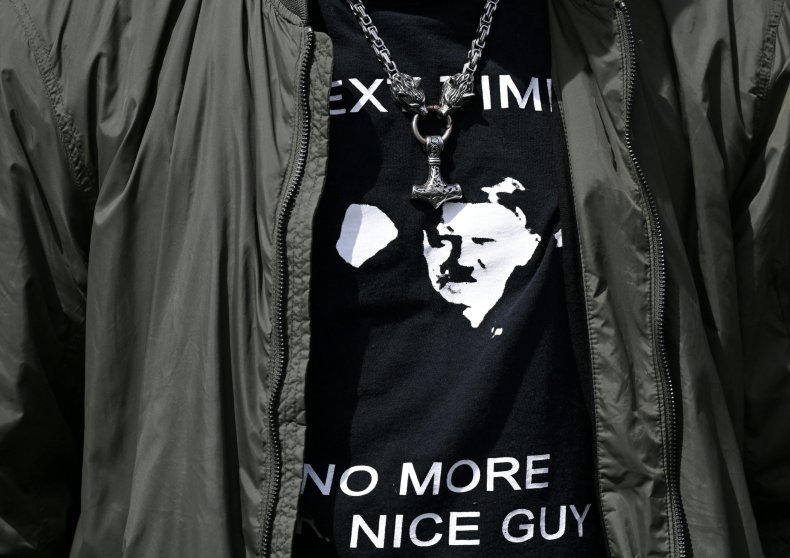 Reached for comment, a DHS spokesperson told Newsweek that "the Department of Homeland Security regularly shares information regarding the heightened threat environment with federal, state, local, tribal, and territorial officials to ensure the safety and security of all communities across the country."
Some of the DVE threats outlined in the document have come in response to real-world events that have inflamed certain violent, hardline ideologies.
"DVEs intensified narratives justifying violence against members of the LGBTQIA+ community following the 27 March attack against a Christian school in Nashville, Tennessee by an individual who identified as transgender," the document read.
The shooter, 28-year-old Audrey Hale, was gunned down by police after killing six people, three students and three staff.
But law enforcement personnel have also found themselves in the crosshairs of DVEs amid messaging surrounding the "Stop Cop City" movement that opposes the ongoing construction of the Atlanta Public Safety Training Center.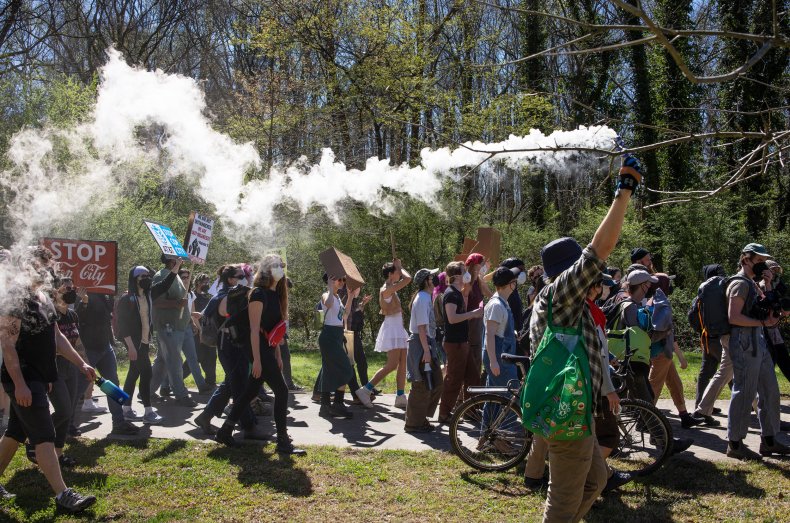 "DVE media supporting 'Stop Cop City' praised throwing stones, fireworks, and Molotov cocktails at police officers and destroying construction equipment with arson during a 5 March attack at the construction site of a police training facility in Atlanta," the document stated.
"The ongoing attacks against police officers may escalate if DVEs perceive current tactics to be ineffective as these clashes continue," it added. In fact, "DVE media from various ideologies encouraged attacks on law enforcement officers and vehicles with Molotov cocktails," according to the document.
To further disrupt law enforcement activity, DVEs have also "advocated for violence against journalists to intimidate them and to prevent them from filming unlawful and violent encounters that could result in DVE arrests," the document said.
It wasn't just people who have been singled out in such threats. Critical infrastructure, including oil pipelines and electrical substations have also been identified as targets on DVE channels.
"DVE media threatened the construction of an oil pipeline with incendiary devices, improvised explosive devices, and Molotov cocktails to prevent the completion of the Willow Project in Anchorage, Alaska," the document stated.
Such actors may only be incentivized by other events, such as the shooting that targeted two Moore County, North Carolina substations in December of last year.
"DVE media continues to urge attacks on electrical substations and is increasingly directing attention to the North Carolina attack in late 2022 that left thousands without power," the document said. "DVE interest in these attacks may increase as the tactics used are likely perceived as reducing their risk of law enforcement detection."
Newsweek has reported extensively on the threat posed to critical infrastructure by DVEs, both in the leadup to and wake of the Moore County attacks. Such threats were particularly prevalent among far-right and neo-Nazi ideologies, as evidenced by dozens of online messages reviewed by Newsweek last year.
Brian Harrell, former DHS assistant secretary for infrastructure protection, told Newsweek that the latest memo "simply acknowledges what industry has been monitoring for months now."
As the threat posed by DVEs persists, he said that "some have gone so far as to initiate attacks on substations and large infrastructure projects."
"This is a growing trend here in the U.S., but also globally," Harrell added. "Industry owns the infrastructure, so it's imperative that the private sector stay coordinated with law enforcement and National Security partners."