Florida Governor Ron DeSantis laughed about the idea of building a new state prison near Walt Disney World during a press conference announcing new legislation that would revoke the company's self-governance agreement.
DeSantis, a Republican, announced new legislation that intensifies the months-long battle against Disney that began after the company condemned Florida's so-called "Don't Say Gay" law, which bans the discussion of sexual orientation and gender identity in certain grades at Florida schools—one of several laws restricting LGBTQ+ rights in Republican-led states amid an ongoing culture war clash.
DeSantis announced that the state legislature, both chambers of which are controlled by Republicans, will introduce a bill to end Disney's self-governance in Florida, home to the massive Walt Disney World resort complex that remains one of Disney's top employers.
For decades, the Reedy Creek Improvement District allowed Disney to operate around its parks as a self-governing authority, but this new bill would nullify the company's latest efforts to limit the state's ability to oversee future development at the theme park.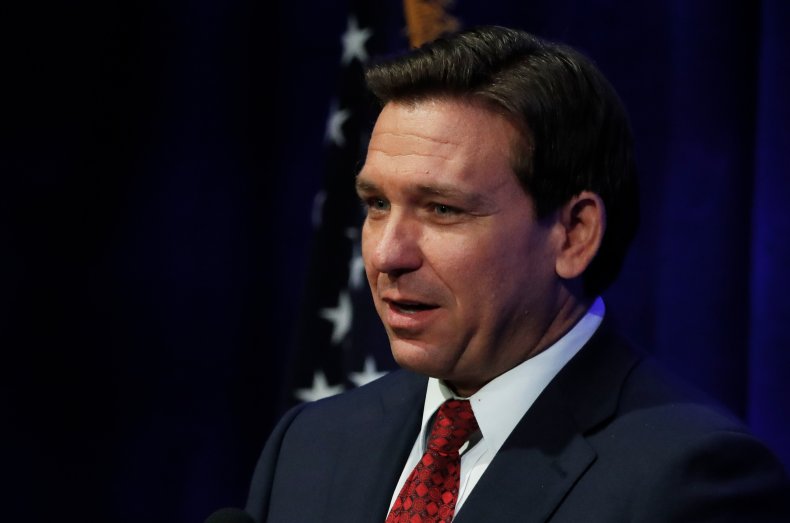 "I've worked with both leaders of the House and Senate. There is a bill that will be put out in the Florida legislature that will make sure that the agreements purported to be entered into by Disney are revoked, and the peoples' will is established and is upheld," DeSantis said.
During the press conference, DeSantis quipped about potential uses for the land overseen by the district should it be taken over by the state.
"Come to think of it, now people are like 'What should we do with this land?'" he said. "People have said, maybe create a state park. Maybe try to do more amusement parks. Someone even said, maybe you need another state prison. Who knows? I just think that the possibilities are endless, and so that is now going to be analyzed to see what is going to make the most sense."
DeSantis touted the move as one that would prevent "one corporation [from] serving as its own government," ensure Disney is not given a competitive advantage against other amusement parks in the area and hold it to the same standards of building and safety inspections.
"We want to make sure that Disney lives under the same laws as everybody else," he said.
Critics, however, view DeSantis' efforts targeting Disney as politically-motivated retribution over its opposition to the "Don't Say Gay" bill.
Reedy Creek is set to be dissolved in June, and a five-person board appointed by DeSantis was set to take control of the area, a move that did not go far enough for some conservatives.
Disney has offered little public comment about the dispute. Walt Disney World President Jeff Vahle previously said Disney was "ready to work within this new framework," but the company made a deal with Reedy Creek that would have extended Disney's self-governance for decades.
Newsweek reached out to Disney for comment via email.