The GOP-led House Judiciary Committee, with Representative Jim Jordan at the helm, has issued a subpoena for former Manhattan prosecutor Mark Pomerantz to testify.
Pomerantz resigned in February 2022 due to Manhattan District Attorney Alvin Bragg's reluctance at the time to pursue any legal action against former President Donald Trump, as the former special assistant district attorney wanted to push forward a grand jury investigation due to believing Trump was "guilty of numerous felony violations" in association with "false" financial statements.
Bragg, of course, ultimately moved forward with the investigation and Trump was indicted last week on 34 counts of falsifying business records. Trump, who became the first current or former president ever to be indicted on criminal charges, has denied any wrongdoing.
Jordan's latest subpoena directs Pomerantz to appear before the committee for a deposition on April 20.
"Congress has a specific and manifestly important interest in preventing politically motivated prosecutions of current and former Presidents by elected state and local prosecutors, particularly in jurisdictions—like New York County—where the prosecutor is popularly elected and trial-level judges lack life tenure," Jordan wrote in a letter accompanying the subpoena.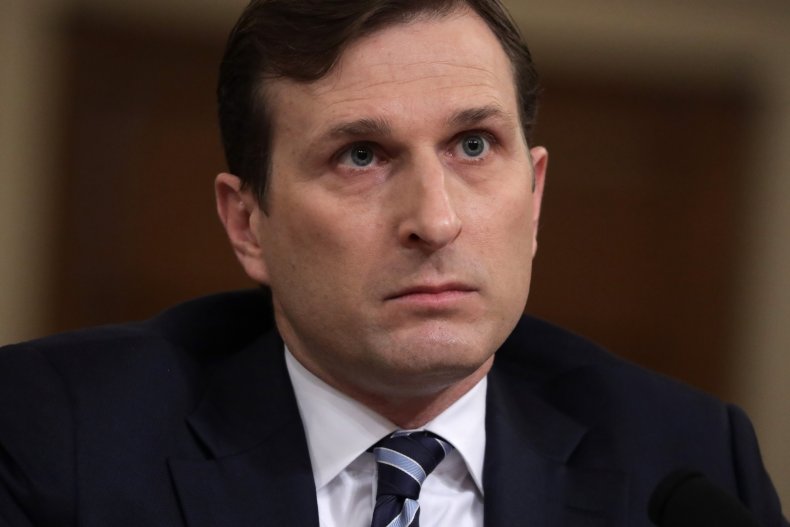 New York Democratic Congressman Daniel Goldman, former lead counsel during one of Trump's impeachment trials, responded by calling the House Judiciary Committee's request "a gross abuse of power."
However, he said he welcomes Pomerantz's testimony in a public forum.
"This testimony should be conducted in a public hearing—not a closed door deposition—so all Americans can witness it for themselves," Goldman tweeted.
Pomerantz previously served under Bragg's predecessor, Cyrus Vance Jr., and exited the Manhattan D.A. along with another lead investigator, Carey Dunne.
Nearly one year after Pomerantz resigned, he released a book titled People vs. Donald Trump. It is described as a detailed, inside look at his attempt to prosecute Trump and why he left the office when Bragg refused to act.
Jordan referred to Pomerantz's writing in his book as showing a "depth of personal animosity" towards the former president.
"You describe your eagerness to investigate President Trump, writing that you were 'delighted' to join an unpaid group of lawyers advising on the Trump investigations, and joking that salary negotiations had gone 'great' because you would have paid to join the investigation," Jordan wrote of Pomerantz's book.
Lanny Davis, attorney for former Trump lawyer and "fixer" Michael Cohen, told Newsweek via phone on Thursday that Jordan's subpoena shows the Republican committee members' "hypocrisy" and is "political rhetoric."
"When you show an even standard of the definition of 'weaponization' and apply it to what was done to Michael Cohen, we'll take you seriously," Davis said. "Regarding a subpoena to a former prosecutor regarding his investigation, that is so out of bounds and not ever going to happen legally or otherwise."
Brandon Rottinghaus, a political science professor at the University of Houston, told Newsweek via email that the GOP is looking for a way to find out more information about the Manhattan D.A.'s investigation of Trump, without the cooperation of Bragg.
"Bringing in [Pomerantz] to testify is politically risky because it might be perceived as interfering with an investigation but is a strong play to the conservative base who sees Trump's prosecution as political," Rottinghaus said. "The committee is using this subpoena as a possible precursor to a formal subpoena to the current district attorney. They're trying to narrow the investigation little by little."
New York-based attorney Andrew Lieb told Newsweek via email that Jordan "loves issuing subpoenas even though he was referred to the House Committee on Ethics for himself failing to comply with a subpoena."
He was referencing the defiance of Jordan and three other Republican members of Congress for defying subpoenas by the January 6 Committee for testimony and documents.
"Does that mean that the subpoenas [Jordan] issues are optional too?" Lieb said. "I guess we will find out now that he has subpoenaed a former senior prosecutor from the Manhattan DA's office that is prosecuting Trump."
Lisa Parshall, a political science professor at Daemen University, told Newsweek via email that the subpoena "fits the Trump playbook of attacking any institution or institutional actor exercising an independent check as politically motivated persecution."
"Twisting Pomerantz's resignation letter and critique of Bragg into evidence of an anti-Trump conspiracy strikes me as a form of political gaslighting," Parshall said. "Prosecutors have enormous discretion. What Pomerantz has publicly said is that Bragg was more far cautious than he and others on the prosecutorial team felt was warranted given the mass of evidence the investigation uncovered."
"The evidence in support of these indictments either will or will not prevail at trial," she added. "The purpose of the congressional attacks is to continue to create a political miasma that discredits the judicial process."
Update 04/06/23, 3:39 p.m. ET: This story was updated with comment from Lisa Parshall.