David's Bridal LLC filed for bankruptcy and said it would shut down all of its stores if it doesn't quickly find a buyer for the country's largest bridal retail business.
The privately owned company was forced to file Chapter 11 in the midst of a process to find a buyer willing to continue to operate the bridal chain. If it can't find a buyer, it will begin a wind-down of its operations with the help of liquidation firm Gordon Brothers Retail Partners LLC, according to a filing by David's Bridal CEO James Marcum in the U.S. Bankruptcy Court in Trenton, N.J.
FORMER HOME DEPOT CEO ISSUES GRIM WARNING OVER US BANKRUPTCIES: 'IT'S DIFFERENT THAN ANYTHING I'VE SEEN'
Sunday's bankruptcy filing marks the second in less than five years for David's Bridal, which supplies wedding gowns to one out of every four brides in the U.S., Mr. Marcum said. The Conshohocken, Pa.-based retailer sells its wedding apparel at 294 stores in the U.S., Canada, the U.K. and franchise stores.
By the time David's Bridal filed for bankruptcy, its cash on hand had dwindled to $4.4 million, court papers show. The company has lined up loans totaling up to $85 million from existing lenders on its revolving credit lines, including Bank of America NA, to keep operations funded while the sale process continues.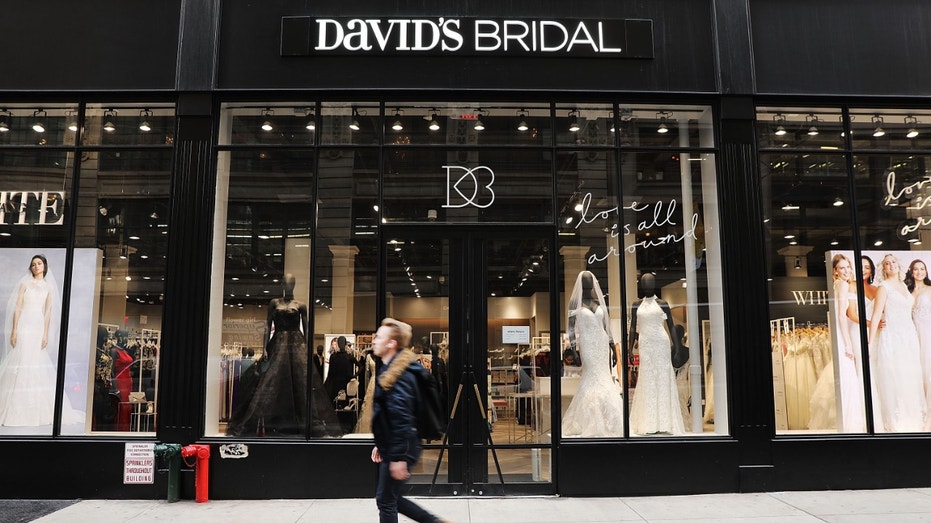 The lasting effects of the Covid-19 pandemic and changes in consumer behavior led to a deterioration in the company's financial condition, according to Mr. Marcum's filing. The national wedding rate fell to its lowest level in 121 years in 2020 and has remained lower than normal. It reached 1.9 million weddings in 2022, compared with 2.2 million annually in the years leading up to the pandemic, Mr. Marcum said, citing data the company derived from various sources and its own surveys.
CLICK HERE TO GET THE FOX BUSINESS APP
The growing popularity of nontraditional wedding attire also has hurt the gown business, his filing said. Store traffic has fallen, including a 22% decline of in-store appointments in the fourth quarter of 2022, court papers show.
While the company shed more than $434 million in debt through its last bankruptcy, it exited from chapter 11 with a large store footprint. The last bankruptcy also eroded customer confidence, Mr. Marcum said.