One of the four people killed in a mass shooting in Dadeville, Alabama, on Saturday night has been identified as a star high school football player named Philstavious Dowdell, according to local media.
At a dance studio, a shooter opened fire at a 16-year-old's birthday party in the small Alabama town at about 10:35 p.m., killing four people and leaving several others injured—marking the latest in a wave of mass shootings that have rattled the United States in recent weeks. According to the Gun Violence Archive, an organization that tracks shootings across the country, there have been at least 163 mass shootings in the U.S. so far in 2023.
As police continue investigating the shooting, local media has identified Dowdell as one of the victims. He was celebrating his sister's Sweet 16 at the time of the shooting, according to a report from the Montgomery Advertiser. He was set to graduate high school in just a matter of weeks and had been accepted to Jacksonville State University on a scholarship for football.
His grandmother, Annette Allen, told the Advertiser that he died from injuries suffered from the shooting.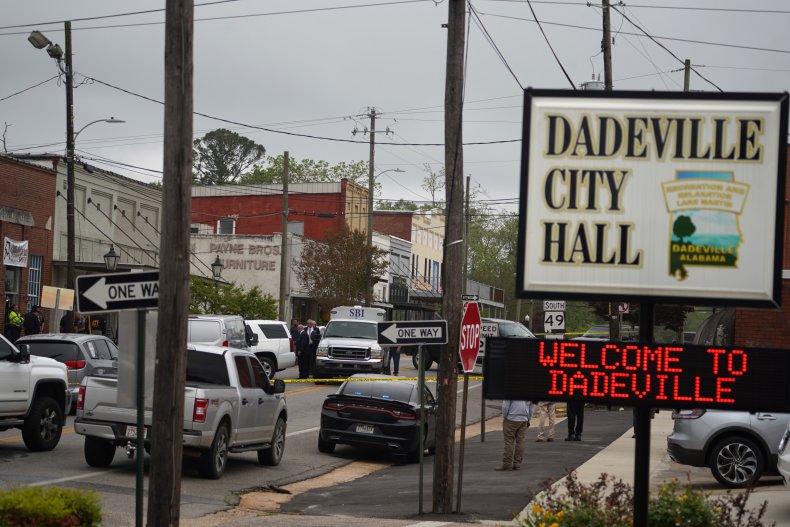 "He was a very, very humble child. Never messed with anybody. Always had a smile on his face," she told the newspaper.
Michael Taylor, assistant coach in football, basketball and track at Dadeville High School, described Dowdell as an honors student who was one of the best football players in Alabama who also excelled in track.
Jacksonville State University coach Rich Rodriguez wrote in a statement posted to Twitter, "Our thoughts and prayers are with the family of Philstavious Dowdell and the other victims of the senseless tragedy last night. He was aa great young man with a bright future. My staff and I are heartbroken and hope that everyone will support his family through this difficult time."
More information about the shooting, including if police have arrested a suspect and details about the events that led up to it, remain unknown as of Sunday afternoon. The other victims have not been publicly identified.
Pastor Ben Hayes, who serves as the chaplain for the Dadeville Police Department and for the local high school football team, told the Associated Press that most of the victims are teenagers.
He described Dowdell as "a strong competitor on the field."
"You didn't want to try to tackle him or get tackled by him. But when he came off the field, he was one of the nicest young men that you could ever meet, very respectful and well-respected by his peers," Hayes said.
Dowdell's mother was also injured in the shooting, the AP reported. Tallapoosa County School superintendent Raymond C. Porter said counseling will be available for students on Monday.
"This morning, I grieve with the people of Dadeville and my fellow Alabamians. Violent crime has NO place in our state, and we are staying closely updated by law enforcement as details emerge," Alabama Governor Kay Ivey wrote in a statement posted to Twitter.
Newsweek reached out to the Dadeville Police Department for further comment via email.