Crimea is "already a battlefield" a Ukrainian official said this week, as Russian President Vladimir Putin canceled traditional military parades to mark Victory Day ahead of an anticipated counteroffensive from Kyiv.
Denys Chistikov, Ukrainian President Volodymyr Zelensky's deputy permanent representative for Crimea, told Radio Free Europe/Radio Liberty on Friday that he believes Crimea residents and the Black Sea peninsula's occupation administration understand that the region will eventually return to Ukraine.
Crimea was annexed by Putin from Ukraine in 2014, a move that has not been recognized internationally. A yellow terror threat level has been in place in parts of the peninsula since last April, weeks after Putin's full-scale invasion of Ukraine began. More recently, Russian forces have been fortifying the peninsula amid fears of a Ukrainian advance.
Recapturing the territory is a key war goal for Ukraine. Last summer, Zelensky vowed to take back Crimea, saying that Kyiv's military had "kept the goal" of recapturing the region since it was annexed.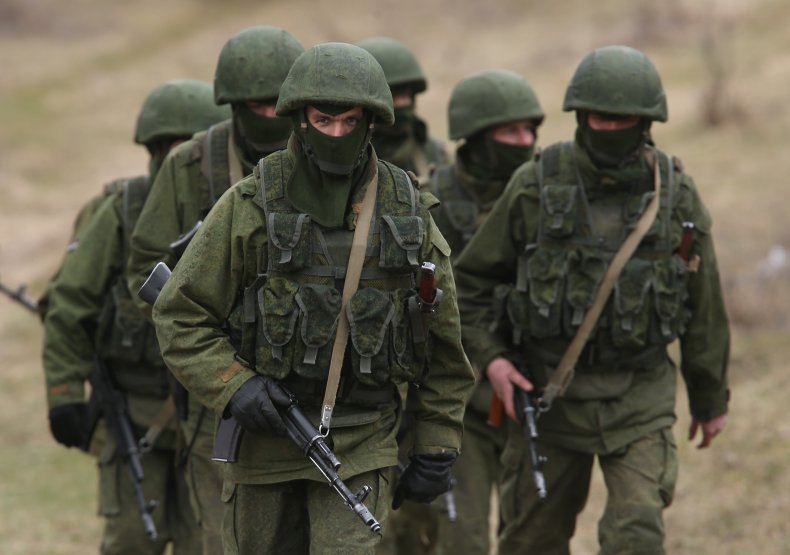 "Crimea is already a battlefield," Chistikov said. "This is no longer a war between Ukraine and Russia, but a war for the security of not only Ukraine, but the world as a whole."
The official noted that traditional military parades set to take place on May 9 to celebrate Victory Day—Russia's annual commemoration of the defeat of the Nazis in World War II—had been scrapped in Crimea. The peninsula held its first Victory Day commemorations in 2014.
"In Crimea, this is already another security measure, which demonstrates to the residents of Crimea themselves that the situation is not under complete control, as the occupation administration assures," Chistikov added. "This demonstrates that, nevertheless, military operations and the liberation of Crimea are approaching, and [the] uncertainty of the occupiers in their forces [is growing]."
Tamila Tasheva, Zelensky's top representative for Crimea, said on Friday that various resistance movements have emerged on the peninsula, and that the Victory Day marches were canceled because "[Crimea officials] understand that they cannot provide security on the territory of the peninsula."
"We communicate constantly with people in Crimea. Many people know me personally and write me personal messages even about how Russian equipment moves in Crimea," said Tasheva. "A lot of actions or activist movements have appeared on the peninsula, for example, 'Yellow Ribbon', 'Crimean Fighting Gull', 'Crimean Partisans'. On the walls of houses in Crimea they write 'Glory to Ukraine', we are waiting for the Armed Forces of Ukraine."
The Washington Post recently published satellite imagery from Maxar, a space solutions company, showing Russian forces building an extensive web of defense fortifications on the Black Sea peninsula and along its approaches from occupied southern Ukraine. Al Jazeera has also published satellite images showing the reinforcement of the defenses around the Russian Sevastopol naval base.
Beaches in Crimea have also reportedly been closed to swimmers as Russian forces dig trenches and prepare new defensive positions in the area.
Chistikov said such defensive lines indicate that Crimean authorities "are not confident that they will hold the defense at all."
"They also build defensive lines in order to have somewhere to retreat in the future," he added.
Ukraine's foreign minister Dmytro Kuleba on Thursday doubled down on Kyiv's demand that Russia withdraw its forces from the peninsula, as well as other occupied regions in Ukraine—Donetsk, Kherson, Luhansk, and Zaporizhzhia—for the war to come to an end.
"We are united by U.N. charter principles and the shared conviction that Crimea is Ukraine and it will return under Ukraine's control," Kuleba said. "Every time you hear anyone from any corner of the world saying that Crimea is somehow special and should not be returned to Ukraine, as any other part of our territory, you have to know one thing: Ukraine categorically disagrees with these statements."
Oleksiy Danilov, the head of Ukraine's National Security and Defence Council, said on Twitter on Friday that Ukraine will "test and use" any weapons "not prohibited by international laws" to liberate its occupied territories, including Crimea.
Newsweek has contacted Russia's foreign ministry by email for comment.
Do you have a tip on a world news story that Newsweek should be covering? Do you have a question about the Russia-Ukraine war? Let us know via worldnews@newsweek.com.