A video has been widely shared from King Charles III's coronation in London that shows a shaded figure in the congregation of Westminster Abbey that has been described on social media as the "grim reaper" and the "death ripper."
King Charles III became the 40th monarch to be crowned at the abbey alongside his wife, Queen Camilla, on Saturday morning in front of a congregation including world leaders and members of royal families from around the globe.
A clip taken from the live broadcast of the ceremony showing a cloaked figure moving beneath the Rood Screen of the abbey was edited and uploaded to TikTok by the account, stxawbs, with the caption: "NAH IT CANT JUST BE ME THAT SAW IT HELP FULL ON SIMS DEATH PERSON OMG."
The video has been widely shared, wracking up over 3 million views in just four hours and receiving in excess of 420,000 likes and 7,000 comments.
A number of users pointed out the bizarre nature of the clip, with one comment reading: "HELP THAT IS SO FUNNY😭😭."
Another poster pointed out humor in the choice of caption description, writing: "Grim reaper ❌ death ripper ✅."
A number of others suggested the figure could have been the spirit of Charles' ex-wife, Princess Diana, or his mother, Queen Elizabeth II.
When contacted by Newsweek for clarification, Westminster Abbey identified the figure as a verger, a member of the abbey community who assists with religious services but who is not a member of the clergy.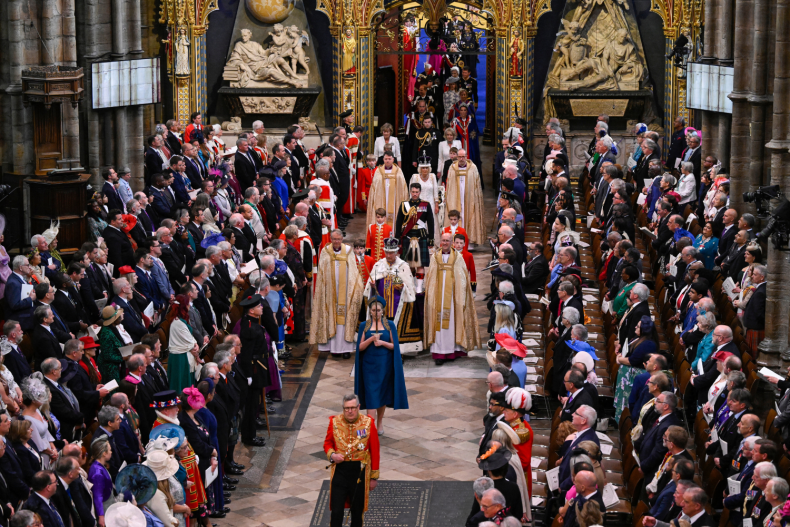 The coronation service and processions to and from Buckingham Palace have been among the largest-scale ceremonial events held in Britain for nearly 70 years, when Queen Elizabeth II was crowned in 1953.
Westminster Abbey was closed to the public for a number of weeks before the big day to allow for a team of workers to overhaul the interior in preparation, and additional staff and helpers were engaged on the day to ensure the smooth running of the event.
High profile guests in the abbey for the ceremony included President Macron of France and First Lady Jill Biden who represented the U.S.
Prince Harry also made the journey from his home in California where he has been living since 2020, though he was not accompanied by his wife, Meghan Markle, or the couple's two children, Prince Archie and Princess Lilibet.
Harry joined other members of his family among the congregation, although as he is no longer a "working member" of the monarchy he was not seated with his brother, instead taking a place between his cousin-in-law, Jack Brooksbank, and elderly royal cousin, Princess Alexandra of Kent.
In another moment from the ceremony that has since gone viral, footage from the live broadcast appeared to show Harry's view of the event being obstructed by his aunt, Princess Anne's, feathered hat.
Social media users quickly posted images to their accounts across TikTok, Twitter and Facebook highlighting the moment, with many comparing it with the state funeral of Queen Elizabeth II in September 2022, when Meghan Markle's face was blocked from view by a large candle.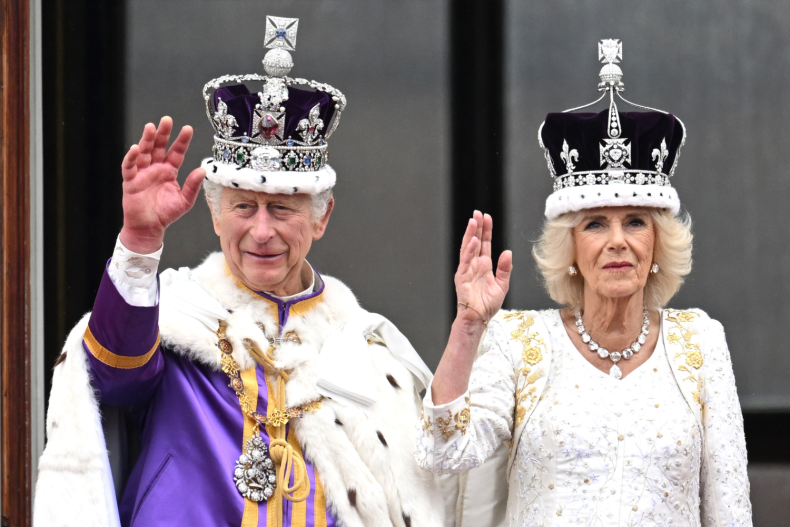 After the ceremony, the royals returned to Buckingham Palace for a balcony appearance. Rain showers caused the full military aerial flypast to be reduced.
James Crawford-Smith is Newsweek's royal reporter based in London. You can find him on Twitter at @jrcrawfordsmith and read his stories on Newsweek's The Royals Facebook page.
Do you have a question about King Charles III, William and Kate, Meghan and Harry, or their family that you would like our experienced royal correspondents to answer? Email royals@newsweek.com. We'd love to hear from you.