Stock for the Molson Coors Beverage Co. has experienced a stock market bump during the same period that Anheuser-Busch InBev has faced calls for a boycott.
The backlash against Anheuser-Busch came after it was revealed that one of its beer brands, Bud Light, had partnered with transgender influencer and activist Dylan Mulvaney.
On April 1, Mulvaney posted a video on Instagram in which she revealed that Bud Light had sent her a personalized can with her face on it to commemorate the one-year anniversary of her gender transition. Following her announcement, many conservatives took to social media to announce they were boycotting Bud Light as well as all other Anheuser-Busch beverages. A large number of these boycotters said they would be switching to Coors Light.
Perhaps as a result of these pledges of a brand switch, Molson Coors—parent company of Coors Light—has seen an uptick on the New York Stock Exchange. On March 31, the day before Mulvaney's announcement, the company's stock was trading at $51.68. As of Friday, the stock was at $55.97, an 8.3 percent increase.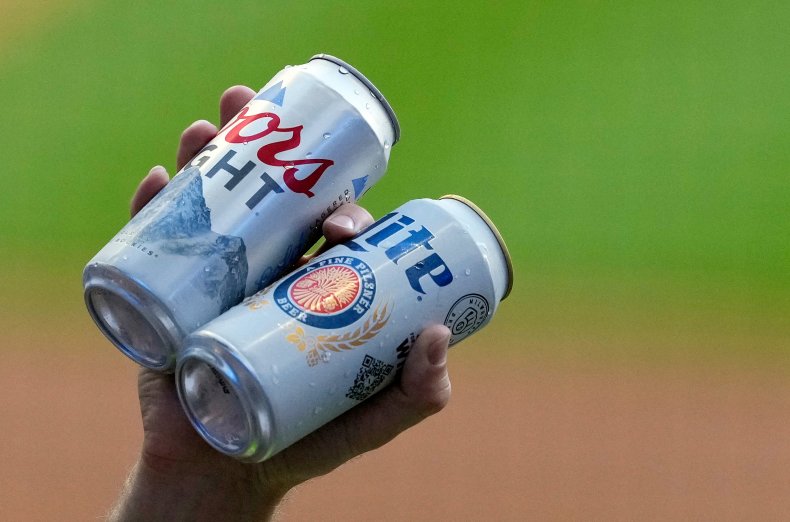 Meanwhile, Anheuser-Busch's stock price has slid. On March 31, the company's shares traded at $66.73, but that number was down to $64.66 as of Friday.
Even with that 3.1 decrease, though, Anheuser-Busch remains the top beer company on the stock market. The company's stock began the week with a 3 percent drop, but that came following 10 days of increases that carried Anheuser-Busch stock to 52-week highs.
John Rosen, an economics professor at the University of New Haven, told Newsweek that the stock bump Molson Coors recently experienced likely had to do—at least in part—to the news of Bud Light's partnership with Mulvaney.
When asked if now would be an opportune time to purchase Molson Coors stock, Rosen said that "everybody that's going to make a move based on the Dylan Mulvaney news has already made that move. So, you're not going to make money on that."
He added, "It might be a good idea to buy Molson Coors stock because you think they're a very good company, but that's a long-term decision."
Rosen cited other companies that have endured large controversies and remained successful when discussing the possible long-term effect the Mulvaney controversy might have on Anheuser Busch's stock.
"If it's a well-run company, and they've worked their way through it, eventually they recover," he said.
Among the prominent conservatives who have said they changed beer brands to Coors Light is GOP Representative Marjorie Taylor Greene of Georgia. On April 8, she posted a photograph on Twitter of a trunk containing groceries, with a box of Coors Light in the front.
"I would have bought the king of beers, but it changed it's [sic] gender to the queen of beers," Greene wrote in the caption.
As has been pointed out to other people who announced online that they switched to Coors, Greene was sent messages by social media users about Coors Light's support of the LGBTQ+ community.
"Your hate is only topped by your ignorance," podcast host Fred Wellman wrote with a reply that contained a picture of Coors Light's sponsorship of the Denver PrideFest.
Another person tweeted Greene an image from Coors Light that lists the company's extensive work with the LGBTQ+ community.
As the image from Coors Light notes, the company "proudly supports" such LGBTQ+ organizations as the Matthew Shepard Foundation, Trans Tech, the National Gay and Lesbian Chamber of Commerce, GLAAD, the Human Rights Campaign and Out and Equal.
Newsweek reached out to Molson Coors via email for comment.