Conservative commentator Candace Owens on Thursday denounced Alec Baldwin for his "unbelievable privilege" after manslaughter charges against him were reportedly dropped.
Lawyers for Baldwin provided Newsweek with a statement in which they announced prosecutors in New Mexico have decided to drop charges against their client in the case of a fatal shooting on the set of the film Rust.
"We are pleased with the decision to dismiss the case against Alec Baldwin and we encourage a proper investigation into the facts and circumstances of this tragic accident," Luke Nikas and Alex Spiro, Baldwin's attorneys, said in the statement.
On October 21, 2021, a prop gun being handled by Baldwin on the set of Rust discharged, killing cinematographer Halyna Hutchins and injuring director Joel Souza. Baldwin has maintained that he didn't pull the trigger and was unaware a live bullet was in the gun.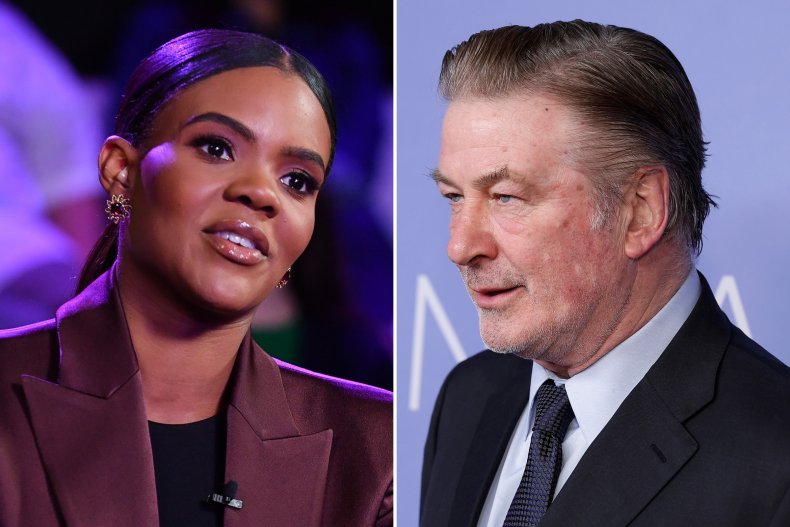 In January, the star was charged with two counts of involuntary manslaughter. Initially, prosecutors in New Mexico—where the shooting incident occurred—had attached a firearm enhancement to the charges that would require Baldwin to serve a five-year minimum jail sentence if convicted, but his lawyers successfully argued that the firearm enhancement should be dropped. However, he was still facing up to 18 months on the two manslaughter counts.
Newsweek contacted the New Mexico First Judicial District Attorney's office for comment but did not hear back as of press time.
Soon after reports were published about charges against Baldwin being dropped, Owens took to Twitter to express her anger.
"Alec Baldwin having all charges dropped against him is positively criminal, she tweeted. "He quite literally shot and killed someone on the set of his own movie and he will never have to face charges."
Owens, added, "Unbelievable privilege that only a wealthy, connected democrat could experience."
Owens wasn't the only conservative to speak out about the charges being dropped.
"When you're a Democrat they let you do it," Human Events podcast host Jack Posobiec tweeted.
Not everyone shared such views, though. Law student Scott Challeen, for one, wrote that he predicted "in January that Alec Baldwin's charges were frivolous and would likely get tossed."
News of the charges being dropped came on the same day filming on Rust was scheduled to resume.
The Associated Press reported that a representative for Rust Move Productions attorney Melina Spadone said filming was restarting in Montana. Baldwin will be resuming his roles as actor and co-producer, and Souza has said he will return to the director's chair to honor Hutchins' legacy.