Bud Light's "best hope" for overcoming controversy surrounding its partnership with transgender influencer and activist Dylan Mulvaney may be to lie low, according to political scientists who spoke to Newsweek.
The beer brand has faced severe criticism and a boycott from conservatives after partnering with Mulvaney, who posted several videos on Instagram promoting her partnership with the beer brand, including one where she showcased a customized Bud Light can with her face on it.
Bud Light's official Twitter account, which remains verified with a gold tick on the social media site, last tweeted on April 14, sharing a picture of a can of Bud Light and the phrase "TGIF?"
That tweet was met with a large number of angry responses making reference to the brand's work with Mulvaney and some users mocking the social media team operating the account.
Anger with Anheuser-Busch
Conservatives' anger with Bud Light has taken the form of public criticism and calls to boycott the beer and its parent company, Anheuser-Busch.
In a statement last Friday, Anheuser-Busch CEO Brendan Whitworth said the company "never intended to be part of a discussion that divides people. We are in the business of bringing people together over a beer."
Nonetheless, conservative anger has continued. In Missouri, Republican state Senator Nick Schroer even recorded a video of himself smashing cans of Bud Light with a baseball bat outside the state capitol building on Thursday.
Controversy about the partnership with Mulvaney comes amid a wider debate about the inclusion of transgender women in female issues and spaces and proposed legislation affecting transgender people across many states.
The American Civil Liberties Union (ACLU) is tracking 469 bills in state legislatures that it describes as "anti-LGBTQ."
"While not all of these bills will become law, they all cause harm for LGBTQ people," the ACLU's website says.
Political scientists who spoke to Newsweek about the conservative backlash suggested that Anheuser-Busch could benefit from staying quiet and pointed to the possibility that another controversy could shift focus from Bud Light.
Hoping It Blows Over
Thomas Gift is founding director of University College London's Centre on U.S. Politics and is originally from Pennsylvania. He told Newsweek that a new controversy might soon hit the headlines.
"Silence is probably the least worst option for Bud Light at this point," Gift said.
"Doubling down on its current marketing strategy is only going to further alienate conservatives. And anything that could even remotely be construed as backtracking would only anger progressives," he went on.
"The brand's best hope now is to lie low and hope the controversy blows over," Gift said. "And it will. After all, two qualities define Americans: one, they have a short attention span; and two, they love cheap beer."
Gift added that as soon as "the next 'woke' controversy rolls around, most will forget all about this boycott."
Marketing and Political Advertising
It remains to be seen if the Mulvaney controversy will have any lasting impact on Bud Light's sales and it could be too early to tell, according to Paul Quirk, a political scientist at the University of British Columbia in Canada. Though now based in Canada, Quirk is a U.S. citizen and taught at several U.S. universities including the University of Illinois
"Sponsoring social media influencers is the consumer-product marketing equivalent of microtargeting in political campaign advertising," Quirk told Newsweek.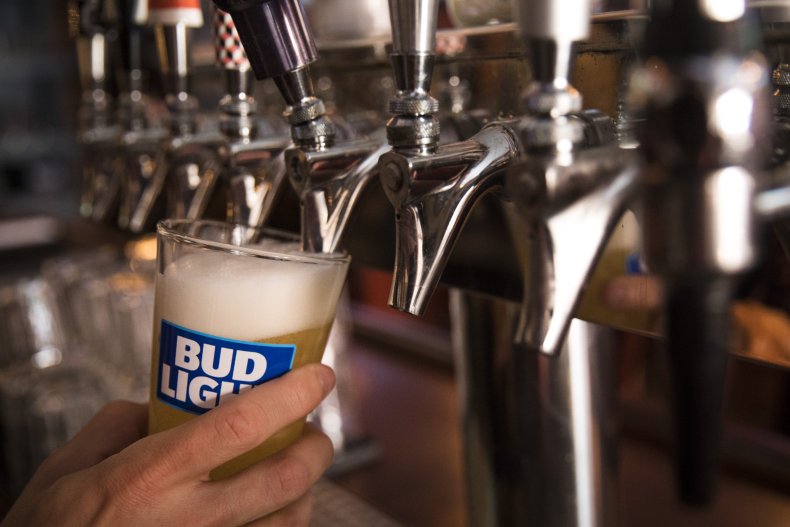 "It offers the prized capability of saying different things to different people, without much inhibition about the consistency of the messages, he said.
"Just as in the political-campaign version, there is sometimes a cost, when a controversial message comes to the attention of a broader public, rather than just the intended audience. But that is generally just an expected cost of doing business. It does not deter ongoing use of the targeted messaging," Quirk said.
A Perfect 'Mumbling Response'
Quirk added that Anheuser-Busch "could have doubled down on aligning the Bud Light brand with transgender progressivism.
"But that would certainly have alienated large parts of the NFL, NHL, and WWE audiences, among others that are important for the brand," he said.
"From a corporate standpoint, the best overall strategy is probably to affiliate with a broad range of social media influencers; not worry much about their mutual compatibility; and when challenged by critics, make innocuous statements that avoid taking sides," Quirk said.
"It's possible that the Mulvaney connection will be a net loser in the long run for Budweiser, but that's far from certain. Once the controversy erupted, the company's mumbling response was probably perfect," he said.