MAGA conservatives have expressed their glee amid reports that Bud Light's marketing vice president has taken a leave of absence.
Alissa Heinerscheid reportedly stepped back from her position and will be replaced by Budweiser Global Marketing Vice President Todd Allen, according to marketing and advertising outlet Ad Age.
Heinerscheid became the main focus of conservative and right-wing fury online after Bud Light's ad campaign with transgender performer Dylan Mulvaney.
Mulvaney's appearance in the ad led conservatives to call for a boycott of the beer and for Heinerscheid to be fired.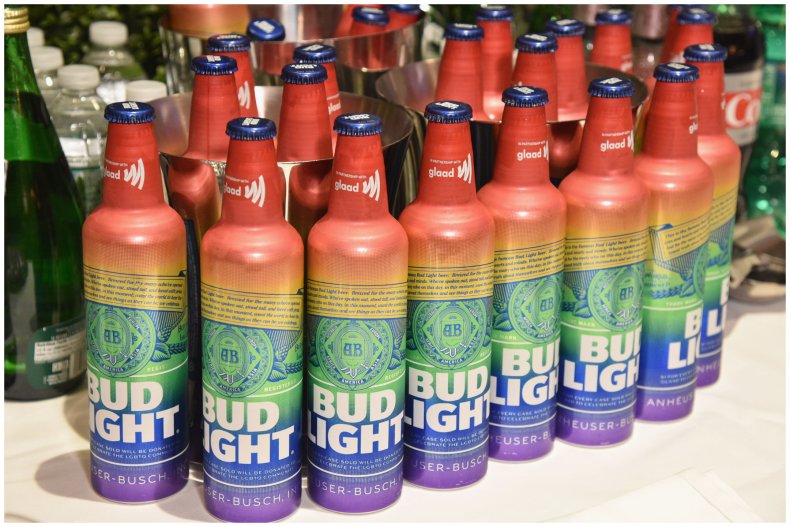 The conservative outrage at Bud Light is part of the ongoing culture war in the U.S. It has dominated political discourse and led to laws being introduced in Republican states that target the transgender community.
MAGA Republicans and conservatives celebrated the report that Heinerscheid had taken a leave of absence.
Former Arizona gubernatorial candidate Kari Lake tweeted: "When conservatives fight the culture war, we win. They call us the 'silent majority' for a reason. But we can no longer afford to be silent. There's too much at stake."
Former Fox News host Megyn Kelly posted: "Bud Light waves the white flag, ousting disastrous VP of Mktg (marketing), weeks after destroying its own brand by going woke on gender. Let that be a lesson to other corporations. We've had it."
Daily Wire host Matt Walsh said on Twitter: "The Bud Light executive who came up with the Dylan Mulvaney campaign is now gone from the company. I told you this boycott was working. We got actual results. A victory for team sanity."
But Mulvaney and transgender people in the U.S. have received support from Democrats and liberals, including from White House press secretary Karine Jean-Pierre.
At a daily press briefing earlier this week Jean-Pierre said: "When a transgender American posts a video about a brand of beer they enjoy and it leads to bomb threats, it's clear that the level of violence and vitriol against transgender Americans has to stop."
Despite calls for a boycott Anheuser-Busch, the parent company of Bud Light, has seen its stock value increase overall by 6.28 percent since last month.
Many of the gains in stock value came before Mulvaney's ad feature on April 1 after which it fell, although it has since started to recover.
The company has been subject to bomb threats, which resulted in a bomb squad being dispatched to an Anheuser-Busch facility in Los Angeles after authorities said they had uncovered a threatening email.
An employee with the company told Patch Media that other threats were made to other facilities across the country after Mulvaney's Bud Light post.
In an April 14 press release, Anheuser-Busch CEO Brendan Whitworth said the company had no intention of dividing people.
It stated: "We never intended to be part of a discussion that divides people. We are in the business of bringing people together over a beer."
The statement continued: "I care deeply about this country, this company, our brands, and our partners. I spend much of my time traveling across America, listening to and learning from our customers, distributors, and others.
"Moving forward, I will continue to work tirelessly to bring great beers to consumers across our nation."
Newsweek has contacted Anheuser-Busch for comment via email.