Bud Light has not released any social media posts since its partnership with a transgender influencer and activist stirred a backlash online and calls for a boycott of the product.
The beer brand has not posted on its Twitter account since April 2, its Instagram account since April 1, and its Facebook page since March 30. On April 2, Dylan Mulvaney posted a video to her 1.7 million Instagram followers in which she explained that Bud Light had sent her a personalized can with her face on it to commemorate 365 days of being a girl.
The row over transgender brand ambassadors is symbolic of a wider debate about the inclusion of transgender women in female issues and spaces. Some say transgender women should be treated the same as other women, while others say they are different and that hard-won women's rights must be protected.
Following calls for a boycott of Bud Light, supporters of Kari Lake, the Trump-backed GOP candidate for Arizona Governor in 2022, refused to drink the beer brand at an open bar at a rally in Iowa. Meanwhile, a bar owner in Kentucky said he had noticed the drink sparking rows between patrons.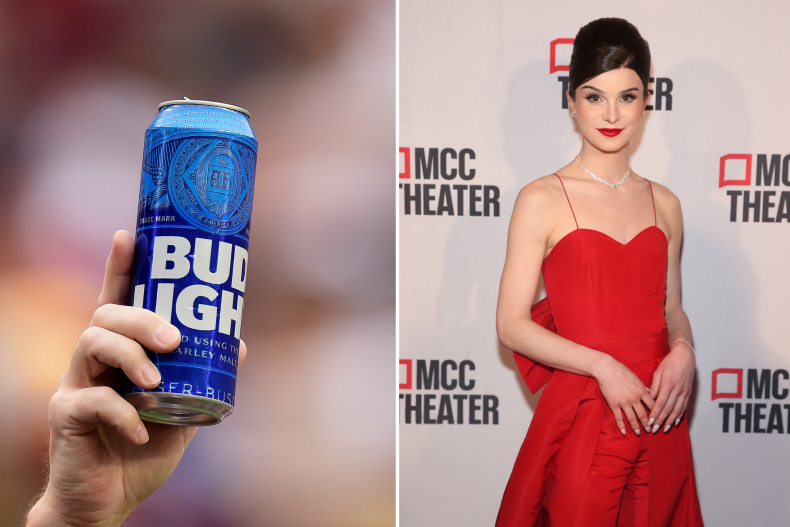 Musician Kid Rock took a gun to several cases of Bud Light in a viral video, while a video of someone pouring a can down the drain of a kitchen sink was viewed over a million times on Twitter.
A spokesperson for Anheuser-Busch, Bud Light's parent company, told Newsweek on Monday that the company "works with hundreds of influencers across our brands as one of many ways to authentically connect with audiences across various demographics."
They added that the commemorative can it had given to Mulvaney "was a gift to celebrate a personal milestone and is not for sale to the general public."
But despite defending the partnership, the firm appears to be weathering the social media storm by saying nothing at all, despite tweeting frequently in the days leading up to the controversy. Newsweek contacted Anheuser-Busch via email for comment on Saturday.
Mulvaney, who began tracking her transition on TikTok and has since earned over 10 million followers, has partnered with several companies including the fashion brand Kate Spade.
In October, she interviewed President Joe Biden on transgender rights at the White House, and on March 13 was sent a letter from Vice President Kamala Harris celebrating a year of being a trans woman. Harris told Mulvaney: "You continue to break barriers and inspire young people across our nation and around the world."
In response to the calls for a boycott of the brand, some Twitter users noted that Bud Light had been a partner of LGBT Pride "for over 20 years," while others pointed out that other major beer brands had also pledged their support to the LGBTQ+ community.
Transgender rights is an issue that is proving deeply polarizing. A survey by the Pew Research Center last year found that 38 percent of Americans believed that society had gone too far in accepting transgender people, while 36 percent said it had not gone far enough.
Bud Light is not the first brand to face calls for people to stop using over its partnership with transgender activists.
In February, chocolate maker Hershey's faced a similar response to an advertising campaign after including a transgender rights activist's face on special chocolate bar wrappers in Canada for International Women's Day. Detractors decried the move as "a slap in the face" for "actual" women while others supported the inclusion, hoping it would inspire young people.
Since the calls to boycott Bud Light, social media users have also taken offense to whiskey maker Jack Daniel's' "small town, big pride" campaign in which it teamed up with drag queens from Ru Paul's Drag Race—despite the campaign being nearly two years old.