Some conservatives and MAGA commentators pounced on Anheuser-Busch CEO Brendan Whitworth's connections to the CIA amid the continuing backlash against his company's recent Bud Light promotion featuring influencer Dylan Mulvaney.
Bud Light, a prominent beer brand whose parent company is Anheuser-Busch, has been shunned by conservatives for almost two weeks after Mulvaney, a transgender woman, shared a sponsored video on her Instagram account announcing that Bud Light had sent her a customized beer can with her face on it. The beer can was sent to Mulvaney in celebration of the first anniversary since she transitioned. However, the company's apparent support for Mulvaney received backlash from some conservatives, who were outraged by the post and boycotted the beer in response.
In the wake of Whitworth's Friday statement in response to the boycott, some social media commentators—including supporters of the MAGA (Make America Great Again), a political slogan popularized by Donald Trump—cited the CEO's past work with the CIA.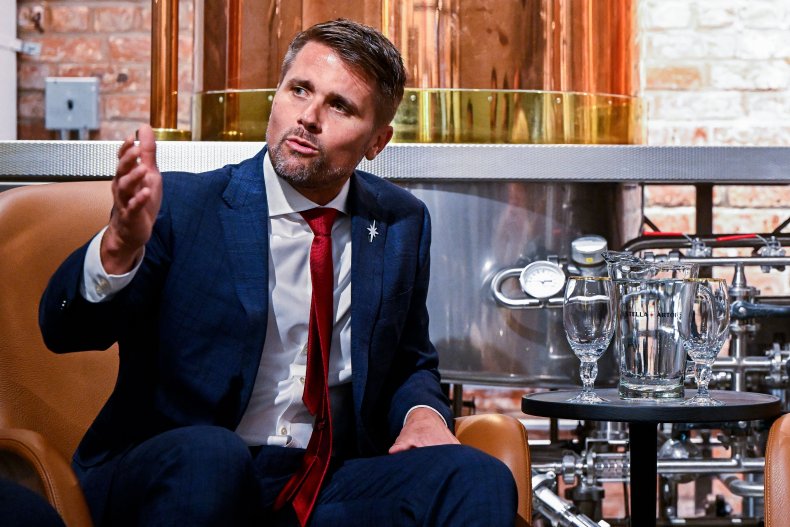 "Meet Brendan Whitworth, Ex CIA and former CEO of Anheuser-Busch. The company wants you to believe that this guy wasn't aware of Bud Light partnering with a guy who mocks women for living," Twitter user @ImMeme0 wrote on Friday.
Meanwhile, Benny Johnson, a political columnist and Turning Point U.S.A. official, said "Hey guys, I think I found the problem. The CEO of Budweiser is a CIA operative. No, really." Johnson included a screenshot from Whitworth's LinkedIn profile.
Before leading Anheuser-Busch, Whitworth worked with the CIA as an operations officer and served as a first lieutenant in the United States Marine Corps for three years before joining the agency, Fox Business reported. In 2001, Whitworth joined the CIA where he recruited and handled spies in Washington D.C., Pakistan and parts of the Middle East before going to Harvard Business School, according to the Daily Mail.
Host of the Great Divide podcast, Alan Jacoby, shared the Fox Business article and wrote on Twitter "this is nothing, right?????"
Meanwhile, Steve Bannon, a former White House strategist who worked for the Trump administration, called for boycotting "all" Anheuser-Busch Products.
"Stop spending money on companies that hate you and what you stand for," he wrote on Gettr on Saturday. He shared a screenshot of Johnson's post about Whitworth's CIA past.
Additionally, Twitter user @JeanetteKStone1, who state in their bio that they are a former U.S. service member, targeted Bud Light's "woke marketing" while citing Whitworth's past connection to the CIA.
"Bud Light's Woke marketing makes a lot more sense when you realize their CEO was in the Marine Corps. He'll never apologize for what AB did b/c he's a foot soldier for the Navy's Leftist bell-bottom-wearing agenda," wrote @JeanetteKStone1.
Meanwhile, Twitter account user Secret House cited Whitworth's family history with federal agencies, which Newsweek couldn't independently verify, saying "…meet Brendan Whitworth, the CEO of Anheuser-Busch (#Budlight ) and former CIA officer responsible for approving Bud Lights latest AD campaign. His grandfather worked at the FBI, serving under President Hoover, before running the training in Quantico, Virginia."
After Mulvaney's Bud Light video was posted, several celebrities, including musician Kid Rock, and supporters of Arizona gubernatorial candidate Kari Lake were among the conservatives who refused to drink the popular beer . The matter also led to verbal altercations between customers in at least one bar.
Whitworth issued his first official statement on the topic on Friday, which Anheuser-Busch tweeted. However, the message didn't overtly back opposing or supportive views. It also did not mention the term "LGBTQ+" or speak of the LGBTQ+ community, but it did mention other "communities."
"We have thousands of partners, millions of fans and a proud history supporting our communities, military, first responders, sports fans and hard-working Americans everywhere," Whitworth wrote in the statement.
The CEO continued: "We never intended to be part of a discussion that divides people. We are in the business of bringing people together over a beer."
Both sides of the issue were still upset after Whitworth's statement, with some criticizing the company for not taking a stronger stance to support its transgender customers. Meanwhile, some conservatives criticized Whitworth for not apologizing for the company's support of Mulvaney.
Newsweek reached out by email to Anheuser-Busch for comment.