Donald Trump Jr. has angered some conservatives for calling for an end to the boycott of Anheuser-Busch, which started due to the company's partnership with transgender influencer Dylan Mulvaney.
A prominent GOP political committee has also received criticism after it deleted a tweet about Bud Light. A report published after the tweet was deleted said the committee has received donations from Anheuser-Busch.
Republicans who have pushed back on the boycott of Bud Light are facing backlash from fellow conservatives.
Perhaps the most high-profile name drawn into the controversy is Donald Trump Jr., who recently called for an end to the Bud Light boycott. But a prominent GOP committee is also being criticized by right-wing figures for backing off its attacks on Bud Light.
The calls for a boycott of Bud Light and its parent company Anheuser-Busch began soon after it was revealed that Bud Light had a partnership with transgender influencer and activist Dylan Mulvaney. The news resulted in many conservatives announcing they were switching beer brands while right-wing stars like rap-rock musician Kid Rock and country singer Travis Tritt denounced Anheuser-Busch.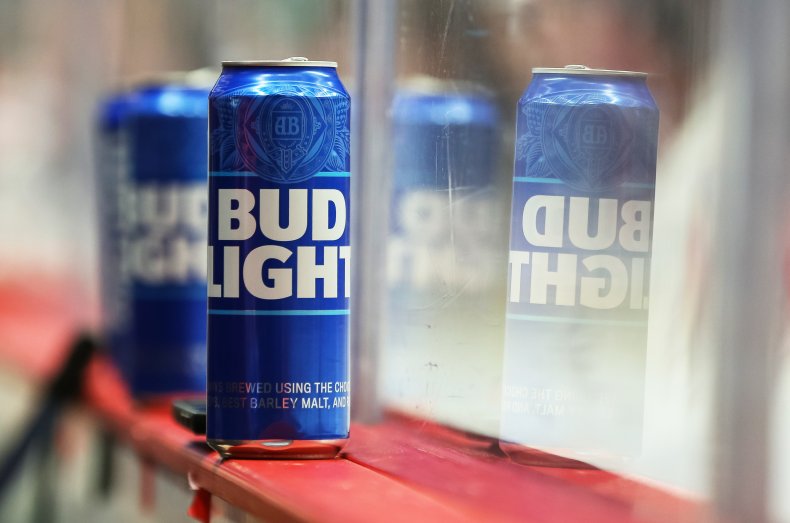 Donald Trump Jr., however, defended the beverage company during a recent episode of his Triggered podcast, saying Anheuser-Busch was a large donor to GOP political campaigns and should not be subjected to a boycott.
"The company itself doesn't participate in the same leftist nonsense as the other big conglomerates," he said on Triggered. "Frankly, they don't participate in the same woke garbage that other people in the beer industry actually do, who are significantly worse offenders when I looked into it. But if they do this again, then it's on them!"
Trump's comments received some negative attention from right-wing figures like Ned Ryun, CEO of the conservative organization American Majority.
"I 100% completely disagree with him on this. Leads me to question whether he's right on trans issue…" Ryun tweeted.
Dr. Carol M. Swain, a political scientist and entrepreneur, also indicated she disagreed with Trump's stance. She tweeted, "I hope his listeners are not listening and have minds of their own."
Meanwhile, the National Republican Congressional Committee (NRCC) has also come under fire recently in relation to the Bud Light controversy.
The NRCC—a political committee that works to elect Republicans to the U.S. House of Representatives—reportedly tweeted out a critical message on Saturday about Bud Light as well as opened a fundraising page where people who donate money could receive a koozie that read "This Beer Identifies as a Water."
However, that tweet was soon deleted, and the fundraising page was taken down.
"Thanks to Dylan Mulvaney, we can all finally admit that Bud Light tastes like water," the NRCC's deleted tweet read, according to The Daily Beast. "With our new [koozies], you can make sure no one confuses Bud Light with real beer ever again."
The Daily Beast noted that OpenSecrets data shows the NRCC received $464,505 from Anheuser-Busch and its employees in 2022.
"The GOP establishment is circling the wagons around Anheuser Busch. These people don't have any interest in pushing back against corporate wokeism or transgenderism," The Daily Wire's Matt Walsh tweeted about the NRCC news. "In fact they want to help normalize both. This is grassroots conservatism vs the establishment, as always."
Political commentator Ben Shapiro also weighed in on the NRCC's actions and about those calling for an end to the Bud Light boycott.
"Those who are calling off the dogs with regard to Bud Light are generally part of the Republican donor class, who disproportionately fall into the category of socially liberal and fiscally conservative," Shapiro tweeted.
He added, "Those who rely on organizations like the NRCC or RNC for moral leadership are making a category error. These organizations exist to aggregate money and spend it. Those who write the checks call the shots. That includes Anheuser-Busch, obviously."
George Ajjan, an international political strategist, told Newsweek that the campaign against Bud Light could be a future sign of trouble for the GOP.
"Ordinary Americans who tend toward conservative values have good reason to chafe under an ultra-left woke agenda, but too often the causes to which they devote so much attention seem like manufactured outrage," Ajjan said. "The fact that denouncing a beer brand's questionable choice of spokesperson has become a litmus test of conservative street cred doesn't auger well for a compelling and unified right-leaning agenda to rally Republican votes."
On Friday, Anheuser-Busch CEO Brendan Whitworth released a statement in which he said the company "never meant to be part of a discussion that divides people."
"As the CEO of a company founded in America's heartland more than 165 years ago, I am responsible for ensuring every consumer feels proud of the beer we brew," Whitworth wrote in part. "We are in the business of bringing people together over a beer."
Newsweek reached out to the Trump organization and the NRCC via email for comment.