The actor who sang a "Bud Light is Gay" jingle is continuing his alliance with the brand, suggesting he's also sponsored by them.
Broadway actor PJ Adzima entertained thousands with his comedy song about Bud Light, amid the attempted boycott of the brand after they collaborated with transgender influencer Dylan Mulvaney.
Adzima, who is currently playing the role of Elder McKinley in The Book of Mormon on Broadway, addressed the controversy by co-writing and performing a comedy song calling Bud Light "the liberal beer." This comes despite some in the LGBTQ+ community also boycotting Bud Light after alleged anti-transgender comments from Anheuser-Busch InBev CEO Michel Doukeris.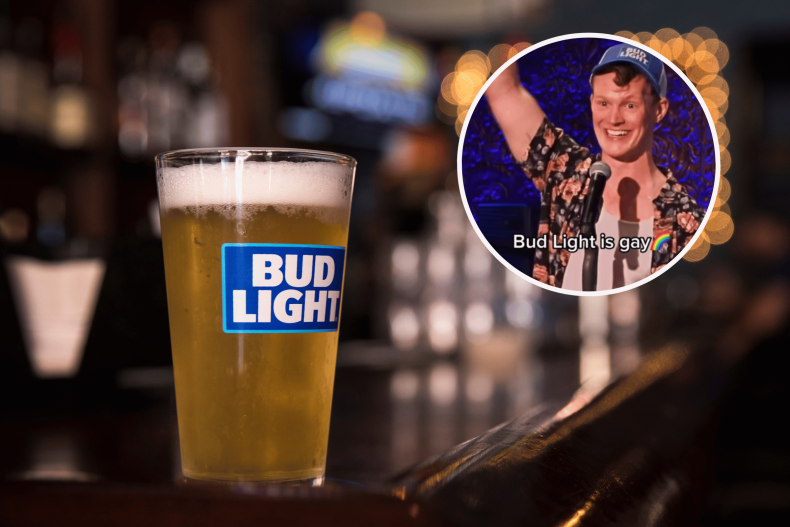 One of Adzima's latest TikTok videos celebrates the announcement that the 76th Annual Tony Awards will be going ahead despite the Writers Guild of America strike affecting the entertainment industry right now. As the WGA is on strike, multiple events, movies and TV shows are being affected.
The 2023 Tony Awards will go ahead on June 11 without writers in an unscripted ceremony.
In a fake acceptance speech, Adzima joked that he made the Tonys happen this year. "Thank you. Thank the whole community. Thank Bud Light, my sponsors," Adzima said, tilting his head down to show the camera he's wearing a Bud Light baseball cap, the same one he wore while performing "Bud Light is Gay."
Earlier in May, he shared the song, which he co-wrote with Emmy-nominated composer and lyricist Eli Bolin, on social media.
""Bud Light! The liberal beer, so drink it if you're cis or if you're queer, baby," Adzima sings. Other lyrics include ""Bud Light, so painfully gay, now I'm gonna chug one for the LGBTQIA."
Mulvaney shared a video in early April of her receiving a personalized can from Bud Light, and over a month and a half later, boycotts are seemingly continuing across the country. Multiple reports suggest the continued boycott of Bud Light and related brands are harming profits for parent company Anheuser-Busch.
While many people seemed to enjoy Adzima's performance on social media, some people criticized him in the comment section. "Yep, Bud Light can have you people," wrote one TikTok user, while another simply commented with a queasy emoji face.
Adzima threw his support behind Bud Light and Anheuser-Busch in April, explaining his reason for doing so in a TikTok video.
"Anheuser-Busch are Republicans. They are huge GOP donors," he explained with a can in his hand. "Bud Light is gay now, and now you can't drink it. Because if it's gay, not only will you not drink it but you will be losing your Republican donors so much money.
Adzima added, "So the gayer Bud Light is, the gayer Bud Light gets, the better the world is. Because there's less money for you psychos."