Toronto Blue Jays pitcher Anthony Bass has trolled United Airlines amid controversy involving his pregnant wife.
There has been a hot debate on social media since the 35-year-old Major League Baseball star shared a photo of his two toddler daughters in their seats on a plane with popcorn on the floor under and around the seat.
The MLB pitcher wrote on Twitter on Sunday about how his wife, Sydney Rae James, who is 22 weeks pregnant, was asked to clear up the mess and that a flight attendant had insisted that she "get on her hands and knees" to do so.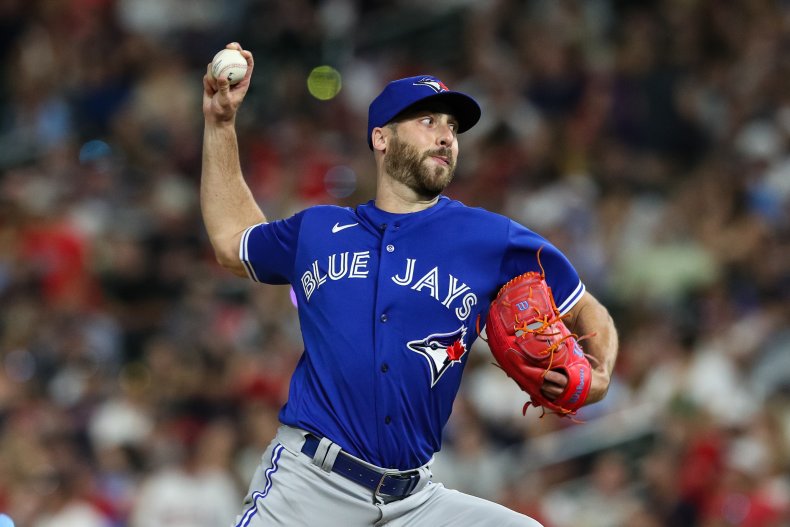 Bass tweeted his outrage at the time, writing on Twitter: "The flight attendant @united just made my 22 week pregnant wife traveling with a five year old and two year old get on her hands and knees to pick up the popcorn mess by my youngest daughter. Are you kidding me?!?!"
United Airlines responded to Bass on Twitter, saying: "Hi there, Anthony. We certainly understand your concern and we'd like to look into this. When you have a moment, please DM your wife's confirmation number along with any additional details regarding her interaction with this crew member."
Newsweek has asked United Airlines for comment by email.
After a fierce debate online, Bass has now posted a photo, trolling the airline after the fallout.
He shared a picture of one of his daughters beaming with joy while holding a huge bag of popcorn in her arms, and simply captioned it with a single popcorn emoji.
There was a furious reaction to the photo from many, who felt that Bass had stepped over the line.
Author Oli London replied to the tweet: "You disrespected airline staff members who work hard every single day to look after passengers. By trying to cause an outrage over nothing their jobs could be at risk because of you.
"Next time instead of taking a photo pick up your kids mess yourself and be an example to your kids."
Another added: "Notice he's using a closed bag here because he knows if she spills a few pieces, he'll have to go to the exhausting trouble of calling someone else to drive over and pick it up."
After Bass originally expressed how upset he was over the situation, the baseball star was hit with a number of replies on Twitter, to which he replied.
One Twitter user wrote: "Be a decent human and if your going to give your kid popcorn on a plane be prepared to pick it up. My toddlers loved Cheerios but they were messy, I would never had served them cheerios on a plane."
Bass hit back, quote tweeting his critic and adding: "You are the perfect parent. You can do no wrong."
Another hit out at the pitcher, saying that it is their fault that they gave popcorn to their children in the first place. They tweeted: "Pregnant women can bend. They may not want to but the solution to that would be to not give your child popcorn on a plane."
Bass replied that it was the airline that provided the snack and it did not come from him or his wife: "One last comment about today's incident. United provided the popcorn, not my wife."
A former flight attendant then joined the debate, which racked up more than 45,000 comments, telling Bass: "A flight attendant is there for safety, not to pick up after you or your children. As a former flight attendant, I speak from experience."
Bass ended up thanking those who helped, indicating that the airline was going to sort out the controversy with the flight attendant, tweeting: "Thank you everyone for the support. United Airlines is taking care of matters with the flight attendant internally."
Do you have a tip on a sports story that Newsweek should be covering? Do you have a question about MLB? Let us know via entertainment@newsweek.com.