A pair of dogs called Banana and Pumpkin, have melted hearts all over social media after a clip of them cuddling on the sofa went viral.
The video, shared on TikTok on Friday by the pets' owner, under the username Bananathebloodhound, shows the two bloodhounds on the sofa cuddling, with Banana, the bigger dog, holding and petting Pumpkin, who had previously lost a companion named Copper.
The heartwarming post came with a caption that said: "They're at it again. Watch til the end for maximum cuteness. I feel like I've said this before but it just makes me so happy to see them like this. Pumpkin and Copper were always cuddling and when we lost him I wondered if she would ever recover. They were inseparable since she came home at 10 weeks.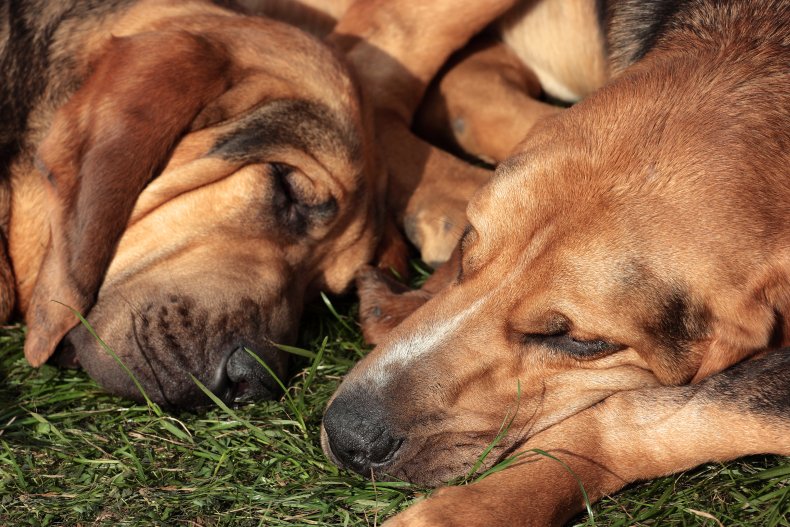 "Seeing her and Banana be like this all the time just makes me so happy. She has other friends but Copper was the only one she was ever like this with. Banana has been so perfect and helps us smile and heal daily. So grateful for him."
According to VCA Animal Hospitals, when dogs lose a companion, whether two or four-legged, they mourn much like people do. Signs of dog mourning include becoming depressed and listless; having a decreased appetite and declining to play; sleeping more than usual; moving more slowly; and sulking around.
The video quickly gained popularity on social media, attracting animal lovers from across the platform. It has so far received over 168,000 views and 26,700 likes on TikTok.
One user, imperfectchildofgod19, commented: "Huge boyfriend tiny girlfriend energy! so cute!" And K666thlxxn said: "Pure, wholesome love. excuse me while I go cry for a bit." Tiffany Boucher added: "Awww it looks like she needed those cuddles after a long day." And Anne Lewis said: "This made me cry. What a lovely pair."
Michael hartman said: "The one on the right is like 'fine we can do this. just so you know I really don't want to' lol." And Reathefoxhound wrote: "Lol hounds!!! Absolutely the cuddliest!! (Or I'm biased because of my hound)."
Newsweek reached out to Bananathebloodhound for comment. We could not verify the details of the case.
Do you have funny and adorable videos or pictures of your pet you want to share? Send them to life@newsweek.com with some details about your best friend and they could appear in our Pet of the Week lineup.