Bill Maher has said that he helped Woody Harrelson with his controversial anti-vax SNL monologue.
In February 2023, Harrelson shocked Saturday Night Live viewers when he voiced his opinions about the COVID-19 vaccine at the start of the show. His monologue went viral and divided opinions online with the likes of Elon Musk weighing in on Harrelson's insinuation.
Comedian Maher has said that he worked on the monologue with Harrelson, despite not totally agreeing with everything in it. During a conversation on the Club Random With Bill Maher podcast, the host and his guest, former SNL cast member David Spade, said people on the comedy show didn't know what Harrelson was going to say.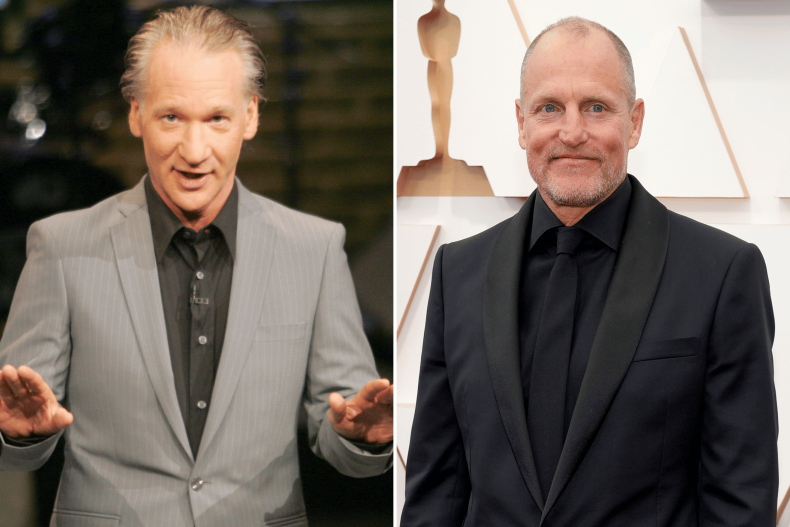 During season 48, episode 13, of Saturday Night Live, Harrelson likened the pharmaceutical companies' vaccine to a drug cartel. "So the movie goes like this: the biggest drug cartels in the world get together and buy up all the media and all the politicians and force all the people in the world to stay locked in their homes," Harrelson said.
"And people can only come out if they take the cartels' drugs and keep taking them over and over," the actor added.
Harrelson was quickly accused of pedaling anti-vax "conspiracy theories" by some viewers, but Spade and Maher applauded Harrelson's efforts.
"I worked on that with him," Maher told Spade when he brought up the infamous monologue.
"I don't know if he changed it. I just know that's not really what they do there, and I thought Woody was just cool," Spade said. "Let the host say whatever he wants. That's interesting."
"What a ballsy move," Maher said of Harrelson's decision to say his opinions on the NBC show. "First of all, Saturday Night Live. It's the plot of certain movies: 'It's live. They can't stop me. I'm going to do this.' And this guy did it in real life.
"Now I don't know how much they knew about what the ending of that story was, but it was also a brilliant way to make that point," Maher added. He went on to talk about how he and Harrelson have discussed COVID-19 and vaccines over "too many hours." The pair agree on 90 percent of things—"but I certainly don't go as far as he does."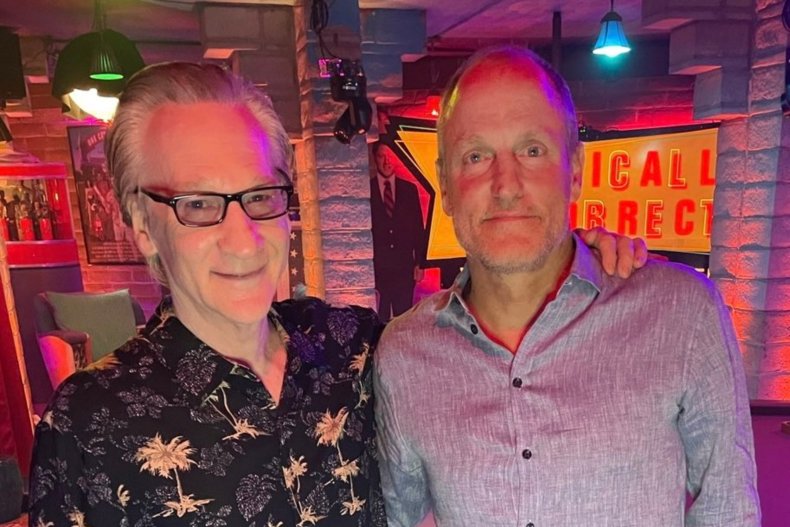 Maher explained that billion-dollar pharmaceutical companies, citing the Sackler family, linked with Oxycontin opioids, shouldn't automatically trusted.
"But it is a point that should be made, and the fact that he was able to, or willing to put his considerable popularity, and say, 'I'm going to take the hit of some political capital by making this statement in this very high-profile arena.' I mean, you got to give the guy props for that. Even if you don't agree with it, right?" Maher asked.
"I wouldn't do it," Spade replied.
Harrelson's career doesn't appear to have suffered because of the monologue back in February. He was hosting SNL promoting his movie Champions. Months later, he was talking about the new HBO dark comedy White House Plumbers, in which he co-stars alongside Justin Theroux and Lena Headey.
Harrelson told Newsweek about his new show, which centers on the men who stole documents during the Watergate scandal in the 1970s. The actor explained how he reversed his own political beliefs to play the real-life figure of E. Howard Hunt.