Dave Burt, an investor who predicted the 2008 housing market crisis, believes that 20 percent of homes in the United States could be mispriced due to flood risk, which could result in another disaster.
A study by Nature Climate Change found that these homes are overvalued by $121 billion to $237 billion.
Floods are the most common and costliest natural disasters, and an inch of floodwater can cause $25,000 in damage to a home or property.
Most homeowners insurance policies do not cover floods, and flood insurance requires a separate policy.
An investor who accurately predicted the 2008 housing market crisis is warning of a new disaster brewing.
DeltaTerra Capital founder and CEO Dave Burt works to help clients manage climate risk, and was featured in the 2010 bestselling nonfiction book The Big Short by Michael Lewis. In the book, Burt advised two protagonists to bet against the mortgage market ahead of the 2008 financial crisis, with the two estimated to have made millions from his advice.
The U.S. housing market is beginning to slow after months of inflated prices and increasing mortgage interest rates, with Newsweek previously reporting that most economists agree that the market is heading for a correction rather than a crash this year. The difference between a housing market crash and correction is that a correction's impacts are not as far-reaching and severe.
However, Burt is concerned about a more niche market.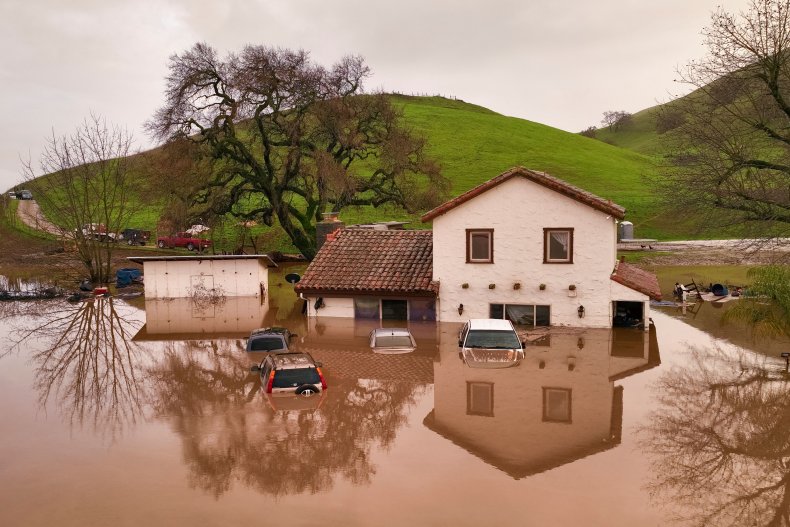 In an article published Thursday by CNBC, Burt said as many as 20 percent of homes in the United States are already overvalued in the competitive market and subject to bidding wars amid potential buyers—and could experience a mispricing issue because of their flood risk.
"We think of this repricing issue as maybe a quarter of the size and magnitude of the [global financial crisis] in aggregate, but of course very, very damaging within those exposed communities," Burt said.
A study by Nature Climate Change published this year found that climate change was threatening the stability of the U.S. housing market. The study found that homes exposed to flood risk are overvalued by $121 billion to $237 billion.
"In general, highly overvalued properties are concentrated in counties along the coast with no flood risk disclosure laws and where there is less concern about climate change," the study found, adding that low-income households were at the greatest risk.
The study identified flooding as the "deadliest, costliest and most widely experienced in the United States" when compared to other natural disasters.
"Currently, more than 14.6 million properties in the United States face at least a 1% annual probability of flooding, with expected annual damages to residential properties exceeding US$32 billion," the study said, adding that flooding is expected to increase with climate change.
With the lack of homeowners supplementing with flood insurance and increasing climate-related dangers—such as intensifying hurricanes or California's volatile environment fluctuating between drought and excessive rain—can cause extensive damage with floods.
When Hurricane Ian ravaged Florida last year, more than 1 million Floridians impacted by the storm were expected to be without flood insurance.
According to the Federal Emergency Management Agency (FEMA), floods can occur anywhere—not solely in coastal areas. And if someone miscalculates their property's flood risk, their finances could take a significant hit if a flood did occur.
According to experts in CNBC's article, home costs in today's market don't account for the home's flood risk. Instead, the homes, which are already overvalued, present a mispricing issue for areas at risk for floods.
FEMA describes floods as the most common natural disaster and one of the costliest, as well. A website dedicated to FEMA's National Flood Insurance Program (NFIP) reported that an inch of floodwater can cause $25,000 in damage to a home or property. Meanwhile, many homeowners insurance options don't cover floods because flood insurance is a separate policy.
Newsweek reached out to Burt and FEMA by email for comment.