President Biden's ambitious and expensive student loan forgiveness program may be on borrowed time after the Supreme Court on Tuesday sharply questioned the administration's effort to extend the relief plan beyond the COVID pandemic.
On Tuesday, the justices heard arguments in two cases that are challenging the Biden administration's student loan forgiveness plan – a group of six GOP states arguing they would be unfairly financially burdened by Biden's plan, and two individual borrowers who said it wasn't fair that they weren't offered debt relief for their commercially or personally held loans.
During more than three hours of oral arguments, an ideological divide was apparent over the limits of executive power during the health crisis, and whether the White House properly implemented its debt forgiveness plan.
While tough questions alone are not a clear sign of how the justices might rule, the court's 6-3 conservative majority appeared skeptical of the Biden plan and suggested he may have exceeded his executive authority.
"If you're going to give up that much amount of money, if you're going to affect the obligations of that many Americans on a subject that's of great controversy, you would think that's something for Congress to act on," said Chief Justice John Roberts. "And if they haven't acted on it, then maybe that's a good lesson to say for the president or the administrative bureaucracy that maybe that's not something they should undertake on their own."
GOP SENATORS PUSH BILL TO BLOCK BIDEN'S 'RECKLESS' STUDENT LOAN BAILOUT, PREVENT TAXPAYERS FROM COVERING COSTS
But Justice Ketanji Brown Jackson suggested the GOP-led states bringing the suit had not demonstrated actual harm.
She said the federal executive and legislative branches should be allowed "to hash this out without interference, you know, from a torrent of lawsuits brought by states and entities and individuals who don't have a real personal stake in the outcome," she said. If those states were allowed to bring such suits, Jackson said, "I'm concerned that we're going to have a problem in terms of the federal government's ability to operate."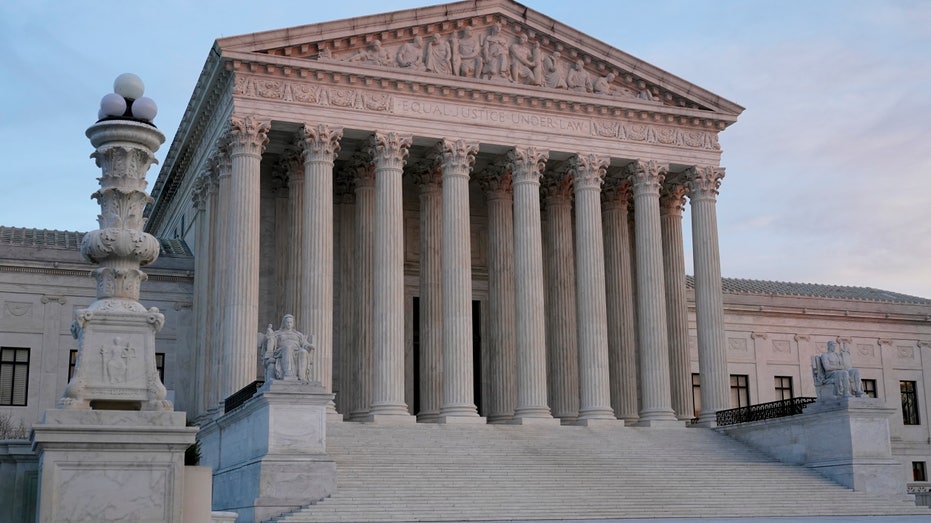 Biden's plan, if allowed to be fully implemented, could benefit about 40 million Americans by offering up to $20,000 of debt relief to qualified federal Pell Grant borrowers, and $10,000 for non-Pell Grant recipients. The Education Department has already announced a "payment pause" until mid-2023.
Solicitor Geneal Elizabeth Prelogar, who argued the on behalf of the government, said the Higher Education Relief Opportunities for Students Act of 2003, or HEROES Act, allowed Biden's plan to take effect That law, which passed in the wake of the Sept. 11 attacks, was expanded to the federal government to make changes to student-loan programs in response to national emergencies.
The White House insists that law allows the Secretary of Education to "waive or modify any statutory or regulatory provision applicable" to federal student loan programs in an emergency, which the Biden administration argues means the Secretary could wipe out debt. But Chief Justice Roberts questioned the White House interpretation of the HEROES Act.
SUPREME COURT TO HEAR GOP STATE CHALLENGE TO PANDEMIC-RELATED BIDEN STUDENT LOAN DEBT RELIEF PLAN
"'Modify,' in our view, connotes moderate change. It might be good English to say that the French Revolution 'modified' the status of the French nobility, but only because there is a figure of speech called understatement and a literary device known as sarcasm," Roberts said.
"We're talking about half a trillion dollars and 43 million Americans," he added. "How does that fit under the normal understanding of 'modify?'"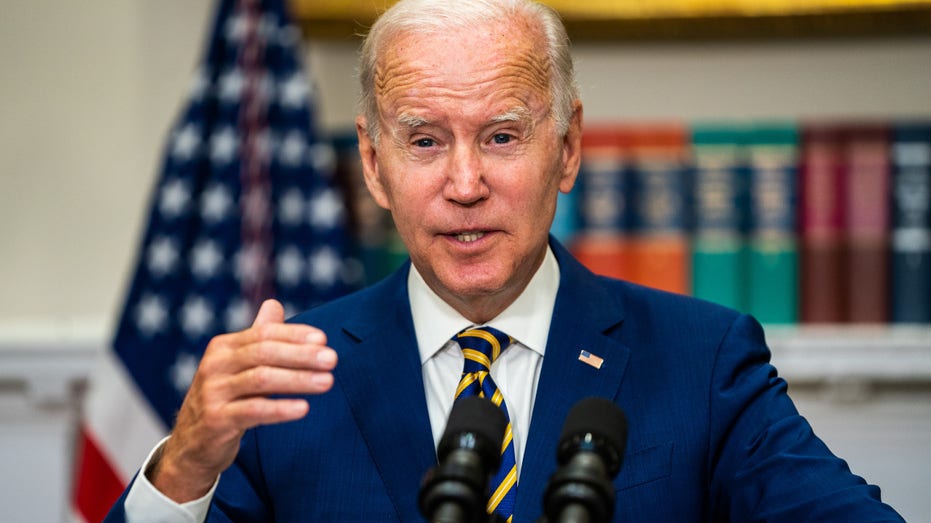 "In the wake of Congress not authorizing action, the executive nonetheless is doing a massive new program," added Justice Brett Kavanaugh. "And that seems problematic."
Justice Elena Kagan argued that the Secretary of Education's authority under the HEROES Act was beyond dispute, saying that, "Congress could not have made this much more clear," said Kagan. "What Congress said is what happens when you have an emergency is – the secretary has the power to take care of emergencies. And it has that power by way of waiving or modifying any provision and adding others in lieu of them."
Justice Neil Gorsuch questioned the fairness argument raised by some plaintiffs – that those who resolved their debts without federal government help were being hurt by the Biden student loan handout.
"People who've paid their loans, people who… have planned their lives around not seeking loans, and people who are not eligible for loans in the first place," said Gorsuch. "And that a half a trillion dollars is being diverted to one group of favored persons over others."
BIDEN'S NEW STUDENT LOAN REPAYMENT PLAN WOULD COST BILLIONS MORE THAN WHITE HOUSE PROJECTED
Justice Sonia Sotomayor focused those who would benefit from debt forgiveness. "The evidence is clear that many of them will have to default their financial situation will be even worse because once you default, the hardship on is exponentially greater. You can't get credit. You're going to pay higher for things," she said.
"They are going to continue to suffer from this pandemic in a way that the general population doesn't," said Sotomayor. "And what you're saying is now we're going to give judges the right to decide how much aid give them instead of the person with the expertise and, the experience, the secretary of Education, who's been dealing with educational issues and the problems surrounding student loans."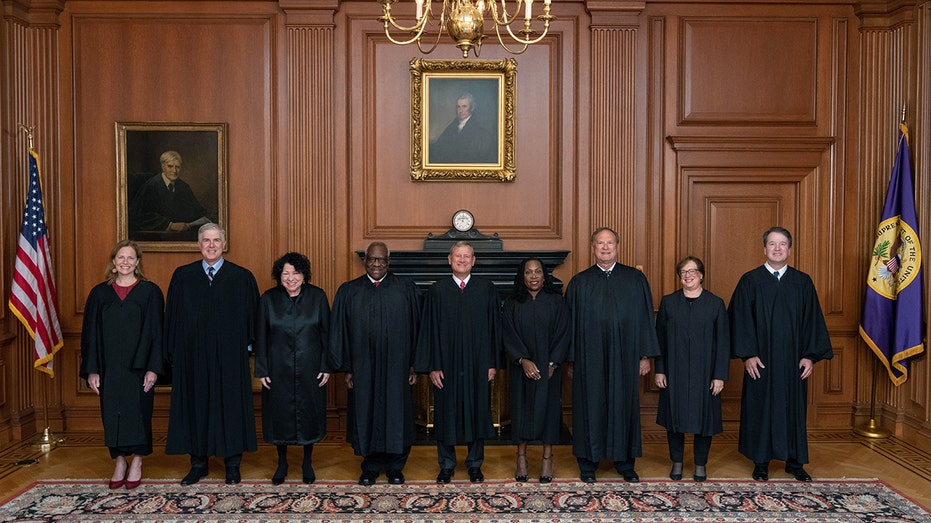 Before they make a determination on the merits of the lawsuits, the nine justices first have to agree that either or both of the group of six GOP-states and two private borrowers who sued the Biden administration have "standing" – the legal authority to even bring the case in the first place.
Several on the bench, including Justice Amy Coney Barrett, did not appear entirely convinced. Barret questioned Nebraska Solicitor General Jim Campbell, R-Neb., on why the states were arguing on behalf of Missouri Higher Education Loan Authority (MOHELA) instead of MOHELA making the case for itself. Missouri, one of the states in the group lawsuit, argued that MOHELA, the nation's largest loan servicer, would be uniquely harmed by the impact of the mass debt cancelation.
CLICK HERE TO GET THE FOX NEWS APP
"Why didn't the state just make MOHELA come then? If MOHELA is really an arm of the state and all of this would be a lot easier. When the Solicitor General conceded that if MOHELA was here, MOHELA would have standing. If MOHELA is an arm of the state, why didn't you just strongarm MOHELA and say, 'you've got to pursue the suit?'"
Campbell said that was a question of "state politics," and argued that since MOHELA is "a state created and state controlled entity that performs government functions, the state can speak for it regardless."
A decision in the two cases, Biden v. Nebraska and Department of Education v. Brown, is due later this summer.